Fantendo Rumble is a game by Bomb Productions Games. Since it is a game by YoshiEgg (t∣b∣c), please do not edit except for spelling errors.
Plot
The plot varies by the storylines and endings of each character. But, the main story is that many, many Fantendo characters have gathered to have the ultimate fighting competition to become king of the
Fantendoverse
.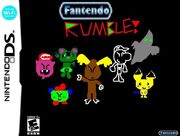 Default Characters
Unlockable Characters
Stages
YoshiEgg's Shack
The Inter-Universe Anti Universe Merge Federation
McBoo's Mansion
RedYoshi's Egg
Oshtyo's Village
Castle Street
More To Come!
Unlockable Stages
Inbetween Time
Ozzieland
More To Come!
Individual Storylines
Each character has their own storyline in which they battle a multitude of characters and have their own ending. Here are all of the storylines....
YoshiEgg Nook
Level 1: Little P
Not two steps into YoshiEgg's shack, he found a hungry Little P ravaging through his food items. YoshiEgg has a strict no shoplifting policy. He must take action...
Level 2: Wheelzen
After defeating Little P and taking his items that were rightfully his back, YoshiEgg stumbled upon Wheelzen. He was trying to paint grafitti on YoshiEgg's shack. YoshiEgg also has a no grafitti policy. Again, he must take action...
Level 3: Strafe
Walking away from the defeated Wheelzen, YoshiEgg found Strafe trying to rob the bank. YoshiEgg's hero insticts then kicked in and he went to defeat the criminal...
Final Level: Sandslash
After defeating Strafe and becoming the local hero, YoshiEgg found a furious Sandslash blocking his way. He said that he wanted to get revenge on YoshiEgg for giving his little brother several boo-boos. If YoshiEgg defeated Sandslash, he would become king of the Fantendoverse. How could he pass up this offer?
Ending:
Now that YoshiEgg was officially the king of the Fantendoverse, his shack became the hot-spot for items. He then became very rich and bought most everything else. Then, he became mad with power and took everyone's money, being able to buy all of the universes and putting them in mass chaos. Best king ever, huh?
Ella Metals
Level 1: Dan
Practising bending metal, Ella bends Dan's new metal yoyo, Dan then tries to fight back, Ella must stop Dan!

Level 2: Bloop
Bloop is threatening to ruin Ella's sculpture, she must stop Bloop from doing this!

Level 3: Dragonman
Ella hearing quick motion noises she sends a wave of steel which DragonMan emerges from. Ella is reluctant to fight DragonMan!
Final Level: Nightwolf
Feeling proud Ella is scared by Nightwolf appearing from nowhere, she has no reaction, but to attack

Ending:
Ella feeling proud, sculps a detailed sculpture of her opponents and is a Fantendoverse celebrity.

More To Come!!!
Artwork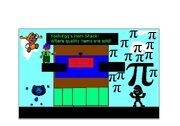 Community content is available under
CC-BY-SA
unless otherwise noted.