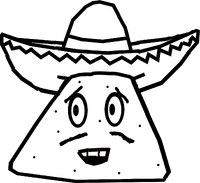 El Nacho
is a
Fantendo:Swapnote
character created by
jasper
(t∣b∣c)
. He is the first true main character created by the aforementioned user, as
Ragedude
was just a random Emotien whose
Fantendo:Swapnote
saga has been canceled.
El Nacho is the main character in El Nacho Adventures. He is a nacho chip with eyes, a mouth, a mustache, and a sombrero. He is typically seen as an idiotic, clumsy, but brave character who is known to mess up time and time again.
Appearances
El Nacho Adventures
ENA #1 - El Nacho is grocery shopping and comes across a bag of chips. He looks at the bag in horror, as he realizes they are barbecue flavored nacho chips.
ENA #2 - El Nacho runs away from the bag of nachos, but knocks over a stack of canned soup. 
ENA #3 - El Nacho is scared because he fears the bag of chips is a bag of "edible [hims]", to which Burrito Bro. informs him that they are just chips.
Quotes
"Hmm..." - El Nacho Adventures #1
"But...but...there's a bag of edible MES over there!" - El Nacho Adventures #3
Relationships
Burrito Bro. is El Nacho's best friend. Being the serious and sensible guy he is, Burrito Bro. often tries to talk El Nacho out of his moronic schemes, but is always ignored and forced to come along to keep an eye on El Nacho. El Nacho is very fond of Burrito Bro., but finds his seriousness annoying.
Gallery
Community content is available under
CC-BY-SA
unless otherwise noted.