ShortcutF:E
redirects here.
This page was made to document special events our Wiki celebrated. Feel free to use the talk page to suggest future events.
---
2010
---
April Fools 2010
In 2010, several pranks were set up. The main page was imported from the dead Brazilian Portuguese Fantendo Wiki, and severely edited from there to be as spammish as possible. The Monaco sidebar was also edited with random things, like an on-going sub-menu chain. Both of them had links to a RanzatsuRoll'd image. The wiki's logo was changed into Dry Skull, and the Site Notice wished everyone a happy Halloween. In addition to all that, the site's name was changed to JesseLand. You can check the last saved version of the main page with the Monaco skin here.
To finish off, Jtolla, a fairly new user back then, was promoted to sysop, and later demoted before she came back. Read about it here
Easter 2010
YoshiEgg
was handed the task of creating a Easter logo for the wiki. He then had a great idea, hold a contest for users to decorate their own from a template provided, which you can see
here
. You can see the final version on the right.
Read the Easter blog post here.
---
2011
---
April Fools 2011
In 2011, there were less changes and pranks, but they weren't small. For users of the New Wikia Skin, the wiki suddenly was covered in eye-burning colors. Monobook users suffered even more though, as every bit of text was changed into Webdings, rendering everything unreadable (Unless their Monobook.css file used a different font). Read the blog post here and check out the screenshots below.
July 2011
As of July the 1st, users of the New Wikia Skin would see the new Fantendo logo covered in snow. This is so for the users who don't live in America or Europe, but in the continents on the southern hemisphere (i.e. Australia, Brazil), where it "was" winter.
Halloween 2011

The Halloween events started with the Halloween Series Swap Day, conducted by the creator of the Series Swap Days and veteran bureoucrat JesseRoo. Later, Fantendo was given a orange and purple skin, which received mixed reviews from some, but was somewhat welcome in the community. It also received a logo change. Later on, a logo redesign, featuring Smile, was proposed. However, the old logo got most votes in support, while most opposed to changing it.
After Halloween was over, the logo was changed to one covered in toilet paper.
---
2012
---
Sysop Elections 2012
In 21/01/2012, the day in which the Nova Squad, conducted by Dk64rules, SonicWiki and Halfblood2000 was announced, Fantendo received a skin re-design created by Halfblood2000 to celebrate the new Sysops. The color pallete changed to red and gold tones, and it stayed that way, with a new background, until the next day. Fantendo received a minor redesign that day, and a new logo, made by Arend, was put up.
Valentine's Day 2012
Fantendo went pink for Valentine's Day, and with a logo full of a lotta' love!
March Madness
Pi Day 2012
On the 3/14/2012, Fantendo made maths fun! Halfblood2000 turning the wiki into a Pi wonderland with his blog announcing the changes. 3.14 was honoured and the new skin.
Whacka Awareness Day 2012
Little would know that 2 days later the Wiki would be undergoing another guise, until Spark01 (t∣b∣c) announced that Friday March 16th would be Whacka Awareness Day. The forgotten Paper Mario character, which Henrydamoose (t∣b∣c) once adopted into Fantendo culture. The Wiki turned Whacka-rrific, with the logo and toolbar colour was changed.
Saint Patrick's Day
The Wicked March continued next day, 17/03, in which Fantendo woke up to find itself covered in green clovers and a emerald skin. A new logo was put up, featuring two four-leaf clovers and a pot with gold.
Additionally, users made their avatars green to avoid being shot by a round of dakka.
Ninja Day 2012
Due to the recent theme changes, ShadowElise (t∣b∣c) randomly and effectively decided in a blog that Monday, March 19th 2012 would be Ninja Day. Some users also wore Ninja-themed avatars to celebrate.
April Fools Day 2012
A Kid Icarus theme was planned to celebrate Fantendo's Angels, but it never came to light. Fantendo turned into a My Little Pony fanon, after a failed Rickroll main page. Sorastitch (t∣b∣c) | gave up on drawing and tried to convince us of a warning from Nintendo. And Mariothemovie (t∣b∣c) announced his latest game.
Fantendo's 5th Birthday: Friday 13th April 2012
The main page went back to basics to celebrate Fantendo's fifth birthday.
And the Fantendo Tourney was concluded where Ella Metals beat Tucker in a 61-27 victory.
---
2013
---
80sTendo and SGYTendo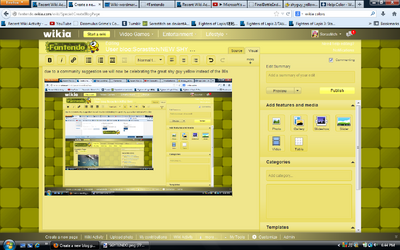 Sorastitch constructed a new 80s theme, which was taken down in less than a day. It was replaced with a new, yellow theme baring ShyGuyYellow's avatar, due to a suggestion by the community.
---
2014
---
April Fools Day 2014
As part of April Fools Day 2014, Marina (t∣b∣c) created 404tendo for the beginning of the day. The font was also turned into Comic Sans by Lumoshi (t∣b∣c) and also set Vivaldi to play loudly on wiki activity.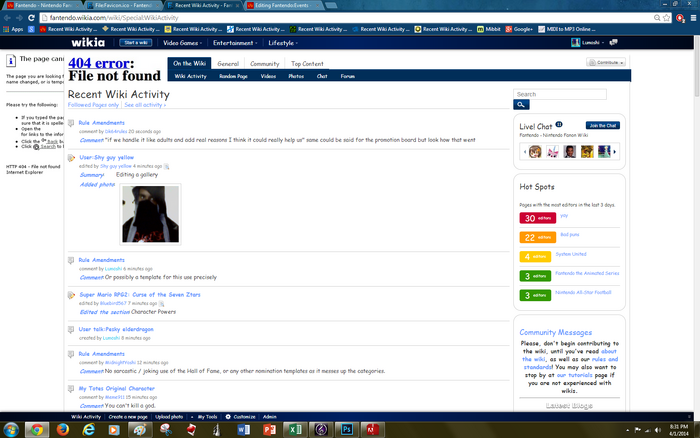 Later, Lumoshi created a second skin, Communistendo, featuring the standard background overlaid with the Soviet flag. The USSR's anthem was also set to play on wiki activity.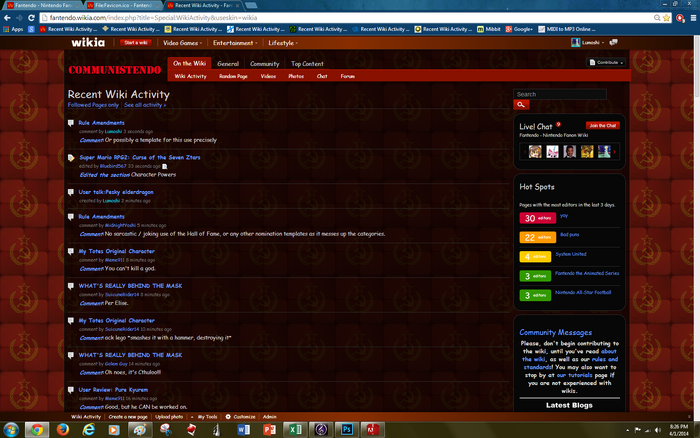 Fantendo's 7th Anniversary
Arend fashioned a skin in April 2014 for the anniversary, as well as several other events, including a showcase, awards, and chess tournament.
This time, both the Monobook skin and the Wikia skin underwent the change instead of just only the Wikia skin.
2014 Sysop Elections
After Ziegs, Exotoro, and Crimson the Fandraxonian became admins, Lumoshi prepared a brand new skin.
2014 Halloween
Lumoshi and RosettaChiko made a Halloween skin.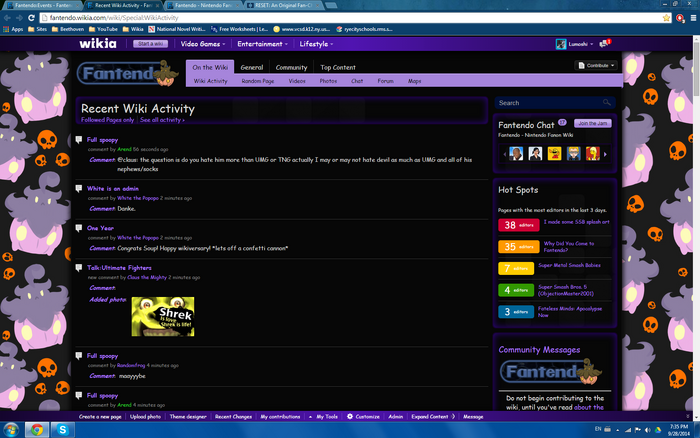 2014 Christmas
TheSoupyOne made a Christmas skin.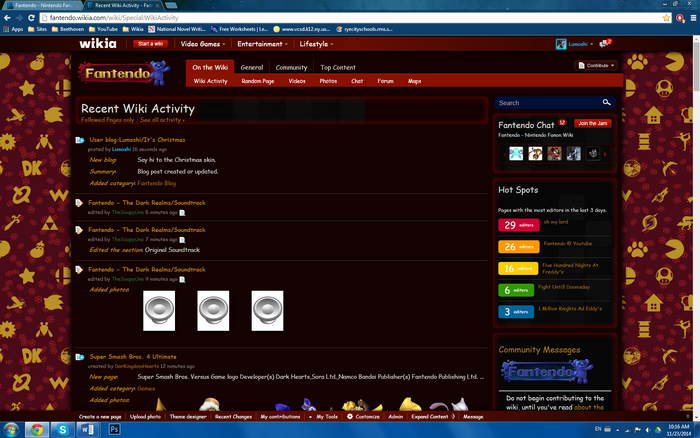 ---
2015
---
Easter 2015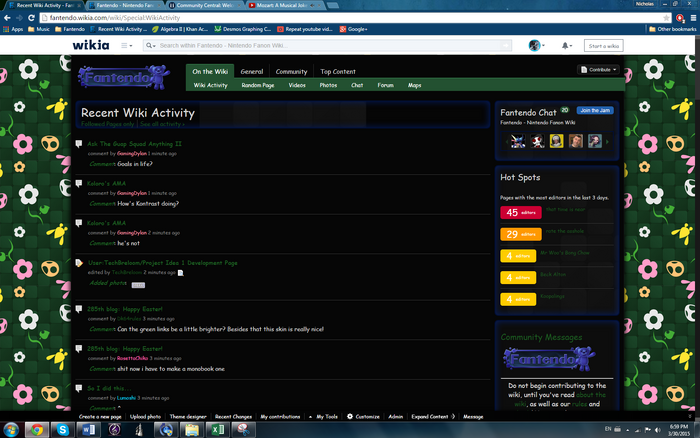 April Fools Day 2015
Made by RosettaChiko (t∣b∣c) and SonicWiki (t∣b∣c). The skin was inverted and there was Comic Sans added. Lumoshi made his name massive.
Gay Day 2015
To celebrate gay marriage being legalized in the United States, Trucky (t∣b∣c) made a special skin.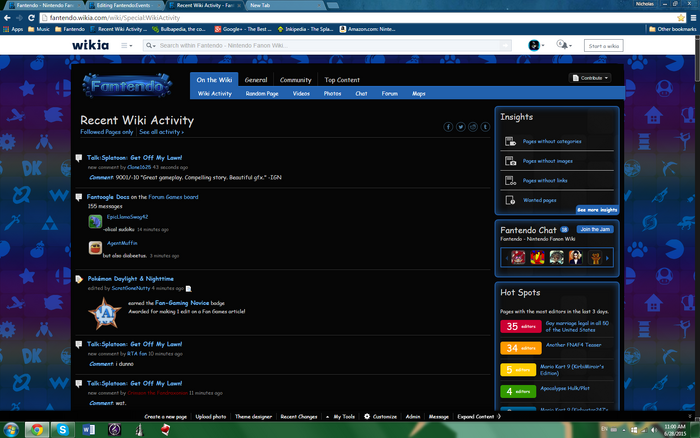 Canada Day 2015
To celebrate Canada Day 2015, Trucky (t∣b∣c) made a special skin.
---
2017
---
Halloween 2017
SonicWiki (t∣b∣c) crafted this skin from bones and pumpkins to celebrate Hallow's Eve.
AgentMuffin (t∣b∣c) made a valiant effort to get this recorded before the deathly reprieve.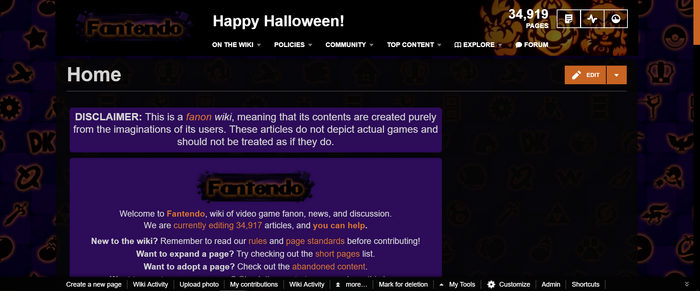 ---
2018
---
April Fools 2018
Fantendo became the Ready Player One Fanon Wiki to celebrate April Fools. Made by SonicWiki (t∣b∣c).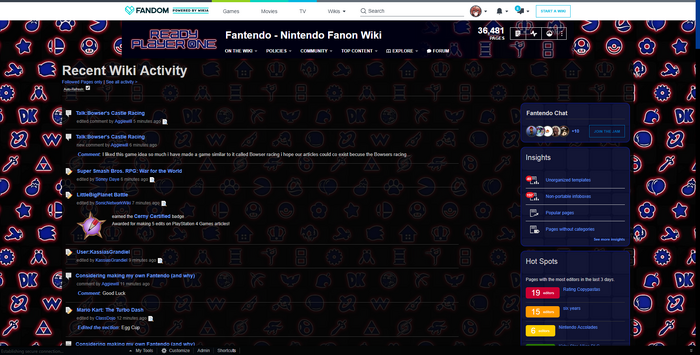 ---
Pride Month 2018
Fantendo decked out for LGBT Pride Month with a rainbow wordmark and background.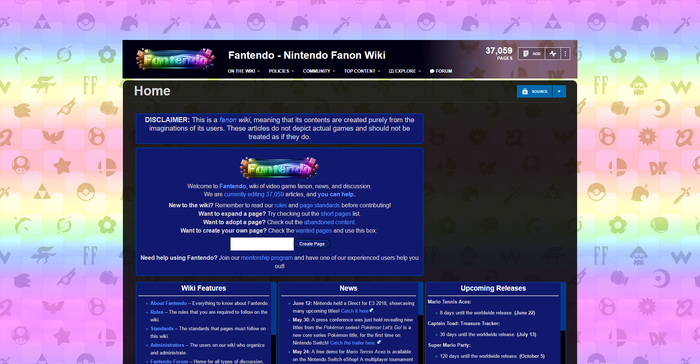 ---
2019
---
Fantendo Anniversary 2019
SonicWiki (t∣b∣c) created this skin
---
Community content is available under
CC-BY-SA
unless otherwise noted.