Expresso the Ostrich is not from Fantendo. However, this article may include related fan ideas.

These external sources may have official, more accurate information:

This article is free to edit. Please follow the article standards and respect good-faith contributions.
Expresso the Ostrich
ダチョウエスプレッソ Dachō no esupuresso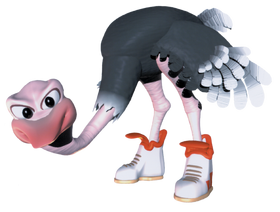 Expresso as he appears in Donkey Kong Country
GENERAL INFO

GENDER
♂ Male
SPECIES
Ostrich
ALIGNMENT
Good
PERSONAL INFO

RELATIONSHIPS
CLASS

Animal Friend

ABILITIES

Speed, limited flight
MISCELLANEOUS INFO

NON-CANON APPEARANCES
Expresso the Ostrich is an Animal Friend that appears in the Donkey Kong series. He is a large, black ostrich in running shoes and is an ally to the Kongs.
Expresso has only appeared as an Animal Friend in Donkey Kong Country, where he could be ridden after the Kongs break his Animal Crate. He can run faster than the Kongs can, and thanks to his long legs, he can walk over smaller enemies without being damaged such as Klaptraps, though he cannot jump on enemies to damage them. Being an ostrich, he can't fly, but repeatedly tapping the jump button allows him to flap his wings, gaining much more distance with his jump.
Appearances
While Expresso himself doesn't appear in Mario Kart: Infinity Remix, a Kart body based off of him called the Expresso Express appears that can be customized with any tire or glider. It offers high speed and handling stats, though as a result has lower acceleration and weight stats.
Gallery