Eri Kasamoto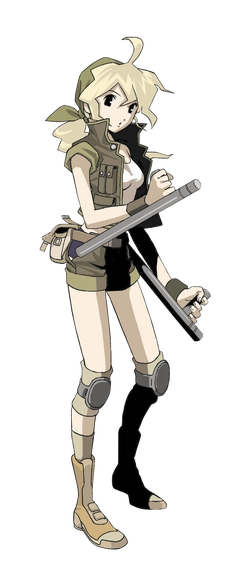 PERSONAL INFO

CLASS
Staff Sergeant in Special Ops Squad S.P.A.R.R.O.W.S, Intel division, government forces.
WEAPONS
Gun
Combat Knife
Grenades
Heavy Machinegun
Rocket Launcher
Flame Shot
Shotgun
Laser Gun
Iron Lizard
Super Grenade
Enemy Chaser
Drop Shot
Two Machine Guns
Zantetsu Sword
Thunder Shot
Bloody Deadly Vomit (As a Zombie)
Her Head (As a Mummy)
Wide, Bell-Shaped Barrel Pistol (As Fat)
Fork (As Fat)
Her Belt (As Fat)
MISCELLANEOUS INFO

CANON APPEARANCES

Metal Slug 2 (1998)
"You live then you die - all alone..."
—
Eri's pet phrase
Eri Kasamoto is one of the main characters of Metal Slug franchise, debuting on Metal Slug 2 alongside her partner Fio Germi as playable characters.
Profile
An orphan who was abandoned in front of a church, her earliest memory is escaping the church and becoming the leader of a street gang. Her leadership skills were discovered by the Government Forces Intelligence Agency, who gave her special training as a spy. Eri, however, found assassination and subterfuge missions to be heavily distasteful, so she applied to be transferred to S.P.A.R.R.O.W.S., of which she was specially granted considering her ability and deeds.
In the Second Uprising, she showed exemplary performance in suppression operations and stopped Morden's Army from executing the uprising. She was promoted to staff sergeant.
Eri is also known as the "Memphis Bomb Princess" due to her extensive use of grenades. This is shown in her MSA infobox and a conversation with El Dorado.
Game Appearances
She represents Metal Slug alongside Marco Rossi, Fio Germi, Mars People and Nova.
Eri appears as a Pair Unit teaming up with her partner Marco Rossi.
Eri, Tarma and Fio appears as an alternate costumes for Marco Rossi.
Gallery
Navigation Templates
Characters