Enguarde the Swordfish is not from Fantendo. However, this article may include related fan ideas.

These external sources may have official, more accurate information:

This article is free to edit. Please follow the article standards and respect good-faith contributions.
Enguarde the Swordfish
メカジキエンガード Mekajiki no engādo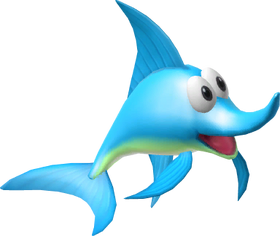 Enguarde as he appears in Super Smash Bros. for Wii U
GENERAL INFO

GENDER
♂ Male
SPECIES
Swordfish
ALIGNMENT
Good
PERSONAL INFO

RELATIONSHIPS
CLASS

Animal Friend

ABILITIES

Pointed bill
MISCELLANEOUS INFO

CANON APPEARANCES

Donkey Kong Country
Donkey Kong Counry 2: Diddy's Kong Quest
Donkey Kong Country 3: Dixie Kong's Double Trouble!


NON-CANON APPEARANCES
Enguarde the Swordfish is a recurring Animal Friend that appears throughout the Donkey Kong series. He is a large, blue swordfish and a powerful ally to the Kongs, and is tied with Rambi the Rhino for the most playable appearances.
Enguarde first appears in Donkey Kong Country being the only Animal Friend that can be found in underwater levels. After breaking his Animal Crate, he can be ridden on. He is able to swim much faster and easier than the Kongs could on their own. He can also use his pointed bill to defeat enemies, which the Kongs couldn't do underwater. He can also boost forward with his bill as an attack and as a speed boost. Donkey Kong Country 2: Diddy's Kong Quest and Donkey Kong Country 3: Dixie Kong's Double Trouble! also give Enguarde a new ability where he can charge up energy to boost forward at high speeds, essentially being a stronger variant of his previous attack. This is required to defeat certain enemies and open up hidden passageways.
Appearances
While Enguarde himself doesn't appear in Mario Kart: Infinity Remix, a Bike body based off of him called the Enguarde Engine appears, which can be customized with any tire and glider. It offers high boost to speed and handling, but lowers acceleration and mini-turbo as a result.
Gallery