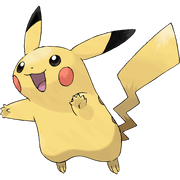 The Electric type is one of the eighteen official types from the Pokémon franchise. The Electric type is generally known for its high Speed, high Special Attack, and few weaknesses. Most Electric-type moves are also capable of paralyzing the target, and are immune to the status condition. This makes Elecrtic one of the more ideal choices for Special sweeping.
Its biggest strength is against Water and Flying, two of the more common types. It is able to resist either type and do massive damage against both of them. It is also resistant to the Steel type.
Their biggest weakness is Ground. It is by far the only official type that is super effective against Electric, and Ground is furthermore immune to Electric-type attacks. The only other types that resist Electric attacks are Electric itself, Grass and the overly powerful Dragon type.
As of Generation 6, there are 48 official Electric type Pokémon in existence, making it one of the more seldom types (the 8th rarest, to be specific). Of all the Electric-types, there are 26 pure Electric-type Pokémon, making those more common than the dual-type Electric Pokémon. Electric is more known as the primary type in a dual-typed Pokémon, as there are only six secondary Electric-type Pokémon.
Like Poison, Electric features a mixed group of Pokémon. A lot of Pokémon of this type are mammals or machine-like. The mascot of the Pokémon franchise, Pikachu, also belongs to this type. A large bunch of rodent Pokémon resembling Pikachu (Plusle and Minun, Pachirisu, Emolga and Dedenne) are also of this type. Most Pokémon of this type are either yellow or light blue, and may have some connection to electricity in their appearance (e.g. Elekid's head resembles a plug, Zekrom's tail resembles a generator). A lot of Electric Pokémon make use of energy (e.g. Helioptile).
Type matchups
Official
Offensive

Defensive

Power
Types
 
Power
Types

2×

½×

½×

2×

0×

0×

None
Specialists
Notable
Pokémon Types
Official Types
Fanon Types