Eely Mouth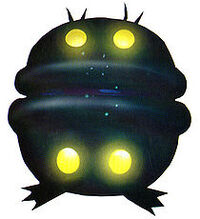 Eely Mouth as he appears in SMS
GENERAL INFO

SPECIES
Eel (Maw-Ray?)
CURRENT STATUS
alive
MISCELLANEOUS INFO

CANON APPEARANCES

Super Mario Sunshine, GameCube, 2002
Super Mario 3D All-Stars (via SMS), Switch, 2020
Eely Mouth is a character who, so far, has appeared only in Super Mario Sunshine, where he is a boss that Mario must fight to earn a Shine Sprite.
Unlike most other bosses, Mario's job isn't to kill Eely-Mouth. Instead, he must clean Eely-Mouth's teeth, which are somehow causing pollution that's poisoning the water of Noki Bay. His official art shows him as blue, but he appears more purplish in-game.
Fanon Appearances
For extremely obvious reasons, Eely-Mouth appears in Super Mario Sunshine Deluxe, serving the same role he did in the original game. He was slightly redesigned to look more like a Maw-Ray.
Gallery