Earth is a planet in the Fantendoverse where a number franchises take place, unlike the Earth of the real world, the Fantendoverse Earth has many alien species that reside on it and has a number of unusual features including a Distortional Mist that impacts the perception of particular locations.
Locations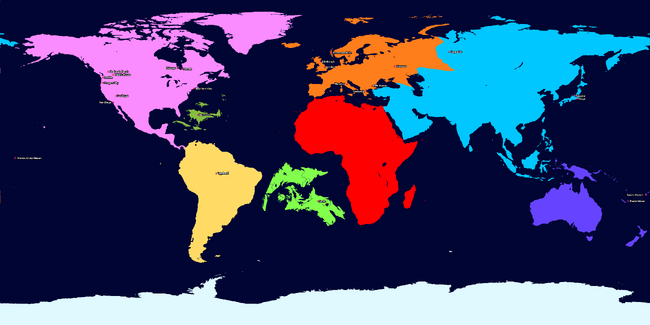 There are nine continents located on Earth; North America, South America, Europe, Asia, Africa, Oceania, Aeo & Bermuda. Currently most content on Earth in the Fantendoverse takes place in North America or Europe.
North America
North America is a large North-Hemisphere continent that is under the control a multitude of countries, most notably; the United States of America, Mexico & Panama. Currently all known major locations in North America appear in the USA.
New York City (USA)
Seattle (USA)
Oregon City (USA)
Las Vegas (USA)
Chicago (USA)
Detroit (USA)
San Diego (USA)
Monte Cristo Manor (N/A)
Europe
A territorial Continent, Europe along with Asia form the Eurasian Plate one of the largest tectonic plates in the world, there are many countries located in Europe most notably; Great Britain, France, Germany, Russia, Romania, Italy, Norway, Ireland, Spain & the Netherlands. The major locations in Europe are scattered in different countries.
London (UK)
Edinburgh (Scotland)
Tifft Manor (Romania)
Neropolis (Greece)
Florence (Italy)
Moscow (Russia)
Greenwood Isle (Norway)
Asia
Another Territorial Continent, Asia is the most populated continent on Earth with over a quarter of the population situated in it, primarily around the East and South areas of the Continent. It is comprised of several tectonic plates primarily the Eurasian Plate and the Indian Plate, it includes many countries such as; China, Japan, India, Indonesia, Vietnam, Nepal & Pakistan.
Tokyo (Japan)
Nagano (Japan)
Coppa'du (Russia)
Oceania
A smaller territory that appears in the southern Hemisphere, Oceania is notable for the many small islands that appear in its territory including three major islands; Australia, New Zealand & Papua. There is currently only one location in Oceania.
Sports Resort Island (Near Fiji)
Pader Island (Near New Caledonia)
Aeo
A new continent that features a design that seems to have been emulated albeit simplified by the White Goddess, Aeo is comprised of several small countries including; Kresthita, Marais & Aereus. There is currently only one location in Aeo.
Bermuda
A small island continent located in what is commonly known as Middle America, Bermuda is a series of small islands that are known for being covered in a dense layer of Distortion Mist. There is currently only one location in Bermuda. Off the coast of Bermuda is a series of small island nations known colloquially as the Stardust Archipelago - Anglika, Chynsu and Martiion being the most noteworthy.
Community content is available under
CC-BY-SA
unless otherwise noted.