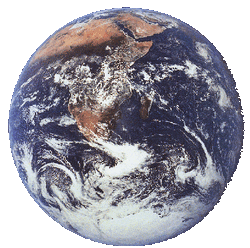 Earth
is the third planet from the Milky Way Galaxy's Sun. It is the only real planet known to harbor life, having a population of over 7 billion
humans
alone, and about 8.7 million other species. Its surface is 70% water, which sustains the variety of organisms living there.
Earth and alternate Earths appear as settings in a large amount of Fantendo media. This is because most Fantendo users live on the planet in real life.
Appearances
Sonic and his friends live on Earth in Sonic Speedball RPG: The Series and it appears in the last chapter on Sonic Speedball RPG II: The Coming of Chaos! and the first chapter of Sonic Speedball RPG III: Nega's Empire where McQueen Mario battles the boss, RPG.
An alternate version of Earth where the Mega Man games take place is the first of the second World Pair in Gradient Hue and the homeworld of Megaman. It is a Tier 2 world.
After Gradient enters the wormhole leading to Future Earth, he meets Bass, who takes him to meet Dr. Wily. Gradient is given the mission of destroying the combat robot Mega Man. Gradient defeats Mega Man, but Mega Man tells Gradient that Dr. Wily is actually an evil scientist, and that Mega Man is actually a good combat robot that fights for everlasting peace. Gradient goes to see Dr. Light. The party members are:
Protoman
Rush
Tango
Beat
Auto
Gradient defeats Creation Man, Dr. Wily's robot that has several arms, each which can turn into various elemental robots. Dr. Wily drops a Halfcharm and runs away, leaving a wormhole back to the Battle Frontier.
Paradox
Main article: Sol System
In the first game of the Paradox series, Star Pilot, a battle to fend off an alien armada results in the destruction of the Sun, and as a result, the destruction of the Earth. However, a division between the upper and lower classes of the surviving Humans results in a conflict later known as the Great Civil War.
Earth Rocket Racing
Earth is the main location of Earth Rocket Racing, with tracks in the game being themed around real life locations but the hub is a thriving metropolis in a unknown country.
Flexagoner
A hypothetical future Earth is one of the two main settings of Flexagoner, alongside a strange alternate universe that the main character, Vesper, becomes trapped in. Flexagoner's Earth is presented as a dystopia in many ways. Despite life appearing to be largely the same as in the twenty-first century, Earth has a much bigger population, and thus much bigger problems, than ever before.
List of countries
A

Afghanistan
Albania
Algeria
Andorra
Angola
Antigua and Barbuda
Argentinia
Armenia
Australia
Austria
Azerbijan

B

Bahamas
Bahrain
Bangladesh
Barbados
Belarus
Belgium
Belize
Benin
Bhutan
Bolivia
Bosnia and Haerzegovina
Botswana
Brazil
Brunei
Bulgaria
Burkina Faso
Burma
Burundi

C

Cambodia
Cameroon
Canada
Cape Verde
Central African Republic
Chad
Chile
China
Colombia
Comoros
Democratic Republic of Congo
Republic of Congo
Costa Rica
Côte d'Ivoire
Croatia
Cuba
Cyprus
Czech Republic

D

Denmark
Djibouti
Dominica
Dominican Republic

E

East Timor
Ecuador
Egypt
El Salvador
Equatorial Guinea
Eritrea
Estonia
Ethiopia

F

G

Gabon
Gambia
Georgia
Germany
Ghana
Greece
Grenada
Guatemala
Guinea
Guinea-Bissau
Guyana

H

I

Iceland
India
Indonesia
Iran
Iraq
Ireland
Israel
Italy

J

K

Kazakhstan
Kenya
Kiribati
Kosovo
Kuwait
Kyrgyzstan

L

Laos
Latvia
Lebanon
Lesotho
Liberia
Libya
Liechtenstein
Lithuania
Luxembourg

M

Macedonia
Madagascar
Malawi
Malaysia
Maldives
Mali
Malta
Marshall Islands
Mauritania
Mauritius
Mexico
Micronesia
Moldova
Monaco
Mongolia
Montenego
Morocco
Mozambique
Myanmar

N

Namibia
Nauru
Nepal
Netherlands

Aruba
Curaçao
Sint Maarten

New Zealand
Nicaragua
Niger
Nigeria
North Korea
Norway

O

P

Pakistan

Azad Kashmir
Gilgit-Baltistan

Palau
Panama
Papua New Guinea
Paraguay
Peru
Phillipines
Poland
Portugal

Q

R

S

Saint Kitts and Nevis
Saint Lucia
Saint Vincent and the Grenadines
Samoa
San Marino
São Tomé and Príncipe
Saudi-Arabia
Senegal
Serbia
Seychelles
Sierra Leone
Singapore
Slovakia
Slovenia
Solomon Islands
Somalia
South Africa
South Korea
South Sudan
Spain
Sri Lanka
Sudan
Suriname
Swaziland
Sweden
Switzerland
Syria

T

Tajikistan
Tanzania
Thailand
Togo
Tonga
Trinidad and Tobago
Tunesia
Turkey
Turkmenistan
Tuvalu

U

Uganda
Ukraine
United Arab Emirates
United States of America
Uruguay
Uzbekistan

V

Vanuatu
Vatican City
Venezuela
Vietnam

W

X

Y

Z
Community content is available under
CC-BY-SA
unless otherwise noted.