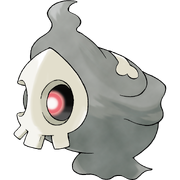 Duskull is a ghost Pokémon, that looks a tad like the grim reaper. It's known to doggedly chase down anyone who disturbs it, but will vanish when the sun rises. It also likes hearing the crying of children. It evolves into Dusclops at level 37, and to Dusknoir when traded holding the Reaper Cloth. Apparently, it lacks the Ghost Pokémon's usual ability to learn Thunderbolt and Thunder, but can be taught Ice Beam and Blizzard.
Sprites
Community content is available under
CC-BY-SA
unless otherwise noted.