Duon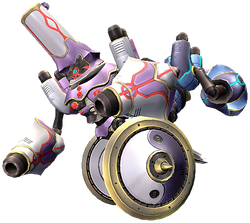 GENERAL INFO

GENDER
Unknown
SPECIES
Dual Faced Robot
CURRENT STATUS
Deceased/Fatally wounded (Subspace Emissary)
ALIGNMENT
Evil
MISCELLANEOUS INFO

SERIES
Super Smash Bros. series
CANON APPEARANCES

Super Smash Bros. Brawl (2008)

VOICE ACTOR(S)

N/A
Duon is a boss from Super Smash Bros. Brawl.
Bio
Duon is a two-sided robot on one set of wheels; one half is pink and has a head cannon and two arm cannons, and the other half is blue with two arm swords and a curved blade on his head. Both sides have shoulder exhaust pipes which rockets (pink side) or mines (blue side) can be fired from (though these can also be fired from the arm cannons). He rotates 180 degrees to change his attack strategy. The wheels he pivots on are the Yin and Yang symbols from Chinese belief, symbolizing balance and juxtaposition of two forces. There is an invisible platform between Duon's two halves, making Duon one of only two bosses that a character can actually stand on, the other being Porky Minch.
Game Appearances
Duon appears as one of the bosses of Shadows of Smash mode and an alternate Final Boss in Classic Mode.
His boss battle is set in the Battleship Halberd's Hangar from the Kirby series, and his boss battle themes are "Boss Battle Theme 1 [Brawl]", "An Obstacle in Our Path [Original]" (If Shulk and Fiora fights him in the Classic Mode), "Steel Beast 6Beets" (If Metal Slug Soldier fights him in the Classic Mode) and "Mecha Dragon [The Power Fighters]" (If Megaman fights him in the Classic Mode).
Gallery
Trivia