Dunban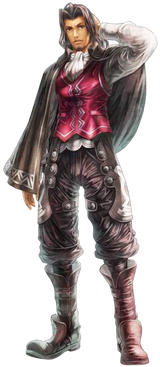 GENERAL INFO

GENDER
♂ Male
SPECIES
Hom
CURRENT STATUS
Alive
AGE
Unknown
ALIGNMENT
Good
PERSONAL INFO

WEAPONS
Katana
MISCELLANEOUS INFO

SERIES
Xenoblade Chronicles
CANON APPEARANCES

Xenoblade Chronicles (2010)

VOICE ACTOR(S)

Rufus Jones
Ryo Horikawa
Dunban (Japanese: ダンバン, Danban; English dub: /ˈdʌnbæn/) is a character from Xenoblade Chronicles. One of the main protagonists of Xenoblade Chronicles, Reyn is a Hom soldier from Colony 9 who was present at the Battle of Sword Valley. He joins the party as they enter Satorl Marsh.
Appearances
Dunban appears as an NPC.
Star Team Heroes
He's one of the victims of the Kirthar's Snap Finger.
Gallery
Navigation Templates
Characters