Dudel Drawson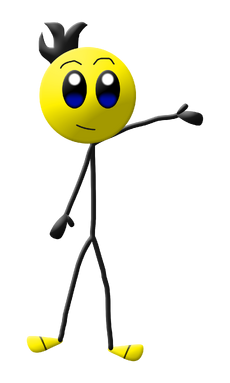 Dudel's basic appearance.
(As in Fantendo ObstaCourse)
GENERAL INFO

GENDER
♂ Male
CURRENT STATUS
Alive
BIRTHPLACE
New Canvas
PERSONAL INFO

RELATIONSHIPS
CLASS
Hero
WEAPONS
Drawn Weapons
MISCELLANEOUS INFO

CANON APPEARANCES
— Dudel, Doodlemen RPG
Dudel Drawson (also known as Dudle Drawson) is a male stick figure drawing or Hero Sketchy that was created for a boy named Drew as a young age. He and his sister Dudlette are the main characters in the Doodlemen Series, in which he first appeared in Doodlemen RPG. He is proven to be a extreme daredevil, very fun-loving, and enjoys fighting alongside his friends.
Appearances
Dudel makes his debut in Doodlemen RPG, in which he and his sister Dudlette are shown to be created by young Drew. He was found as a drawing later and stolen by Artie and magically comes to live. Once Artie notices, Dudel and Dudlette are saved by The Player, who draws their weapons and their own city, New Canvas. Soon Dudel is brainwashed by Artie and sent on a quest by the Sketchies to retrieve the Rubolet, a legendary ruby.
Flipnote
the Flipnote Hatena of the Character of McBoo.
Dudel will be a playable character in Doodlemen Journey: Sideways Quest.
| Character | Name | Description |
| --- | --- | --- |
| | Dudel | After getting a strange mind-wipe, Dudel and his big sister, Dudlette were strangely transported into the Mushroom Kingdom. Using the power of drawing, Dudel was able to survive in his old life. |
Other Appearances
Dudel makes his first appearance in a spin-off game in Fantendo Kart Ultra as a default character.
Icon
Name
Instruction Booklet Biography
Statics
Dudel
Holy cow, he's fast! But with those skinny arms, there's no telling if you'll find all the pieces after a boss battle.
Power 1/4
Control 3/4
Skill 2/4
Speed 4/4
Trivia
Dudel's name is combination of dude (a guy) and doodle (a drawing).
Gallery
Community content is available under
CC-BY-SA
unless otherwise noted.