This page is a production by yours truly, Puddle (t∣b∣c).
Please don't edit this page or any of its subpages without my permission - unless it's for something like grammar or organisation. If you want to contribute to the project, please ask me first! With that being said, enjoy the article!
Draco Duel
Developer(s)
Button Studios
Publisher(s)
Button Studios
Director(s)
thepuddlecat (t∣b∣c)
Platform(s)
Nymbus
Genre(s)
Action, Fantasy, Fighting
Series
Draco Duel
Release Date(s)
January 7th 2019
January 11th 2019
January 11th 2019
January 12th 2019
Age Rating(s)
Media Included
Cartridge, Digital Download
Draco Duel is a fantasy-fighting title developed by Button Studios for the Nymbus, that was released on January 7th 2019. It is the first game in the Draco Duel series. The game was first teased at Button Studios' September Direct Presentation, although details about the game weren't formally revealed until November 21st 2018.
Draco Duel is primarily a fighting game that takes inspiration from many video game franchises including Tekken, Street Fighter and ARMS. Essentially, gameplay revolves around 5-minute matches between two players that take control of Draconids, a half-human half-dragon species, in death matches that take place within three-dimensional arena environments. There is a great deal of strategy involved within the gameplay of Draco Duel, with fighters being able to transform into much more powerful dragon-like forms, at the cost of their stamina and health. The game takes place in Arcania, a fantasy world where Draconids inhabit the plethora of environments.
The game has several other game modes revolving around the fighting mechanic, including: local multiplayer free play, and online multiplayer, which includes friendly, competitive and tournament games. Upon its release in January 2019, Draco Duel was met with mixed, but generally positive reception. Critics praised the fluid gameplay and depth of combat, while criticising the lack of in-game content and character balancing issues.
Following the game's success, Draco Duel 2 was announced on May 30th 2019.
Premise
Draco Duel takes place within a fantastical world called Arcania, where the land is ruled by human-dragon hybrids with transformation capabilities called Draconids. After thousands of years of war and conflict, Arcania has finally reached an era of peace, where Draconids have developed cultures and activities, most famously Duels. These competitive events are where Draconids fight in no-holds-barred matches. While throughout history, these events were seens as inhumane, violent and needless, Draconids are now enthusiastic about the thrill of the fights.
Gameplay
Draco Duel is a 3D fighting game in which matches take place over five minute durations. The objective of the match is simply to deplete the opponent's HP to zero.
Halfway through the match, the game will pause, allowing for players to change their activated Essences. These fragments each carry different powers that carry positive effects into gameplay. In order to use the effects of an Essence, players must first unlock the Essence through other game modes, then activate it. Up to three Essences can be activated at once, with stacking effects, but at the halfway point of the match, all three active Essences must be switched out. This prevents players from using potentially overpowered Essences for the whole game.
During combat, attacks deal default damage values, however the figure is mostly dependant on the timing of the user's attack. Before an attack is carried out, players must press a button (or sequence or buttons) in time with flashing lights that appear in the UI. Perfect timing with button pressing can increase power by 50%, while failing to even press the indicated button will reduce power by 50%.
Good timing doesn't only increase the power of the attack - it also rewards the player with Etherium. Etheriumis displayed in a gauge across the top left of the screen. Perfectly timed attacks reward the player with 10 Etherium, and when the Etherium value reaches 100, players can execute an Etherial Finale. This is a powerful attack that inflicts huge damage onto the foe.
Duel
Duels are simple matches that take place between two players. Ultimately, the goal of a duel is to wear down your opponent's HP to 0 before the time limit ends. Duels can be played with two different rulesets - namely Friendly and Competitive.
Friendly Duels are, by default, 3-minute matches. If neither player has been knocked out by the end of the time limit, the player who dished out the most damage throughout the match is crowned the winner. Friendly Duels do not always use Essences, as they can be turned off for friendly play.
Competitive Duels are 5-minutes long by default, with a 30-second break halfway through. At the end of the time limit, a phase called 'Deathmatch' will begin. During this, the difficulty racks up for both players as the arena begins to fill with hazards and slowly shrink. If a player's HP reaches zero before the end of the time limit, their foe will automatically win.
Online, Duels can be played in either Friendly or Competitive modes with registered friends on the Nymbus system, or strangers from the user's country, or all over the world. In the online lobby, players first select what type of duel they would like to participate in. Next, they can choose whether to play with online friends, players within their region, or players from all over the world.
After a match is made between two players, they will be able to communicate via text chat for roughly thirty seconds while the game loads. At this point, players choose their characters and, if they are playing Competitive, their Essences to start the game. Upon the conclusion of a match, both players will be automatically registered as each others' "Acquaintances" on the system, and their Dragon Power stats will change depending on the result of the match.
During the October 2018 Button Direct, it was revealed that the game would include online tournaments from time to time. In these events, players would choose a team. Akin to Splatfests from Splatoon, players choose their team based off their preference of the two items displayed, such as 'Chocolate VS Chips', 'Pancakes VS Waffles', and so on. When a player plays online, they will be matched up against a player from the other team, and the winner will contribute points to their team's grand score. At the end of 48 hours, the team with the most points will be victorious, and winners will receive rewards such as exclusive Essences and character costumes.
Arcania Grand Prix
Grand Prix mode takes the player through a series of twelve fights, one against each character in the game. The objective is to endure every fight to be crowned the champion of the Grand Prix. Each battle takes place against a certain character on a preset stage. While the fights take place in a random order, players will always begin by fighting the character they are currently playing as.
Grand Prix takes about one hour to complete. Fortunately, there are checkpoints after every three battles, which the player will be sent back to if they lose a fight, or the system is turned off. Upon reaching a checkpoint, the player will be rewarded with a low-rank Essence, and on completing the final fight in the Grand Prix, they will obtain an S-Rank Essence, a special type of Essence that can only be obtained through this mode.
Mass Attack
Mass Attack is an alternative competitive multiplayer game mode wherein 6-12 players can play together in two teams. Essentially, the objective of Mass Attack is to destroy the other team's Etherial Heart. Doing this will prevent enemies from respawning, allowing the player's team to kill them off and win. As such, Mass Attack revolves around many offensive and defensive strategies. Players using characters with defensive builds such as Selesté may want to consider protecting their Etherial Heart, while characters with offensive builds such as Vahala should be used to inflict damage on opponents.
This game mode takes place within a map, randomly selected from a pool of eight different maps known as Battlefields. These maps are much larger than your average duel arena - many are fitted with hazards and almost all have varying landscape, meaning that team strategy must be based around the selected map.
Players can participate in Mass Attack either via local multiplayer with between five and eleven friends where teams are selected manually, or via online multiplayer where eleven other players will be connected to the player before teams are randomly assigned. Essences can be used in this mode so it's important to have obtained a variety of useful ones before going online.
Characters
"No two characters are the same, and each experience you have using a character will be unique. Take Vahala, for example, who sacrifices defense and stamina for dangerously high offense and speed. Or Yannis & Yasmin, who move around very slowly, but deal damage twice for every attack. Or Selesté, who relies on spells and potions to attack from a distance rather than close range. Or Dimentra, who can use close-range attacks from anywhere on the field thanks to her interdimensional portals."


— Puddle in the October 2018 Button Direct.
There are twelve unique playable characters in Draco Duel. Puddle himself has stated that his main focus for the game's characters was for them to be all unique, in terms of design, personality and playstyle, all the while being balanced gameplay-wise. Half of these characters are available from the start, while the remaining six must be unlocked through gameplay.
= Indicates that the character must be unlocked.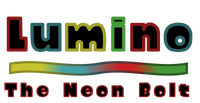 Lumino's humanoid form.

Lumino's dragon form.
Greatly resembling the ancient hero of myth, who saved Arcania from destruction after a devestating war, Lumino is an aspiring warrior who trains every day, wanting nothing but to be the best he can possibly be. Lumio trains in underground caverns, where the multicolored crystals underground granted him light and fire-based powers, including attacks such as his Firework Burst and Rainbow Blast Beam. Little does Lumino know that he is actually the descendant of the ancient hero, and he can power up his attacks with the soul of the legendary warrior.
The Neon Bolt
Firework Burst
Lumino unleashes a lightning-fast barrage of miniature explosions, which deal low damage to foes within a certain radius around him. While this attack is weak, it has a quick recharge time and can be used in quick succession.

Rainbow Blast Beam
A white orb of concentrated light is generated within Lumino's claws, which he converts into a destructive rainbow beam to pummel foes into oblivion. This attack deals amazingly high damage, but it will leave Lumio vulnerable for a few seconds after use.

Trident Flurry
Lumino turns around and slashes the target with a flurry of attacks from his tail. It's a basic attack with high DPS, however it is quite easy to miss to foe using this attack.

Colorful Claws
Another quick attack where Lumino strikes at the target with his claws. This attack is unique in that it is made up of many individually-timed attacks. The longer you attack for, the more damage you will rack up.

Etherial Finale: Crystalline Hypernova
Lumino shoots out a sparkling projectile which homes in on the foe. On impact, the foe will be caught in a devestating attack where they are incinerated by beams of light and pierced by sparkling crystals, which is guaranteed to "Burn" them.

Alternate Costumes

---

Dimentra's humanoid form.

Dimentra's dragon form.
Dimentra was an ordinary scientist who, in a freak accident while conducting research into interdimensional rifts, was corrupted by a strange dark energy, which not only transformed her into a Draconid, but gave her the power to freely create and destroy portals between this dimension and the shadowy dimension of corruption that transformed her. She uses this power in combat, which allows her to use close-range melee attacks from a long distance by creating portals between herself and her foe. Since she exists between dimensions, she is able to slowly regenerate health when she is stood still and not attacking, but this can often expose her to more damage, so use this ability wisely.
The Dimensional Sorceress
Void Lash
When the foe is at close range, Dimentra lashes out with her tail at the target, dealing high damage and penetrating the foe's defenses. Thanks to her portals, however, she can use the attack from anywhere on the field.

Dimensional Blades
Dimentra casts portals around the ground, which create sharp blades made of interdimensional fabric to strike at the target is a frantic flurry. This attack is slow, so it's hard to accurately hit the target. However, the damage output is huge.

Wraithful Claws
Another attack that Dimentra can use from anywhere on the field. At close range, this attack, which sees Dimentra strike the foe with her claws, does more damage. However, the attack is faster to execute when using through a dimensional rift.

Portal Claws
Dimentra concentrates interdimensional energy within one of her portals, before blasting a purple beam of light out at the foe. This attack is weak, but it is very easy to hit the foe since the beam is very wide.

Etherial Finale: The Sorceress' Kiss
A portal is created at the foe's feet, which causes them to fall right in front of Dimentra, who can quickly rack up massive damage while they are falling through the air. This chaotic attack has a 15-second recharge, but it is very potent nonetheless.

Alternate Costumes

---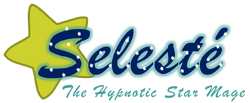 Selesté's humanoid form.

Selesté's dragon form.
Nobody knows much about the true origin of Selesté, but most people believe that they were born in deep space, called to the Planet of the Draconids by the outbreak of war thousands of years ago. Selesté used their hypnotic powers and mysterious potions to calm the chaos, and ever since, they've remained here, desperate for peace and tranquility. Selesté is a unique fighter in that they can use magical spells and potions to completely shift the battle. While lacking the raw power that other characters in the game have, Selesté is a very tactical fighter whose attacks can be devestating when combined together.
The Hypnotic Star Mage
Starfall
Selesté casts a spell, causing a large glowing ring to appear on the floor of the arena. Seconds later, glowing meteorites and stars will obliterate anything within the circle, dealing huge damage. However, due to the slowness of the spell, it's easy to avoid.

Toxic Potion Burst
A potion is thrown at the foe, which, if it successfully makes contact, deals damage and afflicts the target with a 'Toxic' debuff, which damages them over time. However, if Selesté is caught in the potion's range, they too will be inflicted with 'Toxic'.

Starstruck Potion Burst
Selesté's second potion attack, which, when successfully executed, inflicts the 'Starstruck' debuff on the target, which not only lowers the power of their attacks, but also causes Selesté's other attacks to home in on them, allowing for devestating battle combinations.

Dazzle
Selesté shoots out small star-shaped projectiles at the foe. The individual attacks deal low damage, but the longer the attack is used, the quicker the projectiles are fired, meaning Selesté should charge up this attack to maximum power for best results.

Etherial Finale: Spacial Vortex
Casting a spell, Selesté causes a celestial rune to appear on the ground, which, when stepped on by the foe, deals massive damage and inflicts them with 'Toxic' and 'Starstruck' debuffs for 30 seconds.

Alternate Costumes

---

Vahala's humanoid form.

Vahala's dragon form.
Vahala, the Hellbound Soul, is believed to be the destroyer of evil spirits that enter the underworld. While in their humanoid form, Vahala allegedly works with Satan, guarding the gates to hell. When an evil soul arrives, dark energy causes Vahala to transform from their human form to their dragon form, in which they destroy the soul with burning fire and poison. Vahala hasn't ever been seen outside the underworld, except in nightmares. In battle, Vahala uses a range of torturous attacks based on fire, plague and darkness. For any innocent soul confronted with Vahala, a bit of advice: pray that any benevolent spirit will spare you from the demon's wrath.
The Hellbound Soul
Infernal Blade
Vahala strikes out at the target with their burning tail of bone, setting the foe ablaze if it makes contact. Additionally, this attack has a high chance of scoring a critical attack.

Fume Flames
Casting a wall of red flames in front of the foe, Vahala proceeds to create a cloud of hot black smoke, which drifts close to the foe in an attempt to inflict the 'Toxic' debuff on them.

Furious Skyclaw
In this slow, but deadly, attack, Vahala soars into the air, igniting their whole body before soaring back down to lash the foe with their burning claws for high damage. If you're lucky, you can cancel this attack by knocking down Vahala while they are in midair.

Necromancy
Vahala stays still as a flaming red aura appears around them. Following this, three skeletons will rise out of the ground, seeking out the foe. These skeletons inflict 'Toxic' upon attacking a target, but they're easily defeated with a wide-ranged attack.

Etherial Finale: Blazing Hell Catastrophe
Vahala's body glows red, which means that once they attack the foe, an immensely powerful attack, involving fiery spirits, skeletons, burning flames and explosions, will be landed on the target. To make up for the insane power of the attack, Vahala is vulnerable for several seconds afterwards.

Alternate Costumes

---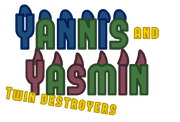 Yannis & Yasmin's humanoid form.

Yannis & Yasmin's dragon form.
Born into a royal bloodline of Draconids, Yannis and Yasmin, the Twin Destroyers, are indeed twins, who were the only members of their family to survive the revolt against royalty that took place thousands of years ago in Arcania. Ever since, Yannis and Yasmin have agreed to step down from their royal status to take up fighting, which made them celebrities across the land for their unrivalled teamwork skills. Despite the occasional sibling rivalry the duo display at times, they are renowned for being an excellent tag team who use their twin telekinesis to take down any opponent. Notably, Yannis's attacks rely on physical, close-range attacks, while Yasmin's are long-ranged.
The Twin Destroyers
Quadruple Claw Strike
Yannis strikes at the foe from the left, hitting them with his claws twice, before Yasmin strikes out from the other side. This process can be repeated endlessly with precise timing and fast reactions.

Shroud Cloud
Yasmin quickly exhales a cloud of toxic gas, which Yannis lights ablaze with his burning claws. If you're caught underneath the cloud, you'll be poisoned, but if you're above the cloud, it will incinerate you for long-lasting damage.

Dragon Crunch
Only Yannis carries out this attack, in which he attempts to trap the foe within his huge jaws to bite down on them with tremendous force. Thankfully the attack is quite slow, but if you're caught in Yannis' jaws you'll take huge damage.

Blizzard Breath
Only Yasmin carries out this attack, in which she sends a gale of zero-cold winds storming towards the target. If the foe is exposed to the blast for more than three seconds, they'll become inflicted with 'Frosted', which slows their movement speed temporarily.

Etherial Finale: The Power of Two
The destructive twins work together to carry out this catastrophic finale. First, Yasmin conjures a dark void out of the ground while Yannis fires exploding spike balls around. When the attack is at its peak, a shadowy pair of jaws will emerge from the void, obliterating the foe before vanishing. It's believed that these jaws belong to the spirit of Yannis and Yasmin's mother.

Alternate Costumes

---

Frostspark's humanoid form.

Frostspark's dragon form.
Hailing from the northern reaches of Arcania, Frostspark was once a normal hunter who was blessed with legendary powers after accidentally absorbing the soul of a Draconid that had perished in the snow, thus transforming him into one. With his newfound icy powers, he went on a crime spree across the wintry wasteland, pillaging settlements and terrorising locals. With the introduction of duels, Frostspark decided to prove his strength in the arena, using his transformation powers and snow spells to freeze his foes solid. Despite his high agility and attack power, Frostspark's defences are miserably low and he'll take ever more damage from fire-based attacks. Focus on using wide-range and homing attacks to make taking him down considerably easier.
Conqueror of the Cold
Hail Blitz
Frostspark launches a barrage of hail stones at the opponent in an attack that can be used repeatedly for long durations of time, but does little damage. However, if you're able to get ten hits off in a row, the opponent will be inflicted with 'Frosted', slowing their movement speed.

Freezy Fangs
This attack only works at close range. Frostspark lunges forwards, dealing damage onto the foe with his icy jaws. Almost every time this attack is used, it will inflict the foe with 'Frosted' as well as a substantial amount of damage.

Burning Snowstorm
In this wide-range attack that is almost impossible to avoid, Frostspark spreads out his wings and blasts the opponent with a zero-cold gale, which will alaways inflict 'Frosted'. However, Frostspark needs to charge up for three seconds to use this attack, and if he's hit while charging up, he'll take double damage from that attack.

Tail Crash
A basic attack in which Frostspark slams his icicle tail onto the foe. This attack is more likely to land in a critical hit than most others.

Etherial Finale: Polar Vortex
Frostspark casts a spell, which causes a snow-cloaked portal to appear in the air above the battlefield. After several seconds, this will cause hail stones and icicles to rain down on the foe, inflicting them with 'Frosted'. Furthermore, during this time, Frostspark will gain significant stat boosts to his attack and speed.

Alternate Costumes

---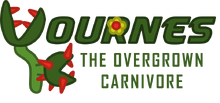 Vournes's humanoid form.

Vournes's dragon form.

Vournes is an ancient mage from the deepest, gloomiest rainforests of eastern Arcania. Due to the plants that have infused with her, she has gained immortality and many plant-like abilities such as photosynthesis and control of nature around her. When she transcends into her dragon form, she'll transform into a destructive monster with four carnivorous plant heads that can and will eat and destroy anything. Not only this, but the huge spines that cover her body inject poison into any foe or predator, making her a dangerous adversary. While her speed is abysmal, her high defences and attack make up for this, as long as you watch out for enemies' attacks.
The Overgrown Carnivore
Toxic Spine Barrage
Vournes curls up into a defensive state and launches a barrage of toxic spines around her, some of which will track down the opponent and inflict 'Toxic' upon making contact. Furthermore, if Vournes is attacked in this state, she'll take minimal damage and the opponent will also be hurt.

Chompdown
At close range, Vournes can unleash a series of bites on the foe, using each of her four heads. Each individual attack from this move will do slightly more damage than the last.

Vine Overgrow
Slamming her tail into the ground, Vournes sends a vine through the earth, which will travel in a straight line until hitting an opponent. Then, the vine breaks out of the ground, striking the foe with thorns and trapping them in place temporarily.

Slurry Spray
Vournes' two front hits launch a spray of corrosive acid over the opponent. If this makes contact, the foe will be inflicted with 'Corroded' and a moderate amount of damage.

Etherial Finale: Carnivorous Flower Bloom
When Vournes unleashes her charged power, two huge carnivorous plants will emerge out of the ground. One will eat the opponent, damaging them at a high rate and inflicting 'Corroded' while they struggle in the plant's mouth. Following this, the other plant will do the same before both plants disappear, leaving a patch of thorny vines on the ground where they were.

Alternate Costumes

---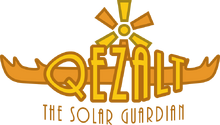 Qezalt's humanoid form.

Qezalt's dragon form.

The Solar Guardian, Qezalt, was born from a vicious sandstorm in the desert as a result of an ancient tribe's ritual. Revered by many, Qezalt's task was to eternally protect the elements of the desert from malicious forces, and in order to do this, they were gifted mythical abilties such as control of the earth, control of the wind, and control of the desert sands. Even today, Qezalt guards the sun with all of their might. In battle, Qezalt uses their elemental moves to dominate the battlefield, being able to slow down the foe with violent sandstorms and tornadoes, and inflicting damage with telekinesis.
The Solar Guardian
Wilderness Whirlwind
Qezalt flaps their wings, conjuring up a tornado of twisting sand which is launched straight forward to contact an enemy. When the attack connects, the player will take moderate damage over a prolonged period of time, and the 'Sandstorm' debuff will obscure their vision.

Pyramidal Burst
Striking the ground, Qezalt prepares an attack where, three seconds after use, a stone pyramid structure will erupt out of the ground in front of them, launching the foe high into the air when it makes contact. The attack deals devestating damage but there's a delay between activating the attack and unleashing the attack.

Solar Sunblast
Rising into the air, Qezalt concentrates sunlight into their wings, before shooting out a continous, powerful beam of pure light at the target. While the size of the beam decreases with time, this attack is guaranteed to set the foe on fire after five seconds of exposure.

Claws of the Desert
A basic attack in which Qezalt lunges forwards with their claws, lashing them and throwing sand in the target's face. This attack has a 50% chance to inflict 'Sandstorm' on the target.

Etherial Finale: Solar Apocalypse
Once Qezalt activates their Etherial Finale, the arena will be set ablaze, with the ring of fire slowly closing in on the foe. In the meantime, the foe is inflicted with 'Burning' and 'Sandstorm' while Qezalt's stats are increased by 50%. When the fire reaches the foe, they'll receive massive damage and the attack will end.

Alternate Costumes

---


Aquarina's humanoid form.

Aquarina's dragon form.

An ordinary young girl who's been a Draconid all of her life, Aquarina's early childhood was uneasy, as she was kidnapped and tortured by criminals who were jealous of her aquamantic powers. Thankfully, due to a mysterious benefactor, she was freed and continues to live a happy life, where she is ready to use her powers to stop any threats to her safety. Having control of water, Aquarina weaponises this ability in the form of bubbles, which she can create at an astonishing rate. Not only this, but in her dragon form, the scales that cover her body are extremely smooth, allowing her to slide across all surfaces gracefully.
The Bubbly Enchanter
Bubble Storm
Aquarina creates a small whirlpool in the ground, which produces a flurry of small bubbles which accelerate forward to strike the foe. While the damage output is low, this attack can easily be used quickly time and time over.

Soap Strike
Rushing forwards, Aquarina lashes at the target using her bubble wand tail. If the attack connects succesfully, the foe will be trapped in a bubble and dealt moderate damage, as well as being inflicted with 'Slippery', which causes them to slip around the ground.

Bouncing Bubble Burst
Aquarina creates four large bubbles from her mouth, which she proceeds to blow forwards, causing them to bounce around the arena until they contact the foe. Upon making contact, the foe will receive massive damage, and occasionally become inflicted with 'Slippery'.

Lather Tsunami
Striking the ground, Aquarina sturs up a tidal wave of soapy bubble water, which is lauched forwards in a straight line towards the target. While the wave is wide, and inflicts high damage on contact with the foe, it moves quite slowly and can be avoided easily by a faster character.

Etherial Finale: Wishy-Washy Water Whirl
Having activated her Etherial Finale, Aquarina causes the arena to fill with soapy water and giant bouncing bubbles. After approaching a bubble, Aquarina will jump onto it before crashing into the target for tremendous damage. During this process, the opponent will become inflicted with 'Slippery'.

Alternate Costumes

---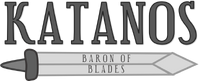 Katanos's humanoid form.

Katanos's dragon form.

Thousands of years ago, Katanos fought in the Great War, aiding the rebel army against the tyrannous royal family who declared destruction on the civilisation the Draconids had created. Katanos was one of the few warriors to survive the war, and following the executing of the monarchs, he left Arcania to work as a mercenary around the galaxy. Unsuprisingly, Katanos' combat skills are exceptional, both in his human form and dragon form. With exceptionally high stats all around, he's a difficult foe to take down. However, by working around his high-risk, high-reward attacks and utilising his major weakness - in that his stats will fall as you attack him more - he should be less challenging to deal with.
Baron of Blades
Metallic Fury
A very quick attack in which Katanos slices at the foe using his sword-like wings and tail. This attack can be used three times in quick succession, inflicting the 'Pierced' debuff on rare occassions.

Iron-Edged Execution
One of Katanos' slower attacks. To perform this, the foe must be at close range. When the time is right, Katanos will strike them with the iron spikes on his back for high damage and high knockback. The attack will usually inflict 'Pierced' as well.

Counter
Katanos protects his body with his iron-bladed tail, which, if used with precise timing, will negate any melee damage done to him, and reflect the attack back at the opposition with increased damage.

Decimation
In this extremely risky attack, Katanos will lunge forwards at lightning speed. If the timing is perfect and the battle conditions are ideal, Katanos' blade wings will tear the foe apart, instantly causing their health to drop to zero. However, if he misses, he will be exposed to attacks for six seconds.

Etherial Finale: Precipices of the Earth
After activating his Etherial Finale, Katanos will screech loudly, calling for six huge iron spikes to raise out of the ground, trapping the opponent. Then, metal blades will emerge out of the ground, obliterating the opponent with a high-damage attack which inflicts 'Pierced'.

Alternate Costumes

---


Slyza's humanoid form.

Slyza's dragon form.

Slyza, like several other Draconid champions, was once a normal human who worked in a nuclear waste containment facility. Unbeknownst to them, they had come into contact with an extremely volatile substance known as Slyzium, which corrupted their DNA and transformed them into a Draconid. Slyza adopted their new name from the name of the substance that transformed them, and ever since they've used their radiation and poison resistance for both good, in devouring trash and polluted mass, and evil, in terrorising perpetrators of the filth. In battle, Slyza has a highly defensive fighter with low attack power. Slyza mainly relies on dealing damage through poisonous substances and inflicting further damage on foes as they suffer. For a chance to survive an encounter with Slyza, use poison-resistant Essences and avoid being poisoned at all costs!
The Nuclear Abomination
Fume Breath
Slyza breathes a breath of toxic gas over the opponent. This attack has a large area of effect, creating a poisonous cloud which stuns opponents while dealing minor damage over time.

Sludge Bazooka
Slyza forms a mass of sludge from their tail and launches it forwards in a straight path towards an opponent. While the projectile doesn't home in, it moves quickly, deals moderate damage on impact and inflicts the foe with 'Toxic'.

Chemical Coils
When an opponent is at close range, Slyza can capture them in their serpentine body and douse them in harmful substances, dealing moderate damage and inflicting 'Toxic'. If the foe is already poisoned, they will take double damage from this attack.

Nuclear Spillage
For this attack, Slyza regurgitates toxic fluid, which forms a puddle on the ground. If the foe walks through this puddle, they will take moderate damage and become inflicted with 'Toxic', but if Slyza enters the fluid, their health will be restored at a rate of 4HP per second.

Etherial Finale: Apocalpytic Poison Downpour
As soon as Slyza activates their Etherial Finale, a large volume of purple toxic sludge will rain from above, completely covering the battlefield. This sludge has several effects, namely inflicting 'Toxic' on the foe, slowing them down and also increasing Slyza's defences and health regeneration rates. After about ten seconds, the sludge will fade away.

Alternate Costumes

---


Xsomnis's humanoid form.

Xsomnis's dragon form.

Xsomnis is the physical manifestation of hatred and nightmares, born into the world after a war massacre which led to the deaths of thousands of noble soldiers. Following her birth, Xsomnis vanished into an alternate dimension known as the Etherial Realm, where the deepest, darkest thoughts and evils of the universe gather to be commanded by Xsomnis. A being with incredible power, Xsomnis' only goal is to free herself from the Etherial Realm to consume the other dimensions. In battle, Xsomnis is a unique character who becomes more powerful with lower HP. At full health, her attacks are weak and she is slow, but at very low health, her attacks become extremely strong as she is strengthened by her own suffering.
The Nightmare Warrior
Blue Flare Burst
Xsomnis shoots a blue fire projectile, which homes in on the target and explodes on contact, dealing high damage and rarely inflicting 'Burn'. As Xsomnis grows, weaker, the speed of the projectile increases and the chance that it will inflict 'Burn' rises.

Crystal Blizzard
Standing still, Xsomnis conjures up a storm of crystalline fragments, which deals light but rapid damage onto the opponent in a small area. If the opponent is exposed to the blast for more than three seconds, they will be inflicted with 'Pierced', however the attack's range decreases with time.

Scythe of Souls
Xsomnis lashes at the foe with her scythe tail, dealing high damage. Despite this attack's mediocre speed and short range, it has a high chance to land a critical hit and a successful hit can pass any of Xsomnis' status conditions onto the opponent.

Leeching Cloak
Casting a phantasmic cloak onto the opponent, Xsomnis slowly drains the foe's health. While this attack deals damage at a slow rate, it will become faster and more deadly as Xsomnis' health depletes.

Etherial Finale: Eruption of Oblivion
Unleashing her Etherial Finale, Xsomnis creates a dimensional rift in the battlefield, opening up the Etherial Realm, from which nightmarish creatures such as Etherial Ghouls and Etherial Tentacles devestate the foe, inflicting the exclusive status condition 'Nightmare' and very high damage. The uncontrollable power of this attack will slightly lower Xsomnis' HP.

Alternate Costumes

Arenas
Duels in Draco Duel are fought within stages called arenas. These arenas are usually stylized after a particular theme, such as the volcanic stage, Dragonbreak Falls, and the sky stage, Cumulonimbus Arena. Out of the twelve stages, in the game, eight are available from the beginning, which the remaining four must be unlocked through completing stages in Adventure Mode.
Some stages have stage hazards if you stray too far from the center of the arena. For example, Dragonbreak Falls has a moat of lava surrounding the battlefield that deals damage at an alarming rate to any player that falls in it. These stage hazards become more of a risk during Deathmatch, when the arena shrinks at the hazards close in on the players. While some characters have resistances to certain hazards, every hazard can eventually kill any character after about ten seconds of exposure. However, there are no hazards that will seek out players. This was originally concieved for the game, but later scrapped since it would make some stages less competitively viable than others.
| Arena | Description |
| --- | --- |
| Arcania Stadium | Arcania Stadium is the most iconic arena in all of Arcania, which means it is regularly the site of events such as concerts, sports and most importantly, duels! The arena consists of a circular, metal playing field, held up over a pool of cold water below. Neon lighting in the floor will indicate the fighters' boundaries - cross over the boundary and you'll fall right into the water! Overall, Arcania Stadium is a basic and fair stage - a great place for beginners to practise. |
| Dragonbreak Falls | Deep within the volcanic chasms of Dragonbreak Summit lies one of the most dangerous arenas in Arcania - Dragonbreak Falls. This arena is entirely contained within one huge chamber, with streams of lava pouring from the crags of the ceiling, down the jewel-lined walls, and into a moat of lava which surrounds the rocky battlefield. After too long, the rocks will give way and fighters will plummet into the magma, so watch your step! |
| Cumulonimbus Arena | Situated within a cloudy haven, tens of miles high in the skies of Arcania, lies an extreme arena known as the Cumulonimbus Arena. Here, the air is extremely cold, but this doesn't stop Draconids from fighting here. The white, fluffy clouds are actually tangible, allowing fighters to tread and run across them. Occasionally, the cloudy ground will drift apart and fighters may have to fly to navigate around. Watch out for the Deathmatch, where clouds will slowly fade and lightning bolts may appear randomly! |
| Star Tower | From this enormous skyscraper, which not only breaks through the sky but into outer space, you can see thousands of miles around the world. It's the tallest building in Arcania by far, and the top floor is a celestial arena. Gravity is low at the top of this colossal tower, allowing for more aerial-focused characters to spend more time in the air while heavier characters may struggle to adjust to their newly gained floatiness. Watch out for when falling stars and meteorites rain upon the arena during storms! |
| Dracolosseum | No one really knows who built this, or how long ago it was made, but the Dracolosseum has stood as one of the most extravagant ancient stadiums in Arcania for thousands of years. The arena consists of a sandy battlefield, dotted with remnants of an ancient kingdom such as ruined sculptures and skeletal remains. A popular rumor going around suggests that time itself can randomly speed up and slow down here, but no one has ever seen that happen. Could you imagine something as crazy as that? |
| Midnight Lightclub | Deep within the backstreets of Arcania City lies a nightclub where gangs duke it out under neon lights and techno beats. Most of the time, the lighting is low, but occasionally the nightclub will enter 'Disco Mode', and multicoloured flashes of light will illuminate the duel. Players fight on the tiled stage, with colour-changing floor tiles that shift their hue to the beat. During Deathmatch, all of the lights will fade to back and electricity will close in on the fighters. |
| Mudsteam Summit | The tallest volcano in all of Arcania is in fact a mud volcano, which spews hot tar and gas into the atmosphere at over 20,000 ft. in the air. At the peak, the air is very cold, but the molten discharge from the volcano's crater is searing hot, and it will slow you down as well as burn or poison you if you make contact. Luckily, there is sufficient space on the platform above the crater to avoid the scorching mud. Watch out for the Deathmatch, when exploding bombs of stone and mud shoot into the air. |
| Ycycle Village | Located far away from the centre of Arcania is an isolated village, deep within the snowy tundra of North Arcania. Ycycle Village is the furthest north you can go in Arcania, so the weather here is always extremely cold. The battlefield consists of an ice rink, where you'll slip and slide around if you don't keep your balance. Not only this, but fire attacks can melt the floor, exposing chilling waters below - fall in and you'll freeze solid. Rarely, there will be a blizzard, decreasing visibility and inflicting all fighters with 'Chilled'. |
| Pyramid 7 | This arena takes place within the inner sanctum of a humungous pyramid construction from prehistoric times, which is believed to have been constructed in a joint effort between an ancient race and an extraterrestrial force. As a result, the gravity here is unpredictable. Sometimes you'll be fighting normally, and sometimes you'll be floating around in the air. Other than that, it's a fairly basic arena, apart from the turrets in the pyramid walls that blast lasers at fighters. |
| Royal Ruins | Within the center of Arcania lies the ancient ruins of a once majestic and gigantic palace that was built by the humans thousands of years ago. However, following the rebellion and the destruction that followed, the palace was transformed into ruins. The stage is a basic arena, surrounded by rubble and collapsing towers, but not much will distract fighters from the battle, other than the occasional spot of rain that will change the dry ground into a mud field, where grounded characters are slowed down. |
| Urukol Nuclear Reactor | The abandoned site of a failed nuclear experiment is now an extreme arena for duels. The stage is comprised of a large room with a decaying nuclear reactor in the center, which damages fighters as they get close to it. The reactor will have a huge effect on the battle, creating conditions such as poisonous gas clouds, where characters become poisoned and lose visibilty, or fires that damage fighters. During deathmatch, the reactor will detonate and cause nuclear waste to heavily damage the fighters until one falls and the other is crowned the victor. |
| The Etherial Realm | A chaotic and bizarre universe, home to the Nightmare Warrior herself, Xsomnis. This realm is an unpredictable and dangerous battlefield that occasionally transports fighters to shadowy versions of other arenas. However, for most of the fight, players battle it out on large platforms that float between portals in the air, disappearing and reappearing as they warp between dimensions. During deathmatch, a huge fire will open up below the battlefield, and platforms will slowly begin to fade out of existance. |
Battle Elements
Essences
Essences are collectable powers that can be applied to fighters to give them a new perk or ability, providing as a key aspect of gameplay in fights in Draco Duel. Before a fight, players can select an Essence for their character from a selection of all of the Essences they have collected so far. Only one Essence can be equipped on a character at any time, however it's possible to change the character's equipped Essence during half time.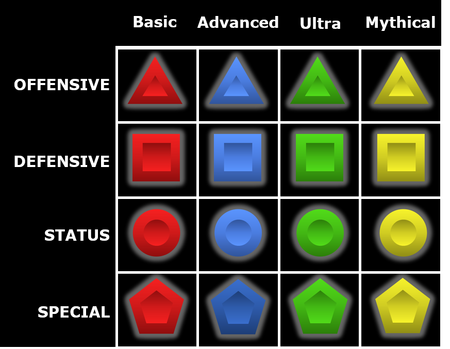 There are four different types of Essence and four different ranks.
As for types, there are OFFENSIVE, DEFENSIVE, STATUS and SPECIAL, each one providing a specific perk or boost in the described department. For example, Offensive Essences will boost attack power, Defensive Essence improve defensive capabilities, and so on.
The four different types of Essence, from lowest to highest, are BASIC, ADVANCED, ULTRA and MYTHICAL. Essences from higher tiers are more powerful, however they are much rarer and harder to obtain than their lower counterparts.
Essences are unlocked through various means. The player starts the game with ten Basic Essences, and it's possible for them to collect many more by:
Completing Arcania Grand Prix using different characters.
Winning Duels against other players or CPU characters.
Completing online matches of Mass Attack.
Completing daily challenges.
▲ OFFENSIVE Essences ▲
Essence of Aciphair
Fire-based attacks are 10% more powerful.
Essence of Ascipusta
Critical hits are 5% more likely.
Essence of Derix
Etherial Finales deal 25% more damage.
Essence of Jathujat
Attacks are 20% faster in the final 60 seconds of a match.
Essence of Minkiba
First attack is a guaranteed critical hit.
Essence of Rim
Attacks become 2% more powerful with each consecutive use.
Essence of Zaurux
Water-based attacks are 10% more powerful.
Essence of Amarein
Ice-based attacks are 20% more powerful.
Essence of Avijl
Start the battle with 50% increased attack power for 15 seconds.
Essence of Edi
Critical hits are 15% more likely.
Essence of Leh
Grabs deal 50% more damage.
Essence of Nukairphe
The foe takes 50% more damage from stage hazards.
Essence of Shaliat
Non-homing projectiles move twice as quickly.
Essence of Zostai
Etherial Finales are 30% faster.
Essence of Allus
Poison-based attacks are 50% more powerful.
Essence of Borealsuhlia
Critical hits deal 4x damage instead of 2x damage.
Essence of Ellurziba
Deals minor damage to foes while shielding.
Essence of Meisa
Grabs are 75% faster.
Essence of Postrachuba
Close-range attacks deal 50% more damage.
Essence of Sublecidhed
Shields break instantly when attacked.
Essence of Alscepten
Light-based attacks are twice as powerful.
Essence of Cygniar
Etherial Finales have a 25% chance to OHKO the opponent.
Essence of Hadr
Deals heavy damage to foes while shielding.
Essence of Mera
Attacks have doubled power during Deathmatch.
Essence of Rathim
The user is unable to shield for the first minute of the match.
Essence of Tarer
All attacks are 30% faster.
---
■ DEFENSIVE Essences ■
Essence of Altankafik
Shields take 10% more damage before breaking.
Essence of Denai
10% increased defence from ranged attacks.
Essence of Dis
Take 50% less damage from grabs.
Essence of Kabf
Each successful grab increases defence by 1%.
Essence of Minuschi
Foe's attacks are 5% slower.
Essence of Ruchium
First attack against the user has no effect.
Essence of Zaus
Close-range attacks cannot land critical hits.
Essence of Adah
50% reduced damage from the opponent's critical hits.
Essence of Aten
Start the battle with 50% increased defence for 20 seconds.
Essence of Elarachi
20% chance that projectiles will be reflected.
Essence of Malgien
Doubled defence while the foe has maximum Etherium.
Essence of Okar
Doubled defence below 10% HP.
Essence of Shellus
Foe's projectiles move 25% more slowly.
Essence of Zubene
Critical hits deal 1.5x damage instead of 2x damage.
Essence of Aliphaeciph
Doubled defences while under effects of Toxic or Burn.
Essence of Benji
Shield regeneration time reduced from 8 seconds to 4 seconds.
Essence of Gieneb
Take 75% less damage from fire and ice attacks.
Essence of Menahainda
Homing projectiles against the user lose their homing ability.
Essence of Pris
30% of projectiles are blocked.
Essence of Sulkerr
Foe is prevented from using attacks for the first ten seconds.
Essence of Alock
Tripled defence for the first 20 seconds of the battle.
Essence of Camiustali
Defences are tripled while having status conditions.
Essence of Hatrasr
Immunity to lightning-based attacks.
Essence of Miare
Foe's Etherial Finales are 50% less powerful.
Essence of Readherf
Immune to projectiles while stood still.
Essence of Tosmait
Each attack against the user increases their defence by 3%.
---
⬤ STATUS Essences ⬤
Essence of Alphadus
5% chance to heal status conditions every second.
Essence of Cepteridia
Status conditions are 10% shorter in duration.
Essence of Doubenev
Grabs have a 10% chance to inflict Pierced.
Essence of Kai
Corroded foes have 50% decreased attack power.
Essence of Mir
20% of status will be copied onto the foe.
Essence of Sadped
Foe starts the battle with a weaker version of a random status.
Essence of Zos
Grabs have a 50% chance to pass on the user's status.
Essence of Arka
Foe is inflicted with Burn at the start of the battle.
Essence of Dene
Foe is inflicted with Slippery at the start of the battle.
Essence of Ele
Foe is inflicted with Corroded at the start of the battle.
Essence of Malken
Attacks are 50% more powerful when Frosted.
Essence of Phem
Frosted and Burned foes have severely decreased visibility.
Essence of Shen
Sandstorm foes have inverted controls.
Essence of Zureax
Slippery foes take 50% more damage from projectiles.
Essence of Agetab
Sandstorm halves the foe's defence.
Essence of Aukard
Pierced foes cannot land critical hits.
Essence of Graila
Nightmare lasts 50% longer on foes.
Essence of Meniya
Starstruck foes take 6HP of damage per second.
Essence of Prothiraed
Foe can be inflicted with two status conditions at a time for 10 seconds.
Essence of Tab
Shielding has a 20% chance to cure status.
Essence of Alis
Moves with a chance to inflict status are guaranteed to inflict status.
Essence of Bol
Start the battle with immunity to status for 30 seconds.
Essence of Heneben
Immunity to Burn, Slippery and Nightmare.
Essence of Midipheze
Immunity to Toxic, Sandstorm and Frosted.
Essence of Riget
Immunity to Starstruck, Corroded and Pierced.
Essence of Wezella
All offensive status conditions deal 50% more damage.
---
⬟ SPECIAL Essences ⬟
Essence of Alkaiphe
Take 10% less damage from stage hazards.
Essence of Borea
5% increased movement speed.
Essence of Durst
Etherium charges 10% faster.
Essence of Koreo
The user will be healed for 20HP when projectiles collide.
Essence of Murha
The user will survive a potentially deadly attack with 1HP.
Essence of Sainubleis
Grabs have a 25% chance to land as a critical hit.
Essence of Zosann
Restore 25HP per second while both users are shielding.
Essence of Alrior
Critical hits decrease the foe's visibility for 8 seconds.
Essence of Cubles
Doubled movement speed for 6 seconds after being hit with a critical hit.
Essence of Elis
Grabs are 30% faster.
Essence of Meinli
Foe takes 50% more damage from stage hazards.
Essence of Phemin
Foe cannot shield during Deathmatch.
Essence of Stegia
Foe cannot grab during Deathmatch.
Essence of Zyyz
Etherial Finales will never fail.
Essence of Deneptra
Health regenerates 9HP per second while standing still.
Essence of Asa
Absorb 50% of damage done while shielding as health.
Essence of Greba
Opponent's controls for grab and shield are swapped.
Essence of Mentris
Slows time for 10 seconds after the user lands a critical hit.
Essence of Rasecrux
Doubled movement speed and attack power below 25HP.
Essence of Tai
2HP restored per second while shielding.
Essence of ALĒ
Speed is doubled at full HP.
Essence of Auselge
Start the battle with 50 extra health.
Essence of Homalbi
Foe starts the battle with inverted controls for 15 seconds.
Essence of Min
Critical hits have a 50% chance of restoring 100HP.
Essence of Rirnan
Negates the foe's Essence but weakens the user's attacks by 10%.
Essence of Wezeno
Immunity to critical hits.
Status Conditions
Nine different status conditions are present in Draco Duel, each having a negative effect on the user when received from a foe's attack. However, some status conditions can be blocked or have their effects changed by Essences.
Status Condition
Description
Effects
"You've been set ablaze by scorching flames! Every second, you'll take damage from the fire that burns your body for roughly ten seconds, or until the blaze is quenched. Try to pass the fire onto your enemy!"

Take 10HP worth of damage every second.
Visually, characters with the Burn condition are seen to be on fire.
The condition can be passed onto foes in very close proximity.

"You've been poisoned! Every half-second, you'll take damage from your poison, which will slowly become more deadly over time. Don't worry though - the poison will wear off after six seconds."

Take 7HP worth of damage every half-second.
Poisoned characters will appear purple, with a poison bubble effect surrounding them.

"You've been inflicted with the powers of the stars! The stars have caused your attacks to decrease in power, and enemy projectiles will target you for 30 seconds!"

Enemy projectiles now home in on the user.
Reduces the power of the user's attacks by 33%.
Starstruck characters will glow yellow and become surrounded by spinning stars.

"A bitter cold frost has frozen you! Ice has severely reduced your movement speed for 20 seconds!"

Reduces the user's speed by 50%.
Frosted characters will appear blue, with slow animations.

"Acidic fluids have corroded your defences! Attacks against you will deal more damage, and you'll take minor damage every second for 20 seconds!"

Reduces the user's defence by 50%.
Take 6HP worth of damage every second.
Corroded characters have a green tint to them, with a green fluid dripping from their body.

"You've been struck by raging desert sands! It will be difficult to see your enemy with obscured vision for 15 seconds!"

Obscures the user's vision, making it difficult to see the foe through a sandstorm effect.
Sandstormed characters are surrounded by a brown dust particle effect.

"You're soaked through! This means you'll slip around the ground more easily, and you might trip over from time to time for 30 seconds!"

Reduces the user's grip on the ground, causing them to slide around.
Each movement has a 1/10 chance to make the user trip and take 14HP of damage.
Slippery characters have water dropping from their body.

"The enemy's attack has penetrated your defences! Attacks against you will now deal much more damage for ten seconds!"

Reduces the user's defence by 75%.
Pierced characters will appear dark grey.

"Embodied nightmares and evils have infested in your soul! You'll take damage and your stats have been reduced!"

Take 8HP worth of damage every second.
Foe restores 8HP every second.
Reduces the user's attack and defence by 50%.
Reception
Reviewer
Rating
IGN
7.6/10
Metacritic
84/100
Giant Bomb
Famitsu
29/40
Duck Soup Reviews III
By FuchsiaPanacea (t∣b∣c)

Perfect

Rice Reviews
By Guygombaa (t∣b∣c)

Gourmet Curry
Draco Duel received generally positive reception. Critics praised elements such as the fluidity of gameplay, depth of combat and character concepts and designs. However, the game was not entirely well received by a general audience, who critised the game's lack of in-game content such as an adventure or mission mode, and many fans were disappointed not to receive any story-driven content despite the copious amount of world and character lore mentioned in the game.
Another major criticism with the game was its balancing issues and Button Studios's failure to fix these issues despite numerous patches. Only days after the game's release, fans quickly realised that Xsomnis was a very overpowered character who could defeat almost any other opponent with little effort thanks to the Nightmare debuff, which drained 8HP from the target per minute while reducing their attack and defence by 75%. Furthermore, Xsomnis's unique gimmick, which increased her damage output when on low health, made it very difficult to defeat her even after taking her down to very low health, as on 1HP, Xsomnis was able to deal staggering amounts of damage to any character with her Blue Flare Burst and Scythe of Souls attacks, even able to land one hit knockouts on some characters under optimal conditions. One week after the game's release, Xsomnis's perks were significantly nerfed, most notably with the Nightmare debuff only reducing attack and defence by 50% (as opposed to 75%). Additionally Xsmonis's overall damage output was reduced, albeit by not enough.
As of 2020, Xsomnis is still considered to be broken and is hence banned from almost all unofficial tournaments. Controversially, Xsomnis is not banned in official tournaments.
Gallery
See full article: Draco Duel/Gallery
Trivia
Several characters such as Yannis & Yasmin were originally intended to be included in Button Studios' cancelled project, Prismancer. Puddle did not want to exclude this ideas from any future games, and he felt like including them as playable characters in Draco Duel, since their lore would fit well within the universe.
Puddle chose to have the game's characters all be dragons due to his love for dragons as a species. The transformation element came about later when Puddle wanted to make a traditional fighting game and chose to intertwine these ideas.
Draco Duel was originally planned to be a PEGI 12 title, however this had to be changed to PEGI 16, due to the violent nature of the game and mild gore.
An orange model of the Nymbus was revealed on December 26th 2018 and released on January 7th 2019 to promote the release of Draco Duel. Known as the 'Dragonblood Orange' model, it was bundled with Draco Duel during the months following launch.
Community content is available under
CC-BY-SA
unless otherwise noted.