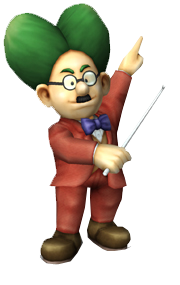 Dr. Wright is a major protagonist from the 1991 SNES title Sim City. While he doesn't appear in any other Sim titles, he does appear as an Assist Trophy in Super Smash Bros. Brawl and Super Smash Bros. for the Nintendo 3DS / Wii U. Despite originally appearing in the SNES SimCity title, a series owned by EA and Maxis, Nintendo developed the title in which he debuted and owns the rights to the character.
Appearances
Dr. Wright appears as an Assist Trophy character in Jake's Super Smash Bros.. When he appears on the stage, Dr. Wright summons large skyscrapers from the ground, which launches nearby fighters upwards. Dr. Wright is one of the two characters from Nintendo's SimCity title to appear in the game as an assist character, alongside that game's version of Bowser.
Trophy Description
Dr. Wright
It's not easy being in charge of your own city, but players of SimCity are lucky that Dr. Wright's there to help them out. Though he may not be the most competent of assistants, Wright does understand what makes a city prosperous, and won't hesitate to assist his superior whenever they may need it. Surprisingly enough Dr. Wright can be released from an Assist Trophy, and will damage his opponents by launching them sky-high with... buildings. Yes, with his baton, Dr. Wright is apparently capable of summoning buildings from nowhere. Perhaps it's cheeky reference to Will Wright, the creator of the SimCity series and his namesake.
Star Team Heroes
He's one of the victims of the Kirthar's Snap Finger.
Gallery
Trivia
Dr. Wright is named after Will Wright, the creator of the SimCity series.
Dr. Wright has been referenced in the design and name of two separate characters from The Legend of Zelda series. These characters are Mr. Write from Link's Awakening, and Dr. Left from Oracle of Seasons and Minish Cap. Mr. Write and Dr. Left share the same facial features and hairstyle as Dr. Wright, though their attire differs in some ways. Both of them have artwork in the gallery above.

Mr. Write's attire is very similar to Dr. Wright's, though his artwork depicts his coat as orange, his bow as black with white spots, and a purple vest. Dr. Wright wears the same attire, though his are terracotta, purple, and brown-coloured respectively.
Dr. Left is described as an "absentminded scholar", and his clothing is more tattered and mismatched to reflect this. While Dr. Wright wears a suit, Dr. Left instead wears a crimson sweater with light brown suspenders and baggy pants with a darker patch on his right knee.