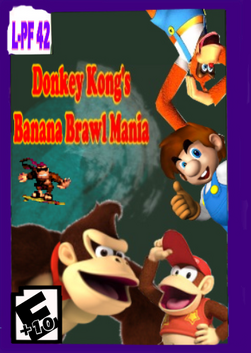 Donkey Kong's Banana Brawl Mania is a donkey kong country fighting game exclusively for the Legendary Pop-Fizz 42.
Gameplay
The same kind of gameplay as  the Super Smash Bros. Franchise
Playable Characters
Non-Playable Characters
Animal Crates
Animal Crates are assistants in the Brawl Mode.
Rhambi
Espresso
Winky
Enguarde
Squaks
Kremling Drums
Kremling Drums are assistants in Brawl Mode
Gnawty
Armey
Slippa
Krusha
Klap Trap
Other Items
Star Barrel_ Smash it and Instantly be healed!
DK Barrel_ Smash it and get an ally (Story Mode Only)
Steal Barrel_Roll it upon your opponents.
TNT Barrel_Throw it and it Explodes!
Barrambel_ Hop inside and blast yourself out like a cannon ball! (Story Mode Only)
Bananas_Heals damage +10
Banan Bunches_ Heals damage +50
Animal Crates_Assistants
Kremling Drums_Assistants
Balloon_Get an extra life!
Crystal Coconuts_Gives you a special power!
Party Bosses
Very Gnawty
Necky
Queen B.
Turent Tusk
Dumb Drum
Crocktapus
Gallery
Community content is available under
CC-BY-SA
unless otherwise noted.