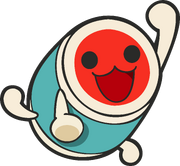 Don-chan is the main character of the Taiko no Tatsujin series, and appears as a default playable character in Mario Kart Arcade GP DX. He additionally appears in Super Smash Bros. for Nintendo 3DS / Wii U as one of the characters that Pac-Man can randomly summon during his Namco Roulette taunt.
Fanon appearances
As a nod to his appearance in the Mario Kart Arcade games, Don-chan is a playable character in Mario Kart D's DLC Pack 1, returning alongside Pac-Man and several courses from the arcade titles. Two of Don-chan's recolors are based off of Strawberry and Hero Don-chan, Mario Kart Arcade GP DX palette swaps.
Don-chan makes a minor cameo appearance in Jake's Super Smash Bros. as one of the many Namco characters present as part of PAC-MAN's Final Smash, Namco Tussle. Don-chan himself doesn't make a major appearance in the short cinematic that plays should PAC-MAN successfully initiate his Final Smash, but does appear alongside Mappy, Tower of Druaga's Gil, Bravoman, Drill Dozer's Pooka and Frygar, Libble Rabble's Topcup, Yōkai Dōchūki's Tarosuke, and Valkyrie at the end of the cinematic, as Amul launches the trapped foes away. Notably, Don-chan is the only character in this cinematic who is not from a "classic" Namco title and does not appear as a pixellated sprite.
He's one of the victims of the Kirthar's Snap Finger.
Navigation Templates
Playable Characters
Assist Characters
Obstacles
Other Characters
Alolan Grimer · Amul · Ann Takamaki · Big Urchin · Blizzy · Bravoman · Buzz-Buzz · Cutiefly · Don-chan · Dragoneel · Fierce Deity · Gil · Happy Mask Salesman · Judge · King · Kissy · K.K. Slider · Litwick · Lloyd · Mappy · Mareanie · Mii · Missile · Morgana · Perry · Pidgit · Pooka · Rabbid Luigi · Rabbid Yoshi · Red Baron · Ribbon · Rowlet · Runner · Ryuji Sakamoto · Sandy · Smasher · Rusty Slugger · Servbot · Sima Zhao · Swanna · Tarosuke · Timmy Nook · Toadsworth · Tommy Nook · Tron Bonne · Valkyrie · Wonder Momo · Ziggy
Collectibles

Trophies

Stickers

Boolossus · Boo Mario · Bowser · Captain Toad · Cat Peach · Chain Chomp · Cloud Mario · Fire Mario · F.L.U.D.D. · Koopa Clown Car · Mega Mushroom · Mario · Penguin Mario · Peach · Propeller Mario · Rock Mario · Toad · Toadette · Waluigi
Birdo · Boo Buddies · Blooper · E. Gadd · Fuzzy · Metal Form · Waluigi · Whomp

Candy Kong · Lord Fredrik

9-Volt · Fauster

Ball and Chain · Deku Leaf · Majora's Mask · Mipha

Abra · Drifloon · Spinarak

Katrina · Mr. Resetti

Adam Malkovich · Arachnus

Nightmare · Noddy · Prank

Mr. Chicken

Back Shield · Centurion · Eggplant Wizard

Disco Kid · Doc Louis · Donkey Kong · Giga Mac · Glass Joe · King Hippo · Little Mac · Von Kaiser

Blue Falcon · Captain Falcon · Pico · Rick Wheeler · Wild Goose

Louie

Pyra

Franklin Badge · Negative Man

Apollo Justice · Franziska von Karma · Miles Edgeworth · Larry Butz · Judge · Phoenix Wright

Dr. Wright · Hammer Slam Bowser
Devil · Dr. Wright · F-Type · Rusty Slugger · Zethia
Community content is available under
CC-BY-SA
unless otherwise noted.