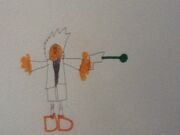 "You stupid little hound, prepare for your DOOM!"
Doctor Sheldon K. Meanstien, more commonly known as Meanstien, is an antagionist in Johnny Dog(Game). He quickly gains a rivalry with Johnny Dog, after kidnapping his girlfriend.
Personality
The Doctor, is a psycotic elderly man. He is selfish, and only wants to take over the world. He is very smart, charming, and short tempered. He does not enjoy to hurt people, but is always ready for battle.
Boss Battle
After defeating many enemies, and collecting tons of Happy Coins, Johnny finally encounters the doctor. After a quick conversation, a battle starts. The Doctor mans an invincible robot mech, and will occasionally pop out to throw one hit kill bombs. Johnny has to avoid these, and catch one. After throwing them all at his generators, platforms come down. Johnny scales these, and then you can atttack him when he pops out! Repeat until his life bar is depleted.
Theme
Community content is available under
CC-BY-SA
unless otherwise noted.