Ditto did not originate from fanon, and the information on this page may not be entirely accurate to their canon. You may read more about this subject in the context of their canon on the following wiki(s):
Ditto
is a Normal-type
Pokémon
and is listed as number 132 in the National Pokédex. It can transform into any Pokémon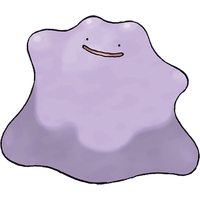 . It can also breed with any Pokémon (except the ones that can't breed at all, like legendaries). A Ditto's appearance is a pink blob of a gooey substance.
Crest
is a famous Ditto. They are Generation I Pokémon.
Trivia
In official Pokémon games the only move it can learn is Transform.
He's one of the victims of the Kirthar's Snap Finger.
Gallery
Artwork
Sprites
Community content is available under
CC-BY-SA
unless otherwise noted.