Dino Piranha is a dinosaur-like Piranha that greatly resembles Petey Piranha. He is an alien that hatched from an egg during a boss battle with Mario. He is known to have quite a temper, like most babies do. He is known as one of the youngest characters in the Mario series.
Appearances
He appears in Super Mario MHL with the number 35. He shares chemistry with the other bosses in Super Mario Galaxy as well as Petey Piranha.
Dino Piranha's Stats
Location
Sarasaland
HP
2700
Power
35; 40; 72
Defense
65
EXP
400
Coins
320
Items
1 Golden Mushroom

A Shadow Shard
Dino Piranha appears as a boss in Mario & Luigi: Rivals Quest. He's a boss in the Sarasaland location. After being defeated, Ztar posseses him, turning him into Dark Dino Piranha, making him black and purple colored, and much stronger, in-battle, Dark Dino Piranha is alongside Ztar. However, is optional to beat him, being Ztar the principal in being defeated.
He is set to appear as a referee in Nintendo Plays: Racing! II: Kart Party.
Dino Piranha is a boss in DX Mario RPG 2: The Stars Await the One Who Seeks the Treasure as a boss in the Bad Egg Galaxy and returns as Snowy Dino Piranha in the Battle Snow Galaxy.
Dino Piranha makes his next few appearances as a boss in Super Mario Adventures: The Series. His first appearance in the series was Super Mario Adventures. Of course he, like msny pf the bosses from the previous game, will be reappearing in Super Mario Adventures II.
Dino Piranha appears in his first game as a playable character in Mario Kart: Double Dash 2!!. He is a Heavyweight that is paired up with Petey Piranha.
Dino Piranha appears in Mario Kart Burst in Mission 2-8 as a boss. The player must face him as Rosalina and must be defeated using Fire Flowers.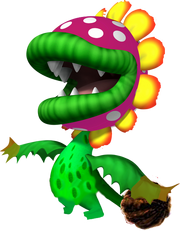 He is the boss of the Bianco Hills board in this game. His boss minigame is
Dino Piranha's Coconut Kickball
.
Iguana Beats Florasaur
Dino Piranha returns in Godzilla vs. Bowser as Iggy's minion and the World 4 fortress boss.
Community content is available under
CC-BY-SA
unless otherwise noted.