Diddy Kong is not from Fantendo. However, this article may include related fan ideas.

These external sources may have official, more accurate information:

This article is free to edit. Please follow the article standards and respect good-faith contributions.
Diddy Kong
ディディーコング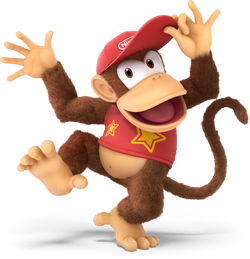 Diddy Kong, Donkey Kong's little buddy
PERSONAL INFO

RELATIONSHIPS
CLASS
Hero
Sidekick
Racer
WEAPONS
Popgun
MISCELLANEOUS INFO

CANON APPEARANCES

Donkey Kong Country (1994)
Super Mario Party (2018)

VOICE ACTOR(S)

Chris Sutherland (games)
Katsumi Suzuki (games)
Andrew Sabiston (other media)
Diddy Kong, often simply just Diddy, is a young monkey in the Donkey Kong Series. He is Donkey Kong's best friend, and the two usually go on adventures with each other. In his debut, he came to Donkey Kong to become his apprentice, as Diddy looks up to Donkey Kong. However, Donkey Kong decided to humor the over eager Diddy, and assigned him to guard his Banana Hoard. However, King K. Rool and the Kremling Krew attacked Diddy, sealed him in a Barrel, and stole the Banana's. Donkey Kong saved Diddy, and the two set out to stop him. Diddy appears in almost every single Donkey Kong game, and has even started appearing in the Mario Bros. Series. He also has a girlfriend named Dixie Kong.
Game Appearances
Rareware Comes Back!
Diddy Kong appears as a Starter racer in Rareware Racing along with Banjo, Conker, and Fox McCloud.
Finding Dixie
Diddy Kong is one of the two starting characters in Donkey Kong Continent. He is one of the two characters to be able to use the Bammer. He mainly uses his Rocketbarrel Boost as his main item, but he can also use his Oakboard. He can use team attacks with DK and Dixie.
Back in Time
Diddy Kong is one of the four main characters in The Original Donkey Kong. All of his levels, excluding boss battles, are done in a style nearly identical to how the original Donkey Kong game was played, with Diddy replacing Jumpman. Diddy can access shortcuts in this game by collecting 100 Bananas, which lets him Rocketbarrel Boost through the level.
Diddy appears in the game as a unlockable playable character. His stats are really similiar to those of Dixie Kong, but Diddy jumps more high and he is less nimble than Dixie. He can fly with his jetpack and shoot enemies with his peanut popgun.
Stats
Speed: ☆☆☆☆☆☆
Jump:☆☆☆☆☆
Agilty:☆☆☆
Power:☆
Playing Guitar
Diddy has been confirmed as a playable character in the upcoming game Dual DK. He will be using many of his attacks from Donkey Kong 64.
In Ultra DK, Diddy will be a playable character in story mode. According to the game, he and Shady Kong have a incredibly strong rivalry. (Despite Lanky knowing Shady Kong better) Shady Kong has even vowed to kill Diddy one day, when he is least expecting it. Why Shady Kong hates Diddy and weather or not Diddy hates him nearly as much are not known as of know, but such information is likely to be talked about in the near future.
In the multiplayer boxing game Donkey Kong Knockout Diddy Kong is one of the three starting characters. He is above average in speed and below average in strength. His special move the Peanut Popguns knock back a foe and allow Diddy to get some hits in.
Diddy Kong appeared as a playable character in the Wii racing game Donkey Kong Racing. Diddy Kong was included as part of the Kong category.
When Ario took Diddy Kong's form, Ario attacked Diddy Kong and, after a battle against "himself", Diddy Kong was defeated and thrown off a cliff into the ocean. Diddy somehow survived and defeated Ario, proving that, when situation calls for it, Diddy Kong can defeat anyone, no matter how powerful.
Singalong Country!
Diddy Kong makes his debut in the Mario Singalong! Series in Mario Singalong Country! where he is in full country attire, he returns in Mario Singalong Boys vs Girls!, Mario Singalong Disney!, Mario Singalong Rocks!, Mario Singalong Down Under! and Mario Singalong Legends!
Diddy Kong, a green Koopa Troopa, Dixie Kong and a red Paratroopa, can be seen running away from Mewtwo's evil Soul Stars. He then yells at Fox to join them run away from Mewtwo to find a shelter to hide.
Race With DK
He Appears In Donkey Kong Kart D.I.Y.
New Super Koopa Bros.
Diddy Kong is the boss of World 6 in New Super Koopa Bros., where he drives a kart. He attacks by throwing Bananas at the player. Players can attack back by shooting Fake Item Boxes at him,shaking him up with the POW Block, or jumping on him 3 times. After three stomps, Diddy Kong (still in the kart) gets thrown upwards, leaving Monty Tank to be free.
Cricketing Captain
Diddy Kong appears as the captain of the Rocking Racers team in Donkey Kong Test Cricket and is the only Kong to not appear in the Kourageous Kongs team.
2D Fighter
Diddy Kong appears in his 2D form from Donkey Kong Country in Vined Inc's WiiWare title Super Smash SNES where he primarily attacks with cartwheels like he does in the Donkey Kong Country games for the SNES.
Diddy Kart
Diddy Kong appears as Dixie Kong's partner in Mario Kart: Double Dash!! 3.
Mario and Sonic Generations
Diddy Kong appears at the Nintendo Anniversary party but is then sucked up by the Time Eater along with all of Mario and Sonic's Friends. After you complete Hightail Falls Galaxy, Diddy Kong Unfreezes and says: Thank you, Mario! I thought i was never going to Eat Bananas again. In this game, Diddy Kong is voiced by Rob Paulsen.
Diddy Kong appears in Mario Hoops 3-On-3 Switch (mainly known as Mario Hoops 3-On-3 Deluxe) as a playable character. He is a Speedy character type and his special move is Rocket Barrel Dunk. He is a starter character. His default partner is Donkey Kong. His team name is the Diddy Kong Swingers
Diddy Kong is one of the starting characters from Super Mario franchise.
Since this game is a reboot to the Smash Bros. series, the Donkey Kong, Yoshi and Wario series merged with Super Mario series, representing this the last one istead of Donkey Kong series now.
amiibo
| | | |
| --- | --- | --- |
| | An amiibo figure of Diddy Kong exists! For more info about this amiibo, see this page. | |
Gallery
Navigation Templates
Hero Team
Villian Team
Starters
- - -
- - -
Unlockable
N/A
- -
Platform Exclusive Characters
N/A
N/A
Status Unknown
-
Playable Characters
Assist Characters
Obstacles
Other Characters
Amul · Ann Takamaki · Argorok · Arsene · Axe Knight · Big Urchin · Blizzy · Black Kyurem · Blazing Bat · Blue Pikmin · Bob-omb · Boo · Boolossus · Boom Stomper · BowWow · Bravoman · Budew · Bumper the Badger · Bumpety Bomb · Burnya · Buruccho · Buzz-Buzz · Caeda · Carbuncle · Caterpie · Chao · Cutiefly · Dingpot · Dipple Drop · Don-chan · Dragoneel · Drippy · Drumstick the Rooster · Dusty · Elle Mel Marta · Ellie the Elephant · Enguarde the Swordfish · Expresso the Ostrich · Fierce Deity · F.L.U.D.D. · Fomantis · Fryguy · Genie · Gil · Gohma · Goomba · Gordo · Greenie · Grrrol · Happy Mask Salesman · Hoofer · Hoppip · Item Shopkeeper · Javelin Knight · Jenya · Judge · Junior Clown Car · Kab-omb · Kamek · Karate Joe · King · King Dodongo · Kissy · K.K. Slider · Klaptrap · Koopa Paratroopa · Krunch · Litwick · Lloyd · Mace Knight · Majora · Manhandla · Mappy · Masked Dedede · Maya Fey · Mechakoopa · Mecha Kuri · Megaleg · Mii · Missile · Morgana · Mr. Stevenson · Nanako Dojima · Needlenose · Neo Metal Sonic · Ninji · Nitpicker · Nudger · Parry the Parallel Bird · Peashooter · Perry · Piddles · Pidgit · Pirate Goom · Poochy · Pooka · President Koopa · Professor E. Gadd · Proto Piranha · Black Puffle · Purple Pikmin · Rabbid Luigi · Rabbid Yoshi · Rambi the Rhino · Ram Bunkshus · Rattly the Rattlesnake · Red · Red Baron · Red Pikmin · Reshiram · Ribbon · Rock Pikmin · Runner · Ryuji Sakamoto · Sandy · Smasher · Rusty Slugger · Servbot · Sima Zhao · Snapjaw · Squawks the Parrot · Squitter the Spider · Super Sonic · Swanna · Tarosuke · Tatsu · Telly Vision · Thwomp · Timmy Nook · Tiptup · Toadsworth · Tommy Nook · Trident Knight · Tron Bonne · Trucy Wright · Tsukimaru · T.T. · Valkyrie · Virus · Waddle Dee · Wario-Man · White Pikmin · Wind Fish · Winged Pikmin · Winky the Frog · Wonder Momo · Xii · Yarr · Yellow Pikmin · Ziggy
Collectibles
| | Trophies | Stickers |
| --- | --- | --- |
| | Boolossus · Boo Mario · Bowser · Blue Bowser · Bowser Jr. · Megaleg · Larry Koopa · Morton Koopa Jr. · Wendy O. Koopa · Iggy Koopa · Captain Toad · Cat Peach · Chain Chomp · Cloud Mario · Fire Mario · F.L.U.D.D. · Koopa Clown Car · Mega Mushroom · Mario · Penguin Mario · Peach · Propeller Mario · Rock Mario · Toad · Toadette · Waluigi | Birdo · Boo Buddies · Blooper · E. Gadd · Fuzzy · Metal Form · Whomp |
| | | Candy Kong · Lord Fredrik |
| | | 9-Volt · Fauster |
| | | Ball and Chain · Deku Leaf · Majora's Mask · Mipha |
| | | Abra · Drifloon · Spinarak |
| | | Katrina · Mr. Resetti |
| | | Adam Malkovich · Arachnus |
| | | Nightmare · Noddy · Prank |
| | | Mr. Chicken |
| | | Back Shield · Centurion · Eggplant Wizard |
| | Disco Kid · Doc Louis · Donkey Kong · Giga Mac · Glass Joe · King Hippo · Little Mac · Von Kaiser | |
| | Blue Falcon · Captain Falcon · Pico · Rick Wheeler · Wild Goose | |
| | | Louie |
| | | L'cirufe |
| | | Franklin Badge · Negative Man |
| | Apollo Justice · Franziska von Karma · Miles Edgeworth · Larry Butz · Judge · Phoenix Wright | |
| | | General Kodiak |
| | Dr. Wright · Hammer Slam Bowser | Devil · Dr. Wright · F-Type · Rusty Slugger · Zethia |
Wiki Pages
Main Page · Arcade Mode · Memory Matches · Music · Palutena's Guidance · Playable Characters · Resources · Stages · Stickers · Story Mode · Trophies
Community content is available under
CC-BY-SA
unless otherwise noted.