Dexter Gutierrez (as revealed in CN Millennium)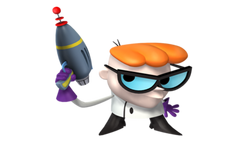 Dexter, one of the smartest boys in the multiverse.
GENERAL INFO

GENDER
♂ Male
SPECIES
Human
CURRENT STATUS
Alive
AGE
8-10 (Dexter's Laboratory cartoon)
11 (Cartoon Network: Legacy)
12 (Cartoon Network: Millenium)
ZODIAC
♈ Aries
PERSONAL INFO

RELATIONSHIPS

Dee Dee: sister
Monkey: pet
Mandark: enemy
Blossom-love interest

WEAPONS
Blasters, wrench, and several creations.
MISCELLANEOUS INFO

CANON APPEARANCES

Dexter's Laboratory: Changes, 1995Cartoon Network: Millennium, 2017

VOICE ACTOR(S)

Christine Cavanaugh: 1995-1998

Candi Milo: 2001-2003, 2015

Tara Strong: 2011 only

Seth Adkins:

Vicinity Saga
Dexter is the main protagonist of Cartoon Network's 90s/2000s TV series, Dexter's Laboratoratory. He is a child prodigy who works in a secret lab, but no one knows this except for his sister Dee Dee, whose curiosity always interrupts his experiments.
Appearances
Vicinity Canon
Dexter makes his first Vicinity Saga appearance in the 2015 video game, Cartoon Network: Legacy, the first Vicinity-related game. His family is invited to meet Professor Utonium and the Powerpuff Girls at the start of the game. He soon develops a crush on Blossom, the leader of the girls. They have to team up with several heroes from all over the Tooniverse to defeat a rising interdimensional threat known as Virus.
Dexter will appear in Legacy's sequel, Millenium.
Other Multiverses
Dexter appears in The Mysterious Five Project as an unlockable character. In Irregular Show, he is a major character, working with Tony Stark to find out what's up with Irregular, a weird force that tears apart worlds and recreates them in its own images.
Chemistry
Dee Dee: Dexter is bothered by Dee Dee's constant destruction of his lab, but he has a soft side that he sometimes shows her.
Monkey: Dexter is always trying to make him do something interesting, but usually fails. But behind his back, Monkey becomes a crime-fighter.
Mandark: Dexter hates Mandark with every bit of himself, and they are enemies. Mandark wants to prove that he is smarter than Dexter any cost, especially after the destruction of lab.
Blossom: Blossom is Dexter's love interest, as seen in the Vicinity Saga.
Numbuh One: He is Dexter's close friend.
Edd: He is Dexter's close friend.
Gallery
}}
Community content is available under
CC-BY-SA
unless otherwise noted.