Devil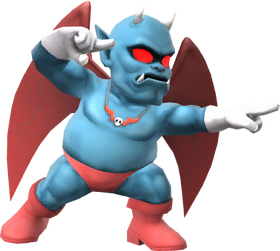 The Devil, as he appears in Super Smash Bros. for Nintendo 3DS / Wii U
GENERAL INFO

GENDER
♂ Male
SPECIES
Demon
CURRENT STATUS
Immortal(?)
BIRTHPLACE
Devil's World
ALIGNMENT
Evil
PERSONAL INFO

CLASS
Devil
MISCELLANEOUS INFO

CANON APPEARANCES

Devil World (1984)
The Devil is the main antagonist of the 1984 maze-based puzzle game Devil's World. The Devil is described as the ruler of "Devil's World", who commands an army made up of three kinds of cycloptic minions: Medaman (a small but tall pink creature with a single blue eye, short arms, and white feet), Co-Devil (seemingly a smaller cycloptic clone of the Devil who lacks arms), and Bon-Bon (a red circular creature who vaguely resembles an alarm clock). He commands these creatures to take down Tamagon, who wishes to eliminate the Devil by placing books (bibles) in certain holes in order to diminish his power and force him to escape.
The Devil also appears in the Super Smash Bros. series as a recurring Assist Trophy summon, who moves the screen around as he points in different directions. The Devil also appears as a resident of Mimin Island in Captain Rainbow, who wishes to become the greatest villain in the underworld.
Gallery
Community content is available under
CC-BY-SA
unless otherwise noted.