This page was created by KingEvilWaffle.
I kindly ask you, <insert your name here>, to not edit this page, or you will have to face the anger of the wiki's admins.
Deadnne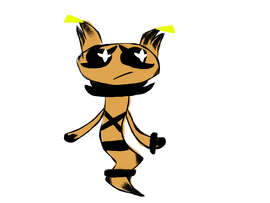 Deadnne, Ghostly scientist of Zero2 .
GENERAL INFO

GENDER

♀

Female
CURRENT STATUS
Undead, Creating new Dark Matters
BIRTHPLACE
Soulverse
PERSONAL INFO

CLASS
Scientist

MISCELLANEOUS INFO

CANON APPEARANCES

Deadnne is the ghostly Fenne of the Soulverse.
Physical Appearance
Deadnne is a floating, orange-coloured ghost-like Beorn with no legs. She wears a bunch of black belts, golden earings and a black collar. She also has a lightning bolt tail with a black band-like accessory on it.
Appearances
Deadnne makes her first ever appearance as a cameo in Issue 16, where she, Soulten, The Silent One, and a Dark Matter put up a poster in the forest, saying "MISSING: HAVE YOU SEEN THIS MATTER?" with a picture of Zero2 on it. This means that, during the Xerra: The Last Beorn timeline, Zero2 mysteriously disappeared.
Personality
She loves to make new experiments, even if it means creating a blood-thirsty mutant Dark Matter that Soulten must stop...
Deadnne is also very caring about others, like Zero2, comforting it when it feels sad or frightened.
Info
When the Soulverse was created, a ghostly-like aura appeared, creating ghostly-looking versions of different heroes, including Deadnne.
Soulten is now the scientist of Zero2, trying to make new types of Dark Matter, sometimes they go a bit wrong...
Powers and Abilities
Deadnne can throw toxic potions at baddies if they threaten her.
She can also fly around, since he is a ghost, of course.
Relationships
Deadnne sometimes comforts Zero2 when it feels down in the dumps.
Being minions of Zero2, Deadnne has been shown to get along with the Dark Matters.
Soulten is friends with The Silent One of the Soulverse and Soulten.
Trivia
Unlike Fenne, Deadnne doesn't seem to wear glasses.
Community content is available under
CC-BY-SA
unless otherwise noted.