Dark Samus did not originate from fanon, and more information can be found on their respective wiki(s). You may read more about it on the following wiki(s):
Dark Samus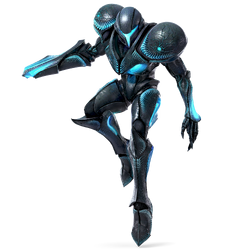 GENERAL INFO

NICKNAME(S)
GENDER

♀

Female
SPECIES
Phazon (Metroid/Human hybrid)
BIRTHDAY
Date unknown (end of Metroid Prime)
BIRTH LOCATION
Tallon IV
ALIGNMENT
Evil
MISCELLANEOUS INFO

SERIES
Metroid, Metroid Prime
CANON APPEARANCES

Metroid Prime
Metroid Prime 2: Echoes
Metroid Prime 3: Corruption
Another Side Story

NON-CANON APPEARANCES

Metroid Prime: Episode of Aether
Special Mission (Metroid Prime 3)
Super Smash Bros. Brawl
Super Smash Bros. for Nintendo 3DS
Super Smash Bros. for Wii U
Super Smash Bros. Ultimate
"The troops now call her the 'Dark Hunter.' It is a fitting title."


— Space Pirate, Metroid Prime 2: Echoes
Dark Samus (Japanese: ダークサムス Dāku Samusu) is a recurring character within the Metroid franchise, primarily appearing as a major antagonist within the Metroid Prime titles. Dark Samus is a doppelgänger of series protagonist Samus Aran, who was born from the merger of Samus' Phazon Suit (and DNA within it) with both the remains of Metroid Prime and the mutagenic substance known as Phazon. Despite technically being genderless, Dark Samus is always referred to with female pronouns.
Dark Samus is a cruel killing machine who displays no emotion other than a desire to destroy those who stand between her and her goals: Dark Samus' primary goal is to absorb Phazon, and possesses an insatiable craving for the radioactive substance. Though merciless and sadistic, she is also a very intelligent and calculating character as of Metroid Prime 3, who will form temporary alliances with others should they benefit her; however, she will not hesitate to destroy these alliances and use her allies as pawns to further her own ambitions. Throughout the Metroid Prime series, Dark Samus has only shown compassion to Metroids imprisoned against their will; this likely stems from her origins as Metroid Prime.
Due to her frequent appearances within the Metroid Prime series, Dark Samus has become one of the Metroid franchise's most popular characters. Her popularity has been noted by Nintendo as she makes several appearances within non-Metroid titles. Her most notable of appearances comes from the Super Smash Bros.: while originally a trophy in Super Smash Bros. Brawl, Dark Samus was promoted to the role of Assist Trophy in Super Smash Bros. for Nintendo 3DS / Wii U, and later became a playable Echo Fighter (clone) of Samus in Super Smash Bros. Ultimate.
Appearances
Dark Samus appears as a captain in Metroid Strikers.
Dark Samus appears as a playable character in Super Smash Bros. Madness. Dark Samus' Final Smash is Metroid Prime, which summons Metroid Prime who rampages though the stage.
Dark Samus returns in Super Smash Bros. Calamity as an assist trophy again. She acts the same as she did in the previous game, sending out a plethora of Phazon energy based attacks to her opponents.
Following her debut as a playable character in the Super Smash Bros. series with Super Smash Bros. Ultimate, Dark Samus reappears in Jake's Super Smash Bros. once again in such a capacity. Though Dark Samus is once again classified as an Echo Fighter, her moveset has been adjusted in several ways to differentiate her from Samus. The most notable changes are in her up special move - which has been completely changed to be a teleportation instead of a Screw Attack jump - and her Final Smash - which sees her summon two Dark Echoes to fire three [thin] beams of energy instead of one. Some of Dark Samus' other attacks have also received minor alterations as well, for instance her Bomb is now larger and takes longer to detonate than before.
Gallery
Navigation Templates
Playable Characters
Assist Characters
Obstacles
Other Characters
Alolan Grimer · Amul · Ann Takamaki · Big Urchin · Blizzy · Bravoman · Buzz-Buzz · Cutiefly · Don-chan · Dragoneel · Fierce Deity · Gil · Happy Mask Salesman · Judge · King · Kissy · K.K. Slider · Litwick · Lloyd · Mappy · Mareanie · Mii · Missile · Morgana · Perry · Pidgit · Pooka · Rabbid Luigi · Rabbid Yoshi · Red Baron · Ribbon · Rowlet · Runner · Ryuji Sakamoto · Sandy · Smasher · Rusty Slugger · Servbot · Sima Zhao · Swanna · Tarosuke · Timmy Nook · Toadsworth · Tommy Nook · Tron Bonne · Valkyrie · Wonder Momo · Ziggy
Collectibles

Trophies

Stickers

Boolossus · Boo Mario · Bowser · Captain Toad · Cat Peach · Chain Chomp · Cloud Mario · Fire Mario · F.L.U.D.D. · Koopa Clown Car · Mega Mushroom · Mario · Penguin Mario · Peach · Propeller Mario · Rock Mario · Toad · Toadette · Waluigi
Birdo · Boo Buddies · Blooper · E. Gadd · Fuzzy · Metal Form · Waluigi · Whomp

Candy Kong · Lord Fredrik

9-Volt · Fauster

Ball and Chain · Deku Leaf · Majora's Mask · Mipha

Abra · Drifloon · Spinarak

Katrina · Mr. Resetti

Adam Malkovich · Arachnus

Nightmare · Noddy · Prank

Mr. Chicken

Back Shield · Centurion · Eggplant Wizard

Disco Kid · Doc Louis · Donkey Kong · Giga Mac · Glass Joe · King Hippo · Little Mac · Von Kaiser

Blue Falcon · Captain Falcon · Pico · Rick Wheeler · Wild Goose

Louie

Pyra

Franklin Badge · Negative Man

Apollo Justice · Franziska von Karma · Miles Edgeworth · Larry Butz · Judge · Phoenix Wright

Dr. Wright · Hammer Slam Bowser
Devil · Dr. Wright · F-Type · Rusty Slugger · Zethia
Community content is available under
CC-BY-SA
unless otherwise noted.