Dark Pit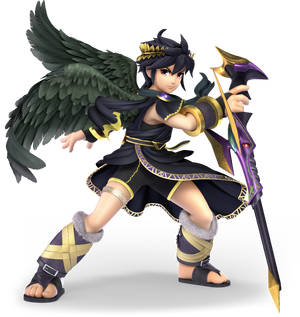 Dark Pit from Super Smash Bros. Ultimate
GENERAL INFO

NICKNAME(S)

Pittoo

GENDER
♂ Male
SPECIES
Angel
CURRENT STATUS
Alive
MISCELLANEOUS INFO

CANON APPEARANCES

Kid Icarus Uprising
Super Smash Bros. for Wii U
Dark Pit, often called Pittoo, is the dark version of Pit that first appear on Kid Icarus: Uprising. He appeared when Pit broke the Mirror of Truth in the Labyrinth of Deceit. He is also a boss in the Chapter 6 of said game.
Dark Pit also made an appearance as an unlockable playable character in Super Smash Bros. 4. He was added after the finalized roster, alongside Lucina and Dr. Mario, and is a complete clone of Pit. He makes several more appearances in other Super Smash Bros. titles, either retaining his clone status or changed almost completely to make him more unique.
Personality
Dark Pit shows the dark side of Pit's personality. He has a serious humour and his jokes are usually dry. He is the arrogant side of Pit, and the selfish one. He is aggressive and tries to take advantage of the debilities of his enemies. He is also a intelligent character and with a big common sense.
He didn't choose the god to serve, so he usually go alone. But when Palutena needs help, he doesn't doubt to help Pit with his mission. After that, they usually work together, like allies to defeat Hades after knowing that Hades uses human souls to create new Underworld creatures.
Appearances
Dark Pit is a playable character in Super Smash Bros. for the arcade. He is the echo fighter of Pit and has eight palette swaps.
amiibo
| | | |
| --- | --- | --- |
| | An amiibo figure of Dark Pit exists! For more info about this amiibo, see this page. | |
Gallery