DJ Candy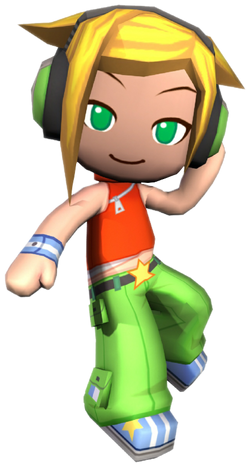 DJ Candy, in her appearance from MySims.
MISCELLANEOUS INFO

CANON APPEARANCES
DJ Candy "Supergroove" is a popular disc jockey from the MySims series of video games. She has an island named after her and is dedicated for what she does best, making music and throwing amazing parties. During the day, she is snoring away in her house getting ready for her all-night parties. She lives at her house called "DJ Candy's Place" located west on the island. Her assistants, Sapphire and the president of her fan club, Zack help her on the island and also sleep at day to rest until night. DJ Candy has been known for her dancing, her awesome parties, and her DJing.
Physical Appearance
Candy has short blond hair, which is never seen without her favourite green headphones that match her eyes. She usually wears an orange turtleneck sweater, with a zipper that runs across, that bares her midriff, along with a light blue and white striped wristband on her right wrist that matches her shoes, and baggy green pants with star belt.
In MySims SkyHeroes, DJ Candy instead wears a light green jumpsuit, with grey accents and a pink parachute. She has two patches decorating her right arm, and pink stars embedded on the knees of her outfit. Instead of her usual green headphones Candy also wears pink ones instead.
Appearances
DJ Candy is a downloadable character in Worlds of Creation. She can throw CDs at enemies and jump a little higher than any other character.
DJ Candy appears as an unlockable playable character in Jake's Super Smash Bros. Her moveset in this title primarily references activities that Fun-loving Sims perform in the first two entries in the MySims series, such as blowing bubbles or using a radio to cause other enemies around her to compete in a dance-off (by taunting). DJ Candy's Final Smash sees her make use of her skills as a DJ, spinning vinyls on a turntable to generate exploding essences. DJ Candy has both her original MySims and MySims SkyHeroes designs available, with recolours of both, for the player to choose from.
Gallery
Navigation Templates
Playable Characters
Assist Characters
Obstacles
Other Characters
Alolan Grimer · Amul · Ann Takamaki · Big Urchin · Blizzy · Bravoman · Buzz-Buzz · Cutiefly · Don-chan · Dragoneel · Fierce Deity · Gil · Happy Mask Salesman · Judge · King · Kissy · K.K. Slider · Litwick · Lloyd · Mappy · Mareanie · Mii · Missile · Morgana · Perry · Pidgit · Pooka · Rabbid Luigi · Rabbid Yoshi · Red Baron · Ribbon · Rowlet · Runner · Ryuji Sakamoto · Sandy · Smasher · Rusty Slugger · Servbot · Sima Zhao · Swanna · Tarosuke · Timmy Nook · Toadsworth · Tommy Nook · Tron Bonne · Valkyrie · Wonder Momo · Ziggy
Collectibles

Trophies

Stickers

Boolossus · Boo Mario · Bowser · Captain Toad · Cat Peach · Chain Chomp · Cloud Mario · Fire Mario · F.L.U.D.D. · Koopa Clown Car · Mega Mushroom · Mario · Penguin Mario · Peach · Propeller Mario · Rock Mario · Toad · Toadette · Waluigi
Birdo · Boo Buddies · Blooper · E. Gadd · Fuzzy · Metal Form · Waluigi · Whomp

Candy Kong · Lord Fredrik

9-Volt · Fauster

Ball and Chain · Deku Leaf · Majora's Mask · Mipha

Abra · Drifloon · Spinarak

Katrina · Mr. Resetti

Adam Malkovich · Arachnus

Nightmare · Noddy · Prank

Mr. Chicken

Back Shield · Centurion · Eggplant Wizard

Disco Kid · Doc Louis · Donkey Kong · Giga Mac · Glass Joe · King Hippo · Little Mac · Von Kaiser

Blue Falcon · Captain Falcon · Pico · Rick Wheeler · Wild Goose

Louie

Pyra

Franklin Badge · Negative Man

Apollo Justice · Franziska von Karma · Miles Edgeworth · Larry Butz · Judge · Phoenix Wright

Dr. Wright · Hammer Slam Bowser
Devil · Dr. Wright · F-Type · Rusty Slugger · Zethia