This article is part of the Medieverse. Surely you're not looking for the original

Cura

?
Cure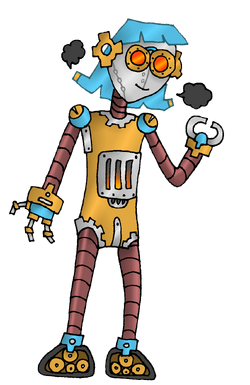 GENERAL INFO

GENDER

♀

Female
SPECIES
Robot
CURRENT STATUS
Alive
AGE
1
BIRTHPLACE
Orientis
MISCELLANEOUS INFO

SERIES
Medieverse
CANON APPEARANCES

TBA
Cura is a character in the Medieverse who takes a major role in the story.
History
The history of Cura is a short one as there is not much to tell. She was made from spare scraps that Sakeena could gather from all over the place. When Cura was born she was like a toddler, but slowly begins to learn how the world works.
Physical description
As Cura is made out of different scraps of metals, her colors vary from bronze, to orange to blue. Her arms, legs and neck are made out of a more bendable rubber. On one arm she has a big hand with three fingers and on the other she has a grabbing claw. She has blue 'hair' with two steam pipes. She wears goggles which light up red behind them. She has big gears at each side of her head as well. On the middle of her chest is some kind of furnace and her feet are tank-like wheels. Gears decorate her body as well.
Personality
Cura is a pretty innocent robot. Being new to this world makes her curious, but also scared. She however is made to be a happy and cheerful person. While Sakeena is her creator, she considers her more like a big sister who teaches her what life means rather than a mother.
Abilities
Although she not knows her strength yet, she has quite some of it. As a robot she does not feel as much pain as normal humans, actually no pain at all. Her fist delivers powerful punches, which can crack a skull. She moves much faster duo to her wheels. The downside is that she does consume coals in order to stay 'alive' as sorts.
Relationships
Sakeena
Meta-Form
Trivia