This article is part of the Medieverse. Surely you're not looking for the original Crow?
Cheryl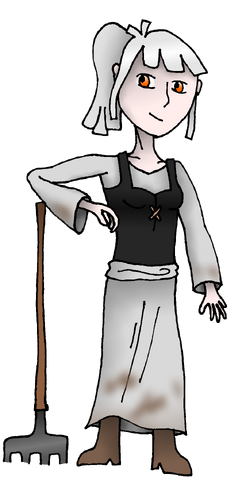 GENERAL INFO

GENDER
♂ Male
SPECIES
Human
CURRENT STATUS
Alive
AGE
16
BIRTHPLACE
Septent
PERSONAL INFO

OCCUPATION(S)
Farmer (formerly)
Princess of Regno
MISCELLANEOUS INFO

SERIES
Medieverse
CANON APPEARANCES

TBA
Crow is a character in the Medieverse who takes a major role in the story.
History
Born in the outskirts of Septent, Crow was raised by a single farmer man. He did his daily work as a farmer and hardly got by, especially when he also had to raise a child along with it. Crow's mother left after a short time to pursue other things, as she saw no future with this man. Crow was raised to do farmers work, and became pretty good at it, doing it now daily.
Physical description
Being much younger than her original counterpart, Crow is quite short, even for her age. She has white hair which she has tied back into a ponytail. She wears a black top with a dirty white dress underneath, mainly covered with dirt at the bottom from the farming. She also wears thick brown boots.
Personality
Although she has much to endure from her father, it has made Crow a tough girl. She is not shy from getting dirty and is a good negotiator. She manages to sell her crops for a price above the labor she does for example. She doesn't really have good manners, which she also considers normal, which annoy the more mannered people. She is independent, and doesn't really let others belittle her, especially concerning her gender.
Abilities
Crow is a hard worker, and isn't afraid of defending herself from incoming threats. Her skills as a farmer also apply to her skill as a fighter. She is quite capable of handling a pitchfork or hoe as weapon, indicating her long-range weapon preference. This also explains why she admires Fera's fighting style.
Relationships
Crimson
Syi
Fera
Trivia