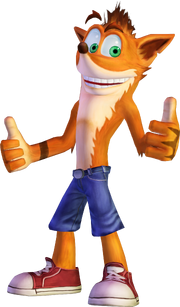 Crash Bandicoot is an anthromorphic bandicoot who appears in Super Smash Bros. Endgame as an unlockable character. Crash is the main protagonist of the Crash series which the latest game is Mind over Mutant. Some games were cancelled after that.
Appearance
TBA
On-Screen Appearance(s)
Crash rides on an aeroplane and jumps off it.
A chicken is on the stage and Crash shoots it with his Fruit Bazooka, and then jumps to the stage.
Moves
TBA
Taunt(s)
Crash does his infamous Crash Dance.
Crash pulls a Wumpa Fruit from his ear and either throws it in the air and it falls on him, revealing yellow juice or juggles it with other Wumpa Fruit from his pocket.
Victory Pose(s)
Crash does his Crash Dance dance.
Crash touches a Power Crystal and spins around in joy.
Crash, on a jacked mutant, makes poses with it.
Victory Theme(s)
TBA
Alternate Costumes
TBA
TBA
TBA
TBA
TBA
TBA
TBA
Gallery
Trivia
TBA
Community content is available under
CC-BY-SA
unless otherwise noted.