This article is not to be edited by anybody but Crimson (t∣b∣c), LegendaryIce (t∣b∣c), or any members in Koopompany.
If you are not Crimson or a Koopompany member, only edit the page if you are willing to fix spelling or grammar errors.  Thank you for reading this,

<insert your name here>

.
This page is under construction.
Please excuse its informal appearance while it is being worked on. We hope to complete it as soon as possible!
Do not delete this page without permission from the page's creator, so thus be sure to view the history, and you must place the delete tag with a good reason. And,

<insert your name here>

, If you simply delete this page without following any of the previous rules and without a reason, you will be permanently IP banned.
CrashDroider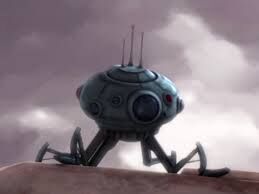 CrashDroider
GENERAL INFO

NICKNAME(S)

Biscuit tin (by Harley B. Koopa) Mr. Darker (pseudonym in

the movie

)

GENDER
Masculine Pogramming
SPECIES
Viper Prope Droid
CURRENT STATUS
Alive
AGE
Created by unknown inventor in 2014
BIRTHDAY
Created by unknown inventor in 2014
BIRTHPLACE
His lair
PERSONAL INFO

WEAPONS
Buzz Saw, Laser cannons, Flamethrowers, Rocket launchers, Torpedo cannons, freeze pistol, plasma cannon, spark gun
MISCELLANEOUS INFO

CANON APPEARANCES
VOICE ACTOR(S)
"
You
are hopeless. I tought you could betray your siblings and join me. But you didn't, it seems. Forlorn. You will be executed.
"
—
CrashDroider to Pyotr I. Koopa, Short Fuse
CrashDroider is a robot and the secondary antagonist of The Super Koopaling Channel. He works for Fawful.
About
CrashDroider is the primary villain in the first episdodes, then the secondary antagonist once Fawful starts to appear. He has several weapons and has a robot working for him, Puerto Rico. He bears a similarity to the Imperial Probe Droids from Star Wars.
CrashDroider always holds portable cannonry wherever he goes. His main goal is to turn the Koopalings in robotics that must assassinate Bowser, so Fawful can take over the Koopa Kingdom.
Trivia
Community content is available under
CC-BY-SA
unless otherwise noted.