Coo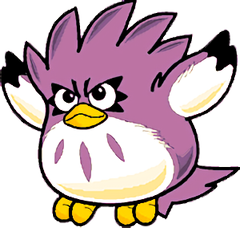 Coo as depicted in Kirby: Right Back At Ya!
GENERAL INFO

GENDER
♂ Male
AGE
Unknown
PERSONAL INFO

WEAPONS
Same as Kirby's current Copy Ability
MISCELLANEOUS INFO

CANON APPEARANCES

Kirby's Dreamland 2
Kirby's A Beautiful world
Coo the Owl is an animal friend from the Kirby series. He is the eldest of the group, and is seen to be rather solemn. He is revered as being wise and helpful, as with many owls. He helps Kirby by lifting him, making flying in strong wind much easier for Kirby.
Appearance
Coo is rather stout and has mostly purple feathers on his body. He also has several markings on him, including a large white circular patch on his chest and several black feathers around his eyes.
Appearances
While he never shows up directly in Kirby's A Beautiful World, Coo does appear in the ending setting down on a branch to gaze at the sky, as well as a collectable trophy.
Coo appears as a playable character in Jake's Super Smash Bros. Similarly to how they act in Kirby Star Allies, Rick, Kine, and Coo act as a single character and switch out when performing certain actions. Players take control of Coo when airborne, and thus he performs most of the aerial attacks. Coo also allows the player controlling them to perform five consecutive jumps and glide through the air.
Star Team Heroes
He's one of the victims of the Kirthar's Snap Finger.
Gallery