This game is currently being worked on by .

Please do not edit without permission aside from spelling/grammar errors and adding categories, thanks!


•
•

•
Convergence is a crossover fighting game developed and published by

. It centres around "The Convergence", a multi-universal incident that had forcefully brought together various individuals into a single, unstable realm called The Convergence Point. The game is set to come out on the Playstation 4 and the TimeStrike Falcon.
| | | |
| --- | --- | --- |
| | "...hm? O-oh, that's... that's the player! Uh, hi there! Please don't leave! M-my name is Chronia! I'm a guide, I can help you get out of here...! What? You don't know what this place is? Well, I-I'm happy to inform you! So, this is the Convergence Point, or a section of it, anyway. This horrible dimension is a bit of a mystery right now, even to me, but I do know that it has pulled in people who can travel through portals from across the multiverse into one place, including me! The Convergence Point's properties hamper my ability to open portals, and even when I can they only lead to somewhere else in this place... and I think it's the same for everyone else here. As much as I don't want you to go, everyone needs your help to break them out of here! Good luck!" | |
The game's characters, and most of its environments, are three-dimensional and cel-shaded in a similar style to that of Legend of Zelda: Breath of the Wild. The human characters in particular are more or less realistically proportioned, but aesthetics and visual effects across the different characters wildly vary, reflecting how this crossover brings people from across different worlds and dimensions. While there are some out-there characters present, they are tame compared to the environments, which are very much less grounded in reality. The nature of the Convergence Point is that it reacts to its inhabitants' thoughts and feelings, so some stages might look fairly realistic while others may incline towards dark and exaggerated, or cartoony and bright. They all share a common aspect in that the player might see ripple-like effects, warps, glitches, and tears in reality that fade in and out throughout matches, displaying the flexible nature of the dimension.
Menus are very streamlined thanks to Chronia's work organising everything. Although menu aesthetics have a wild, cosmic flavour to them, Chronia keeps the stuff subdued. Menus possesses Chronia's impossibly neat handwriting imposed on rounded, clean backgrounds with glowing white borders, leaving only slivers of instability. She can always be seen somewhere, usually in the corner of the screen, performing little animations and giving occasional dialogue as the player goes through the game's menus. When the player interacts with the menus, however, the nature of the Convergence Point gives way, having buttons shift around, shaking and flashing wildly cosmic colours, as well as becoming distorted whenever touched. Chronia will quickly fix the issue as soon as the player's hand is off the affected area, though.
In menus that Chronia has less influence over, they are way more distorted and chaotic. One of these menus is The Shop, which is managed by Friday Blake - rather than being in the corner, she's more prominent and takes up almost the entire left half of the screen. She's not as good at managing the menu as Chronia is, so instead of ordering everything, she emphasises the chaos and distortion on items that she wants you to buy. In general, she employs some crazy effects throughout your shopping experience. Some remnants of Chronia's organisation can be seen throughout it, though; it seems as though she had sorting through some of it before Friday came in and shooed her away.
As opposed to her colleagues, Other-Tan-Doe prefers to take a less violent role in Convergence, being a third party in menu management. Her style of organisation leaves much more chaos than Chronia while still being subdued enough to be pleasant. Her domain is all the Online modes, and she collaborates with Chronia to maintain menus. Unlike Friday, she's not bothered by Chronia's presence; in fact, the two have become friends. Because of this, they gladly share control and space whenever Other-Tan needs it. Chronia in particular looks the happiest when in a menu with both the player and Other-Tan.
As mentioned above, every playable character has distinct visual effects, as well as unique movements and animations that bring characterisation to whoever's being played. To showcase the personality of characters, matches will begin with cinematic intros for both participants, followed by an exchange between the two before the match actually starts, a la Injustice 2. These quick conversations can last from one to four lines, but they always alternate between the two parties present. Round victories are also marked with unique animations; a celebration or taunt for the person who won the round, and a getting-back-up or second wind for the person who lost the round. When the round is won, a special cinematic victory animation plays for the victor. As the animation ends, the footage will enter slow-motion that leads to a near-halt reminiscent of a splash art - another aspect taken from Netherrealm's fighting games.
Diligent as ever, Chronia manages what is displayed on the screen during a match, though with some difficulty, as battle can be quite chaotic. She occasionally pops up on the upper left corner on the player's side of screen to give occasional commentary, mostly to point out things like low Vitality, opportunities to attack, and a possible switch in strategy when the player is being curb-stomped. She frequently reacts to particularly devastating attacks, and sometimes expresses misfortune when the player is under a negative effect like being stunned or poisoned. She gets overjoyed when you win, and devastated when you lose - it seems she's pretty attached to you, especially since there's no executives to take her away. Of course, if the player finds all of her dialogue distracting or annoying, there is a slider in the game's options that controls how frequently Chronia pipes up, and another that maintains what exactly she focuses on talking about. If you turn the frequency slide all the way up, she'll blush and express even more attraction towards the player. If you turn it all the way down, she will constantly look dejected and have very unenthusiastic, verge-of-crying delivery when she finally gets to say something. Turning it back up, even just a little bit, will make her feel better, but she'll still take some time to cheer up - turning it back to a higher setting cheers her up faster.
Convergence's gameplay takes after the classic fighting game formula. In matches, players are set in a 2.5D environment wherein characters engage in one-on-one-combat, the winning condition being the acquisition of two Round Victories. A round is won when the Vitality Meter of one player reaches zero; afterwards, spacing is put between the two opponents and the Vitality Meter of both parties are fully restored as the next round starts.
When a character's Vitality Meter drops below 33%, they enter what's called a Brink Rush. When under this state, their attack power, movement speed, and Energy Meter regeneration increases proportional to how much Vitality the character has left. With lower Vitality, these boosts intensify at +1% per amount of Vitality lost. Brink Rush is also a prerequisite to being able to perform a Convergence Break, which is a powerful move that has the potential to turn the tide of the battle.
Basic Offensive Mechanics
Players have access to four Basic Attacks. These are labelled 1 (

or

), 2 (

or

), 3 (

or

) and 4 (

or

), each corresponding to different types of strikes; usually left-hand strike, right-hand strike, left-foot strike, and right-foot strike. There are different variations to these strikes depending on directional input, and through various combinations of these buttons, the player can perform strings of attacks, or Combos. The player can also use these to perform Skills, which are special moves unique to each character. Skills can be complex attacks, projectiles, buffs, debuffs, counters, evades, and more. Some Skills may consume small amounts of Energy Meter.
Basic Defensive Mechanics
The player is able to Block attacks by holding a directional input opposite to where the attack is coming from. This reduces incoming damage taken by 75%. There are four different places an attack can hit you: low (an attack to the legs), mid (an attack to the torso), high (an attack straight to the head), and overhead (an attack coming from above). Blocking in a normal position will block mid to overhead attacks, Blocking in a crouch blocks low to mid attacks (it should be noted that crouching in general prevents the player from getting hit with high attacks altogether), and Blocking while in the air will only Block overhead attacks.
By pressing

or

, the player can perform a Grab, which has the character grab the target and throw them either forward or behind them depending on the directional input. Grabs go through Blocks, and can be interrupted if both players happen to perform a Grab at the same time.
Aside from the Vitality Meter, the player also has an Energy Meter, which is divided into five Energy Bars. The meter is full at the start of the match, and constantly regenerates at +5% per second whenever it isn't being used. With

or

active, the player can perform three actions by using up a portion of the Meter, called a Meter Burning.
The Energy Meter
Meter Burning a Skill will turn it into an Enhanced Skill, a more powerful version of the move. This consumes one bar.
Performing a Meter Burn while your character is being caught up in a combo will execute a Combo Break, which saves the character from the combo. This consumes three bars.
By holding

and

or

and

together with Brink Rush active, the player can activate their Convergence Break. This consumes all five bars.
As the main gimmick of Convergence, the game has two buttons dedicated to portal-based abilities:

and

, or

and

. With either of these buttons held, the player is able to perform six different actions.

/

+

or

/

+

will Create a portal in the background near the player character. Normally, the portal is created right behind the character, but the player is able to create a portal a bit further away by adding a left or right directional input. Portals cannot be created while the player is performing a combo, a Skill, a grab, or is stunned. Additionally, the player cannot create a portal in the same spot where an enemy portal is. Portals will always be present on the field unless replaced, moved or destroyed.
Every portal will look and act different depending on the character who summoned them. Portals also cost Energy Meter - Creating a portal normally costs one bar. Whenever the Energy Meter is used up by a portal, that portion of the meter will become temporarily Fatigued, which is denoted by the bar turning red. A fatigued bar can still recover energy, but it won't be able to be utilised by the player until it wears off. Fatigued Energy will last for three seconds.

/

+

or

/

+

will Close the portal. Unlike creating a portal, there is no cost or range limit to performing this action.

/

+

or

/

+

will execute a Portal Jump, given that the player is close enough to the portal corresponding to the command. If there is only one portal active, then the player will perform a Shortjump instead. A Shortjump, as the name implies, is a hasty short-ranged warp in the player's chosen direction by popping out of a swiftly-created exit portal. Shortjumping costs half of an Energy Bar. The direction a Shortjump is performed towards can be influenced by a directional input. This type of Portal Jump is called so because the range can easily be traversed with a simple sprint but is still a great way to close distance.
If there are already two portals active, the player will jump to the location of the portal opposite to the entrance, without the cost of any Energy. This use of a Portal Jump, called Longjumping, has more defensive utility.

/

+

or

/

+

will activate the character's Portal Skill, which is an unique ability or attack utilising the player's portals that are designed to complement the character's play style and encourage portal use. What happens when there are no portals when this ability is activated will depend on the Portal Skill
Clash is Convergence's primary game mode, serving as the purest form of its gameplay. In the matches that take place in this mode, the player fights against a single enemy controlled by either AI or another person, on a stage of the player's choosing. If both players choose different stages, the game will randomly pick between the two.
To spice things up, the player is able to change up their matches using the Customise option, altering the parameters of the participating fighters and conditions of the match. Once the player is done customising, they can save it as a preset - up to ten customisation presets can be saved.
Customisation Options

Rounds
Decrease or increase the amount of rounds are needed to be won. Minimum of 1, maximum of 10.
Time
Decrease or increase the amount of time the players have left in the match. Minimum of 30 seconds, maximum of 10 minutes.
Vitality
Decrease or increase the amount of Vitality either players have. Minimum of 50, maximum of 1000.
Attack
Decrease or increase the amount of damage either player inflicts. Minimum of 5%, maximum of 500%.
Defence
Decrease or increase the amount of damage either player takes. Minimum of 5%, maximum of 500%.
Energy
Decrease or increase the amount of Energy either player has. Minimum of 50, maximum of 1000
Vitality Regen
Add the ability for either players to regenerate Vitality over time. Minimum of 0 per second, maximum of
Energy Regen
Decrease or increase the rate at which the Energy of either player regenerates. Minimum of 5%, maximum of 300%.
Hazards
Decrease or increase the frequency and amount of Hazards that occur in a particular stage.
Convergence Ladder pits the player against a series of eleven pre-determined enemies in a progressive arcade ladder fashion. Each playable character has their own unique Character Ladder, each stage within them having added challenges that come as either customised match conditions, or optional Goals to reach. If all the goals of a stage have been completed, their next match will give the player a temporary bonus. Should the player lose enough battles, the Ladder will reset, forcing the player to play through everything again. The same thing will happen if the player drops out of a Ladder mid-match. The player can, however, drop out of a Ladder outside of matches in order to try a different one, and all of the player's progress of the Ladder that they dropped out from will be retained. The game also gives the option to manually reset the Ladder, should they fail to reach a Goal and want to start over. This game mode has four different difficulties, escalating the challenges of the Ladder the harder the difficulty is. Once the difficulty of a Ladder is set, the player cannot change it unless it resets. Harder difficulties also increase the amount of rewards the player gets. The difficulty can be changed if the player hasn't actually fought the first stage yet.
Easy

Ladder will never reset from losses.

Normal

Ladder will reset after five losses.

Hard

Ladder will reset after three losses.

Extreme

Ladder will reset after one loss.
Once all eleven opponents are defeated, the player gets to see a unique ending centred around the character they played as.

The Shop allows the player to buy cosmetic items, using Coins. Coins can be gained by winning matches in the Convergence Ladder. If the player has Competitive Points, they can be exchanged for such coins. The conversion rate is one coin per two Competitive Points. Unlike the rest of the game modes where the player can hear Chronia, The Shop is run by Friday Blake - the player will be showered in very witty, snarky dialogue by just spending time in The Shop alone.
If Friday notices that you've been spending Coins on a particular type of item, she'll bump up the price of that kind by 10%, or even more! To Friday's chagrin, though, all items found in The Shop are cosmetic-only (for now) and do not affect the performance of the character like say, a weapon would. If you're spending too much time hovering over a single item, she'll get annoyed and start lowering the price by 5% for every real-time ten minutes. She'll only go as low as a 50% discount, however. On rare occasions, she will offer a special 25% discount in exchange for defeating a specified character multiple times on Convergence Ladder or Online.
There is currently only one type of item available: Skins. Skins will change the look of a character, and even some visual and audio effects. These changes are purely aesthetic and don't have much bearing on gameplay - they just look cool! A lot of the Skins pay homage to past incarnations, appearances, and lore of characters, which are given by reading the Skin descriptions.
the Cataclysmic Capitalist
Skins - 30 Coins each

Paradigm Shifter

Kitty

Space Elf

Nature Witch

A skin for Alleyma, depicting her appearance in Paradigm.

A skin for Alleyma, based on fellow Paradigm character Calvin Kitty.

A skin for Alleyma, based on fellow Paradigm character Raevos.

A skin for Alleyma, based on fellow Paradigm character Maloha.

Scarlet Skies

Slave of the Goddess

Sporty

Victorious

A skin for Aurora, depicting her appearance in Fantendo Smash Bros. Scarlet Skies

A skin for Aurora, depicting her appearance as White Goddess' slave in Fantendo Smash Bros. Shattered

A skin for Aurora, depicting her appearance in Fantendo Sports Resort.

A skin for Aurora, depicting her appearance in Fantendo Smash Bros. Victory.

Southern Belle

Sporty

Rockstar

Victorious

A skin for Reese, depicting one of his skins in appearance in Fantendo Smash Bros. Victory.

A skin for Reese, depicting his appearance in Fantendo Sports Resort.

A skin for Reese, depicting his appearance in Fantendo - Genesis.

A skin for Reese, depicting his appearance in Fantendo Smash Bros. Victory.

Dark

Golden Champion

Human

Negative

A skin for Sudio, in a darker colour scheme.

A skin for Sudio, in a completely gold colour scheme.

A skin for Sudio, depicting them as a human with robotic enhancements.

A skin for Sudio, in a flipped colour scheme.

X

Nemesis

Cosmic

Hunter

A skin for Xen, depicting their default appearance in Fantendoverse X: Time and Fantendoverse X: Space.

A skin for Xen based on their nemesis, Veve.

A skin for Xen in a space-themed colour scheme.

A skin for Xen, based on one of his starting party members, Ludwing the Hunter.
More Coming Soon!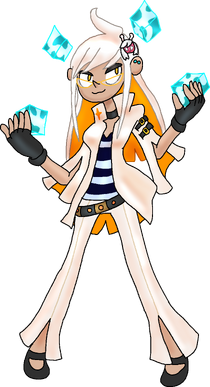 Online is where the player can interact with other people playing the game. This mode has several sub-modes that serve as different facets for online interaction. Because Other-Tan-Doe's usual job is to negotiate and make connections, She found maintaining Online to be a perfect fit for her. Although more business-like than Chronia or Friday, she's still very much cheery. Occasionally, though, she will sometimes be worried about her co-workers' whereabouts. When it comes to the menus centred more about organising fights, Other-Tan is joined by Chronia, taking a more passive role in giving supplementary information.
Online Match is where you can test your skills against online opponents. To enter a match, they must select the Find Player button to begin searching for a person to play against. These matches take the form of virtually the same standard that Clash uses. After a match ends, both players can choose to agree to a rematch. If a player disconnects in the middle of a match, then the other player will automatically win.
Saved Matches allows the player to save footage of up to ten Online Matches. With this, the player can re-watch past matches, being able to skip to and pause at any point, slow down and speed up footage, as well as play things backwards. Additionally, the player can add Drawing Overlays on top of footage, which can serve to be either fun doodles or references that the player can use to figure out spacing.
Match Statistics compiles different statistics from all of the matches the player has participated in. The player can sort by match type and character in order to get more specific statistics.
Filters

Total
Casual
Competitive
Character
Per Match
Stats from every non-modified match played.
Stats from non-competitive matches.
Stats from competitive matches.
Stats concerning specific characters.
Stats from individual matches; used for records and "Most"-type stats.
Modified
Perils
Ladder
Stats from modified matches.
Stats from Point Perils.
Stats from Convergence Ladder.
Statistics

Damage Dealt
Damage Taken
Damage Blocked
Vitality Recovered
Energy Recovered
Successful Hits
Hits Blocked
Hits Suffered
Hits Countered
Longest Combo
Successful Grabs
Grabs Blocked
Grabs Suffered
Stuns Inflicted
Stuns Suffered
Projectiles Fired
Distance Covered
Times Knocked Down
Enemy Knocked Down
Skills Used
Portals Skills Used
Portals Created
Portals Closed
Portals Used
Matches Played
Rounds Won
Rounds Lost
Matches Won
Matches Lost
Matches Left
Rematches Played
CP Gained
CP Lost
CP Spent
Items Bought
It's not all about fighting! You can add other players as Friends, which allows you to see each others' Saved Matches, Chat with them, and Gift each other Items. You can only give up to 2 Gifts per day.
Competitive is a sub-game mode that the player can enter once they've played twenty normal Online Matches. A simple press of a button will activate this mode, and add various features to Online. Here, every player has a Rank, an assigned number that reflects the skill of the player attached to it. Winning Online Matches will grant the player Competitive Points, or CP, which increase the player's Rank and can be converted to Coins. The ranges of these Ranks form distinct Tiers. Everyone starts at the lowest Tier, but once a player's Rank becomes high enough, they ascend to the next Tier. Aside from making things more organised, Tiers also dictate how much CP a player can get, as higher tiers require an increasing number of CP to reach. The player is able to view their own Rank and Tier, as well as that of others, in the Leaderboard. The player is also able to see their three most played characters, which is calculated by the game every 10 matches. For each day that no Online Matches are played, their Rank will be decreased by 10.
Tier Ladder
Tier
Range
CP Reward
Matchup Range
Coal
Rank 0-49
+2 per win
-20/+20
Bronze
Rank 100-499
+10 per win
-30/+30
Iron
Rank 500-999
+12 per win
-34/+34
Gold
1000-1809
+14 per win
-38/+38
Diamond
1900-2919
+16 per win
-44/+44
Jade
2920-4249
+18 per win
-52/+52
Ruby
4250-5500
+20 per win
-62/+62
For a fair fight, players are only matched up with other players that are within a certain CP range of each other. The player can gain additional CP if they reach certain goals, i.e. winning both rounds, having more than 50% Vitality throughout the entire match, winning within one minute, and performing long combo strings. Unlike normal Online, manual rematches are not allowed due to potential abuse. If a player leaves the match, the other player will automatically win and will be granted half of the Tier's base CP reward. The player who left will get a 5% CP reduction, 20% longer queue times, and a 25% penalty to CP gain. These penalties will increase at an exponential rate with successive rage quits.
Point Perils is a mode consisting of various minigames centred and themed around Convergence's colourful roster. There are no confirmed Perils at the moment.
Each playable character has a specific fighting style, but there is some overlap; some characters are suited to focus getting in the opponent's face, while others may be more effective being patient in order to anticipate and counter attacks or maintaining distance and sustaining themselves. Some characters may even have special mechanics that completely set them apart from the others.
Convergence has twenty-two confirmed playable characters as of now.
the Grandiose Magician

Bio

Alleyma Silverling is a world-class magician who took to the stage as a young girl. A gadgeteer genius, she emulates magic and crafts fine illusions using state-of-the-art technology. Her family never approved of such a hobby, but their reservations fell on deaf ears and she went on to be one of the greatest magicians to have ever lived... on her world, that is. Although she was happy bringing people joy and wonder on Earth, she wanted to take her magic shows to the next level through exhibition in alternate dimensions. Utilising a powerful wormhole-fabricating device that she had made herself, it wasn't long before she started touring across various dimensions and universes to astound many, from the twisted Paradigm to the far future.

Stats

Gameplay

Alleyma is a performer at heart, so she likes to play herself up when "on stage". She moves dramatically and with a certain poise, causing her moves to hit quickly but come with some endlag. After every combo, she likes to perform Flourishes and strike quick poses - these can be interrupted by the player themselves by performing any action, but doing so will deny Performance Gain .

As any worthwhile stage magician knows, stage presence is important. Alleyma has a Performance Meter that increases by 2% each time she successfully lands a basic attack. When fully filled up, 10% of Alleyma's Life Meter is restored and it resets. Successfuly inflicting Skills onto the enemy fill the Meter by 4%, and letting Alleyma perform uninterrupted after-combo Flourishes fills the meter by 6%! When Alleyma is at 20% Life or lower, all Performance Meter gains are multiplied by 2x! Because of this, the player can make astounding comebacks.

She can also dominate the battle by employing the various Gizmos at her disposal. As long as a Gizmo has energy or resources, they can be used, but otherwise it needs to recharge. The five Gizmos have corresponding meters in Alleyma's corner of the screen that indicate recharge time. Alleyma players must be good at resource management, or else they won't be left with much utility!
Moveset

Combos

Wondrous Performance

1, 1

Astounding

1, 1, 3

Seeing Is Believing

1, 1, 4

Magic Trick

1, 2

Showstopper

1, 2, 2, 1

Sawed In Half

1, 3

Audience Participation

1, 3, 2

Witness Greatness

1, 3, 4

Grand Spectacle

2, 1, 3

Wand Waving

2, 2, 1

Revolutionary Tech

2, 2, 3

Magic Words

2, 2, 4

Show's Over

2, 2, 4

Up My Sleeve

2, 3

Welcome To My Show

2, 3, 4

Secret Techniques

2, 4

Now You See Me

3, 2

On Tour

3, 3, 1

Suspend Disbelief

4, 1

Under Illusion

4, 4

Throws

Forward Throw
Alleyma smacks the enemy twice with her wand before opening her coat to let out four doves that fly at the enemy to launch them away.
Back Throw
Alleyma extends her wand to strike the enemy from below before delivering another strike and tossing them behind herself using levitation.
Skills
Portal
/ or
Unlike the other playable characters, Alleyma does not possess the natural ability to open a portal. Instead, she relies on a device on her bowtie. While creating portals doesn't cost any

Energy

for her, dealing a burst of least

8% Damage

to Alleyma will forcibly close all of her portals. Alleyma's portals are swirly, silver-bordered, and look less stable than Herald portals. Her left portal is bronze-coloured, and her right portal is a lighter brass.
What's In The Hat
/ + or / +
Alleyma places her hand inside her hat, making it come through one of her portals - this time, giant-sized. If an enemy is within

3m

the portal, they will be grabbed and pulled out of the hat in a shrunken state,

popping them up

.
Gizmo: Weaponised Cards
1
Alleyma draws five cards from a deck in her pocket. In this state, the player can perform a variety of actions while being able to move. Alleyma has only 52 cards in her deck so she will not be able to perform most of these actions until they return. If a card is thrown and it fails to hit an enemy, it will return to her deck within

8 seconds

. If a card successfully hits the enemy, it grants

+1% Performance

and will return to Alleyma in

5 seconds

. The amount of cards she currently has is normally indicated on the corner of the screen, but when this Skill is active, it's also indicated by a glowing number over her head.

1 - Card Cancel: Alleyma cancels the Skill, putting the cards back into her pocket.
2 - Card Throw: Alleyma throws a card, dealing light damage. Each card flies in a straight line, and will stick to an enemy if they deal a direct, unblocked hit.
3 - Card Re-Shuffle: Alleyma discards her hand and draws five new cards, but this leaves her vulnerable to attack. If Alleyma has no cards in her hand, this action is performed twice as quickly.
4 - Card Spread: Alleyma tosses all five cards at once in a short-ranged burst, dealing the combined damage and knockback tossing five at a time would do.

/: Alleyma turns her entire current hand into explosive cards, which deals

+200% damage

as well as

Knockback

when thrown. If she discards them, they will remain in her deck. Explosive cards will become destroyed once they hit an enemy, however, and she can permanently run out of cards this way.
Gizmo: Dust Bunny
3
Alleyma pulls out a mechanical bunny from her hat and tosses it. Upon contact with a surface, projectile, or enemy, it will begin to spew irritating dust that forms a

4m radius

cloud. The cloud lasts for three seconds, and deals light amounts of damage to enemies that walk into it. Enemies touched by the dust will be unable to recover any

Vitality

or

Energy

for

3 seconds

, even outside of the cloud. After the cloud disperses, the bunny scuttles back to Alleyma to recharge. It charges at a rate of

20% per second

. Additionally, the initial toss will deal a small amount of damage to enemies.
/: The radius increases to

6m

for that use.
Gizmo: Dove of Purity
3
Alleyma pulls out a mechanical dove from her coat and releases it into the air. It will then begin to encircle Alleyma and follow her around, preventing her from being

Stunned

or having her stats lowered. After

3 seconds

of being active, it will lose power and retreat into her coat. While in her coat, the dove will recharge at a rate of

12% per second

.
/: The dove now lasts for

5 seconds

, and prevents

Damage Over Time

.
Gizmo: Locking Rings
4
Alleyma pulls out two interlocked rings and frees them from each other, tossing both onto the ground in front of her. Once they land, they rise and break apart to form a

2m radius

field of energy. Should the enemy move around within its confines, they will suffer light

Damage Over Time

. The enemy is free to move in and out of the rings, but touching its outer boundaries deals a hefty chunk of damage. The rings will last for

3 seconds

before losing power, at which they will slowly rise upwards off-screen in the span of

4 seconds

. After the rings have risen off-screen, Alleyma will pull them out from behind her back, allowing this Skill to be used again.
/: The field now deals

+30% damage.

Gizmo: Hypnotising Device
1
Alleyma unhooks the pendulum from her coat and starts to swing it at the enemy, causing a

2.5m

wave of energy to emanate from it. She can move back and forth while in this state. If an enemy is in range for more than

1.5 seconds

, they will be

Stunned for 1 second

, giving Alleyma an oppurtunity to attack. After this Skill is used, it constantly recharges at a rate of

10% per second

.
/: The pendulum now forces the enemy to walk towards Alleyma, though it leaves the risk of her being attacked.
Levitation
2
Alleyma waves her wand around for 0.8 seconds before exclaiming "I levitate you!" and flicking her wand upwards. If an enemy draws near, Alleyma suspends the enemy and launches them away. If a projectile, she will

Deflect

it towards the sky. This counter only works once she's recited the incantation, so attacking her while she's still waving her wand will interrupt the Skill.
/: Instead of launching them away, Alleyma pops them up.
Misc

Entrance #1 -

Hat Trick

The camera is focused on the ground, where Alleyma's hat is resting. Suddenly, the hat rises from the ground, revealing Alleyma's feet and legs. As the camera pans up and and zooms out, she has completely exited her hat - which is now on her head - and is pointing her wand at the enemy.
Entrance #2 -

Open the Curtains

The camera is focused on a pair of silver curtains, which get pushed aside by Alleyma to reveal herself. Pulling the curtains off and stuffing them in her pockets, Alleyma assumes a battle stance.
Entrance #3 -

Lovely Little Dove

The camera is focused on a dove, which flies around in circles in the air before the camera pans down to reveal Alleyma walking onto the battlefield. Slightly panning back up and zooming out, she opens her coat for the dove to retreat into.
Victory #1 -

Cards Into Roses

Alleyma takes out a full deck of cards and throws all of them in the air off-screen. Then, she takes her wand and points it towards the sky, unleashing a burst of light. As the light fades, Alleyma begins to bow as roses begin to shower down on her.
Victory #2 -

Full of Tricks

Alleyma performs a quick succession of actions as the camera follows; releasing a dove from for her right coat pocket, tossing out a bunny from her hat, producing a spray of cards from her left coat pocket, throwing out the locking rings that are hooked to her waist, taking out a coin from her right pocket and flipping it, producing a stream of tied cloths from her left pocket, letting her pendulum swing pinned from her coat, then finally swinging her wand upwards. All of these gadgets fill the screen as they seem radiate from Alleyma.
Victory #3 -

Clearing the Smoke

Alleyma waves her wand around before firing a blast of energy at the ground, causing a bunch of smoke to erupt and cover the screen. Then suddenly, she breaks through some of the smoke by swiftly waving her wand in a dramatic fashion, ending with a graceful pose.
Round Win #1
Alleyma pulls out a spare dove and scratches the underside of its beak before letting it fly away. As it soars, it squeaks at the enemy as they get up.
Round Win #2
Alleyma pulls out a joker card from her hat and lets it fall before tapping it with her wand, causing it to turn into glitter.
Round Win #3
Alleyma levitates herself while spinning around, then turns to the screen and bows when she lands.
Round Win Quotes
"Astounded yet?"
"Show's not over yet!"
"Abra Cadabra!"
"Maybe I took "break a leg" too literally..."
"This is your last act!"
"Sawed you in half!"
"Show of a lifetime!"
"You need to work on your stage skills."
"Beaten by a stage magician!"
(beating a magic-user) "I guess fake beats real magic!"
(beating Zellen) "All talk, no substance!"
(beating a tag-team) "I don't need to lock you two together to beat you!"
the Grasshopper

Bio

Aurora is a Catalyst, but she prefers to wield the expanding Grasshopper Blade, as well as her unique brand of colourful magic. When she's not reading books, going out with friends, or spending time with her girlfriend Fera, she's fighting for a cause she believes in. Initially, that cause was the elimination of the White Goddess' army. For a spell, she was enslaved by said "Goddess" for a time, but she was eventually freed by the goddess Palutena. She also attended Boltzmann University, a school designed by The Fan and The Enemy in order to train beings to combat a universal danger. She's close with fellow Heralds and cousins Reese and Rhyse, having played in their band.

Stats

Gameplay

All of Aurora's attacks have a farther reach compared to other characters. Her Grasshopper Blade is quite magnificent in this fashion! She hits quite hard and quite fast, while still being able to retain a manner of some spacing between herself and the enemy. Aurora can be played in a number of ways according to the player's preference - do you want to constantly rush in and accost the enemy, or do you want to hang back and stack up boosts before going in? Either way, she's meant to whittle down the enemy as much as possible.

She also has her defences against people who want to play the long-distance game. Two of her moves negate projectiles, and she can throw out a projectile herself! These tools allow Aurora to close the distance. She's not as effective fighting against people who want to get in her face, but she does have one counter move that requires adequate timing on the player's part. Indicating when it's able to be used or not, Aurora will have three small, faintly-glowing shards that float near the machine near her head.

And speaking of, it turns out the machine on her head isn't entirely useless! In the Convergence Point, it seems to act as a sort of Time Indicator. Whenever the enemy is stunned or vulnerable to an attack, it will briefly glow at the precise moment that guarantees the best outcome for attack. If the player successfully acts upon this blip, the machine will sound out a satisfied-sounding beep while flashing brightly, awarding Aurora

15% Energy Meter

.
Moveset

Combos

True Colours

1, 1

Full Spectrum

1, 1, 1

Colourful Language

1, 2, 2

For Fera

1, 2, 4

Grass Whip

1, 3, 2

All Hopped Up

1, 3, 2

Chromaticism

1, 4, 3

Creep Grass

1, 4, 4

Northern Lights

2, 1

Grasshopper Helicopter

2, 1, 1

Double Rainbow

2, 2

Hop The Twig

2, 2, 3

RGBeatup

2, 3

With Flying Colours

3, 3, 2

Kicking Your Grass

2, 4, 3

On The Hop

3, 1, 3

Get Schooled

3, 3, 2

Fully Saturated

3, 4

In The Australis

4, 3, 2

Iridescent Dance

4, 4, 1

Throws

Forward Throw
Aurora slices up the enemy with her blade, then blasts them away with two blasts of colour magic.
Back Throw
Aurora rushes past the enemy to deliver a quick strike with her blade before blasting them away with magic.
Skills
Portal
/ or
Aurora's portals are best described as multi-coloured blobs. Her left portal has warm colours, and her right portal has cool colours.
Rainbow
/ + or / +
Aurora uses a portal's energy, turning it into a focused blast of colourful magic that's fired in an arc. When it hits the ground, it produces a

2m radius

shockwave.

If Aurora has two portals active, the portals will arc towards each other to form a rainbow that grants her 20% increased attack power when in the arc's area of effect. The rainbow will dissipate after three seconds. Using this Skill will close all of her portals afterwards.

Rabbitsfoot
1
Aurora slams the ground with a extended Grasshopper Blade, jumping as the Grasshopper blade retracts, then slashes out at the enemy as she lands. This Skill can be used to dodge and punish attacks, but Aurora herself is susceptible to punishment herself when poorly-timed.
/: Aurora performs three slashes instead of one.
Aurora Chant
3
Aurora conjures a

3m radius

aurora in front of herself that lasts for

5 seconds

. The aurora drains the

Energy

of enemies who enter its radius by

3% per second

, and projectiles that pass through the aurora become

negated

.
/: The aurora becomes more intense, now draining

6% per second

and spanning a

4.5 radius

.
Colorehama
3
Aurora fires a colourful ball of energy. The longer she charges it, the more powerful the attack becomes, changing colour for each increase in power. It goes from white to yellow, to red, blue, green, and then finally, to pink. Each stage requires

0.5 seconds

to charge. The ball itself travels quite slowly compared to most other projectile, but the charge will be retained for

3 seconds

, so even if Aurora is attacked while charging the ball, she can still fire it. The charge is indicated by a faint rainbow-coloured steam emanating from Aurora's hands.
/: The ball that Aurora fires travels

50% faster

and has a

25% larger hitbox

.
Time Shards
1
Aurora constantly has three time shards floating near her head. When this Skill is active, Aurora activates these shards and they arrange themselves higher above her head, enlarging and glowing brightly, as well as following her around the battlefield. Over the course of

1.5 seconds

, the shards will disappear. If the enemy makes a basic attack on her with all three shards active, she will still take damage but the enemy will be

Stunned

for

1 second

. With two shards, the

Stun

will last for

0.5 seconds

, and with one shard, the enemy will only be

Slowed

by

20%

for

3 seconds

. Afterwards, Aurora will be unable to conjure the shards until 3 seconds have passed. On each second, the shards will reappear in their faint, deactivated state.
/: The effect Aurora gains increased by

+10%

.
Whirling Colours
2
Aurora jumps forth and whirls around three times with her blade cutting through the air. Projectiles that hit her while using this Skill will be

negated

.
/: Aurora performs two more slashes.
Whistling of the Grass
4
Aurora pauses for a brief second before rush forth to perform a rapid slash. Using this Skill allows Aurora to pass through the enemy - if she does, the enemy will stumble and suffer a sizeable amount of damage. This Skill will be interrupted if she is attacked during the pausing phase.
/: Instead of passing through the enemy, Aurora simply impales the opponent before performing a few quick slashes afterwards as a combo starter.
Misc

Entrance #1 -

Resting Blade

The camera is focused on the ground. Suddenly, the bottom half of the Grasshopper Blade is planted down. Panning upwards, the camera reveals Aurora sitting crossed-legged on the top of the blade, with her head resting on her propped-up right hand. Smirking, she swiftly gets off and takes the Grasshopper Blade to perform a quick slash towards the ground, assuming a fighting stance.
Entrance #2 -

Colour Creation

The camera is focused on Aurora's clasped hands. Her arms outstretched, Aurora's hands open to reveal a colourful blob of energy, which Aurora forms into a rainbow. Releasing her hands, the rainbow stays in place until it's slashed at by Aurora, exploding into a beautiful burst of coloured particles. Afterwards, she walks through the colours to assume a fighting stance.
Entrance #3 -

Stupid Machine

The camera is focused on the machine on Aurora's head. Suddenly, its lights begin to flicker, causing Aurora to smack it two times with her hand. Zooming out, the camera reveals Aurora's annoyed face as she tries to get it to work, before claiming down when she notices the enemy and drawing her blade.
Victory #1 -

Namesake

The Grasshopper Blade at her side, Aurora forms an orb of colourful magic in her free hand, then tosses it upward. As it falls, she slashes at it with her blade, causing a beautiful aurora to erupt from it. The footage slows down as Aurora smiles at the beautiful display.
Victory #2 -

Grasshopper Fury

The camera zooms out, as Aurora starts making her way towards the POV, blade drawn. Suddenly, she rushes forth at blinding speed, lashing out with three consecutive strikes.
Victory #3 -

Under The Rainbow

Aurora twirls the Grasshopper Blade around before bending down and winding up, followed up by a large arcing swing. A vibrant rainbow-coloured trail emanates from the swing as the footage slows down.
Round Win #1
Aurora smiles, bending over and placing her arms on a planted Grasshopper Blade.
Round Win #2
Aurora switches the hand she wields the Grasshopper Blade in, then forms a small rainbow over her head with her free hand. Afterwards, she makes the rainbow disappear by snapping her fingers and returning the blade to her right hand.
Round Win #3
Aurora launches herself upwards by extending the Grasshopper Blade past the margins of the screen. Afterwards, she slides back down as if the blade is a fire station pole, with her right hand outstretched holding on to the blade and the other placed above her eyes. Afterwards, she jumps off of the blade and returns it to its normal size before returning to her fighting stance.
Round Win Quotes
"You're looking black and blue."
"Add some colour to those moves!"
"Try harder this time."
"I've fought armies. You're not an army."
"School's in session!"
"This blade doesn't need sharpening!"
"Spending time at Boltzmann would've done some good for you!"
"Taste the painbow! Can't believe I said that."
"Now you're just making this personal."
(beating Khaos) "Your sister put up a better fight!"
(beating Rhyse or Reese) "Not half bad, cousin."
(beating a Catalyst) "Rely less on time shenanigans, and maybe you'll get somewhere."
the Boy and His Mirror

Bio

Cain was born amidst an post-apocalyptic world infested with undead horrors, which shaped him up to be quite mature for his age. A survivalist, the lone wanderer tried his best to stay alive in the ruins of civilisation. And then, he met Isenlore. The Mirror Herald travels across universes in search of people to lend its power, and it isn't particularly picky with the purpose its given. It, however, despises those who are vain and has a special dimension that it likes to sentence these types of people to. Fortunately, Cain is actually very selfless for a scavenger. Isenlore had visited the universe on a whim, and decided to stay with the boy. Bonding and travelling together on Cain's world, the two turned into a legend among fellow survivors who would be fortunate enough come across and be helped out by the duo.

Stats

Gameplay

The duo aren't exactly seasoned fighters. Cain is first and foremost a survivalist, and makes the most out of everything. His Vitality may be low, but he makes up for it by having many ways to defend himself. Aside from the usual blocking and portal-dodging, Cain and Isenlore can mitigate potential Meter Burns by taking away the opponent's Energy, and anticipate attacks with Refraction or even First Aid. The latter of these two Skills are particularly helpful, as skilled Cain/Isenlore players with a keen eye for windows of levity can regain lots of Vitality between skirmishes.

When it comes to offence, the duo brings a few things to the table. While Cain's attacks are a bit sluggish, they deal hefty amounts of damage, which can really count if they're reduced to getting in single attacks. Isenlore occasionally lends a hand in combos, but it usually stays in a supportive role. In fact, all of the duo's skills involve Isenlore.

Whenever Isenlore opens a portal, five Shards of Reality break out from its origin, which then gravitate towards the duo. These shards circle around Cain in a small radius, serving as a small deterrent to enemies who want to close in on him. Any enemy close enough to the shards will take miniscule amounts of damage, but no

Knockback

. This may not sound like much, but this damage can rack up over time, and may come in handy for clutch situations where both parties are on low

Vitality

.
Moveset

Combos

Temper Glass

1, 1, 4

Jamb Jabs

1, 2

Wing Mirror

1, 3, 3

Survive and Thrive

1, 4, 2, 4

Magic Mirror

1, 4, 4

Window Pain

2, 1

Apocalypse Now

2, 1, 3

Crowbarred

2, 1, 4

Matter of Survial

2, 2, 2

Convexing

2, 3, 4

Smacking Glass

2, 4

Dark Reflection

3, 1

Sustained Damage

3, 2, 3

Persistent

3, 3, 2

Not That Fragile

3, 3, 4

Last Boy Standing

3, 4

Child of Ruin

3, 4

Concave-In

4, 2

End Times

4, 1, 1

Daring Escape

4, 4, 2

Throws

Forward Throw
Cain hits the ememy with his crowbar twice. Afterwards, Isenlore carries the enemy away on its back and tilts over to get them off. Then, Isenlore slams into the downed enemy before returning to Cain.
Back Throw
Cain smacks the enemy with his crowbar, then backs away to deliver another blow. The enemy is then launched into a glass construct in the air, courtesy of Isenlore, which bounces the enemy into two more constructs before being launched away behind the duo.
Skills
Portal
/ or
Isenlore's portals resemble cracked holes in glass. Its left portal is white, and its right portal is light orange.
Shard Assault
/ + or / +
Isenlore takes the

Shards of Reality

that are swirling around Cain, and launches all of them at the enemy. After flying a short distance, the shards disappear and re-materialise around their origin portal to

Close

it. The shards will deal

Knockback

, and

5x

as much damage as they would passively.
First Aid
1
Cain pulls out his first aid kit and attends to his injuries as Isenlore helps, shining a healing light on him. This restores Cain's

Vitality

and

Energy

by

2% per 0.3 seconds

. When this Skill is active, all incoming damage will be reduced by

30%

. This Skill will last as long as no player input is given or if Cain is attacked.
/: The amount of healing is now tripled.
Refraction
1
Isenlore projects a cosmic energy onto Cain for

3 seconds

, where he can move freely but not attack or use other Skills. In this state,

50%

of all incoming damage will

Bounce Back

into the enemy in the form of an unblockables bursts of energy. Projectiles will also be

Deflected

.
/: 110% of the damage will now be

Negated

and

Bounced Back

instead.
Mural
4
Isenlore summons a swirling dome of colourful glass shards around the duo, spanning a

8m radius

. All players can move around freely within it, but once the enemy is knocked back, the dome will start to act as a wall, bouncing the enemy around the dome for further damage and combo potential. Projectiles will also bounce around inside the dome, but will become

40% weaker

with each deflection. The dome disappears after

4 seconds

, or if something has bounced around it for more than three times.
/: The dome becomes

20% bigger

, and it now deals 50% more damage when the enemy bounces within it.
High Exposure
3
Isenlore fires a mysterious gleam of light that constantly Fatigues the enemy's

Energy Meter

, removing

3%

for every 0.2 seconds the enemy is hit by it. It deals no

Knockback

or normal damage, however. Isenlore will shine this light until Cain is knocked to the ground or performs another action.
/: The light now also decreases the enemy's attack by

20%

for as long as the light is shone, or

4 seconds

after the fact.
Lens Flare
2
Cain jumps back as Isenlore emits a short-ranged burst of light. The closer the enemy is to this burst, the more damage it deals. At point-blank range, it

Stuns

the enemy for

1 second

if not blocked. The flare itself

Negates

projectiles.
/: The flare now deals

+100% Damage

Mirror Surfing
3
Isenlore tilts into a horizontal, downwards-facing position, floating close to the ground. Afterwards, Cain hops on top of it and together, they quickly shoot forward for a duration of

1.5 seconds

. If they make contact with an enemy, Cain smacks the enemy with his crowbar. Even if the enemy blocks the attack, the duo will continue to rush past the enemy. If Cain is

Knocked Back

at any point while using this Skill, it will be interrupted.
/: The duo becomes immune to

Knockback

and takes

30% less damage

for this Skill's duration.
Misc

Entrance #1 -

Break-In

The camera is focused on an empty space. Suddenly, cracks in reality begin to form, which eventually break out for Cain and Isenlore to jump through. As Isenlore hovers and closes the portal, Cain lands and gets up with a cautious expression, resting his crowbar on his shoulder.
Entrance #2 -

Mirror Surfing

The camera is focused on Cain as he surfs on Isenlore's back. When they arrive on the battlefield, Cain jumps off and places his hand on Isenlore's side while smiling before turning his attention to the enemy, dropping the smirk.
Entrance #3 -

Reflection

The camera is focused on Isenlore's glass center, which is currently reflecting Cain's pensive look. Suddenly, the enemy walks into view of the reflection, causing Cain to harden his expression and turn around, readying his crowbar.
Victory #1 -

Mural

Isenlore rises up as it projects a large mural dome. Meanwhile, Cain watches on in amazement.
Victory #2 -

Finish You Off

Cain smirks as he weighs his crowbar in his hands before running towards the POV and going in for a strike. Isenlore is in the background, ominously shining brightly.
Victory #3 -

Boy and His Mirror

Cain celebrates with Isenlore, the two performing a high-five, an elbow bump, two horizontal slaps, and ending with a fist bump. While Cain performs all of these with his hand, Isenlore simply uses one of his corners.
Round Win #1
Cain crouches down and points his crowbar at the enemy as Isenlore's center glows brightly.
Round Win #2
Cain gets on Isenlore's back and has a bit of fun as the mirror twirls around. Afterwards, Cain gets off and assumes his battle stance.
Round Win #3
Isenlore gets in front of Cain as he checks his reflection.
Round Win Quotes
"I don't think you want to look at your reflection after this!"
"Hey Mirror, this guy looks done!"
"Looks like someone got their glass kicked!"
"I know corpses who fight better than you!"
"Survival of the fittest."
"You wouldn't last long in an apocalypse."
"Crowbarred!"
"Stay alive - I don't wanna have to waste bullets."
"Magic mirror in the air, I don't think this matchup's fair!"
(beating Hallow) "I've seen scarier things."
(beating Hitomi) "You wouldn't know a hard life if it smacked you in the head with a crowbar!"
(beating a Khaos) "Some god you are!"
the Hollow Priest

Bio

A priest with a past shrouded in mystery, Father Trip thought religion was the solution to his problems... but alas, he remains hollow and unfulfilled. His occupation did suit his abilities, however; quite atypical from your usual priest, he can channel holy eergy and perform extraordinary feats, like open portals to other dimensions. He also has the more unscrupulous power of being able to manipulate memories. At some point, he founded a church in the middle of nowhere. Always kind, he would lend the occasional help to anyone who came by, which would eventually get him involved in Hein's activities and the happenings of the Dark Wood. He also went on to train two apprentices, Shiphrah and Ephraim, who would have their own adventures in the strange dimension.

Stats

Gameplay

One would expect a holy man to abstain from such sinful activity such as violence, but it's clear that Father Trip isn't an ordinary priest. That doesn't mean he doesn't lack class, however; instead of using fists, he works his magic to turn light, memories, and crystals against the enemy. Although sluggish in both his movements and attacks, he can take a few hits for an old man - he has the third highest Vitality among the roster. To contrast, he's in a tie for the lowest Mobility. His only significant movement option is Portal Creation, but that isn't exactly the best use of his Energy.

Father Trip is less of a fighter and more of a teacher. From this, he's designed specifically to find weak spots and punish bad plays. Is someone getting cocky? He can shrug them off with projectiles and counters. Is someone being cowardly? He can force them out with ranged attacks. Of course, he himself is susceptible to punishment, but unlike most other combatants, he can take a beating and recover remarkably well.
Moveset

Combos

Exalted

1, 1

Hollow Promises

1, 1, 3

Tough Love

1, 2, 4

Holy Rites

1, 3, 1

Distant Memory

1, 4

Hollow Out

2, 2

Dark Guidance

1, 4

Remnant Shatter

2, 2

Dark and Divine

2, 3, 3

Ordained

2, 4

Confession

3, 2

Clergy Clash

3, 2, 3

Pentacross

3, 2, 4

God's Fury

3, 3

Religious Might

3, 3, 2

Teach You A Lesson

3, 4

Twisted Prayer

4, 1

Holy Smoker

4, 2, 2

Empty Inside

4, 2, 4

Dead-Eyed

4, 4

Throws

Forward Throw
Father Trip imbues a glowing energy into the enemy, then pushes them back. As they stumble back he fires a bolt of light, triggering a reaction that causes the energy to explode, blasting them away.
Back Throw
Father Trip jabs the enemy, using Angelic Enforcement to launch the enemy behind himself.
Skills
Portal
/
Father Trip's portals are vaguely shapled like Christian crosses, and have sparkly gem-like particles floating around them. His left portal is dull yellow, and his right portal is dull red.
Refuge
/ + or / +
Father Trip makes a portal exude holy energy, reducing the damage of all attacks that occur within its radius by

50%

for

3 seconds

. Afterwards, the portal will disappear.
Angelic Enforcement
3
Father Trip performs a single medium-ranged jab with a fist cloaked in light. If this connects, the enemy will be imbued with a holy energy that causes them to sprout angel wings for

5 seconds

. With these wings on the enemy, Father Trip is able to force the enemy to move in any direction he wants by activating this Skill again with an additional directional input - otherwise, the enemy can move and act freely.
/: The wings will now deal damage whenever they're used to move the enemy.
Holy Bolt
1
Father Trip fires a bolt of light that flies in a straight line. Adding an extra directional input changes the angle at which the bolt is fired. Once the enemy is hit with this, they will receive

+20%

more damage for

4 seconds

. This effect does not stack.
/: The bolt manifests as the image of a cherub, now dealing

+100%

damage and flying

+50%

as fast.
Holy Circle
4
Father Trip summons an intricately-designed circle on the ground in front of him, which will produce a shiny burst of damaging light before disappearing. If an enemy is successfully hit by this attack, they will be

popped up

, and Father Trip will be healed by

4%

.
/: The circle now heals

+200%

as fast.
Crystalline Crash
2
Father Trip summons a myriad of crystals around himself. After, he snaps his fingers to make the crystals vanish and reappear around the enemy's last location. Then, the crystals crash into each other, creating a bright short-ranged explosion that deals significant damage. As the enemy can escape from this quite easily, this Skill is more useful for combos and forcing the enemy out of position than damage.
/: The crystals create a

50%

larger explosion.
Divination
1
Father Trip calls forth a divining force, clasping his hands together for a second. If the enemy attacks him in this state, Father Trip will side-step the attack and assault the enemy with sharp crystals, damaging and

knocking them back

.
/: The attack that Father Trip counters will now have its damage permanently

decreased by 20%

.
Amnesia
3
Father Trip grips the crystal on his necklace, glowing with a sinister but bright energy, and holds his other hand out. If an enemy is in close range, he will absorb

all of their Energy Meter

into the crystal. Each hit inflicted on Father Trip while he has the stolen Energy will return

5% Energy

- knocking Father Trip to the ground will return all of it. He's able to perform this Skill as many times as he wants, but it requires him to get up close and it comes with endlag.
/: Father Trip will now be constantly healed by 4% for each second the stolen energy is kept within his crystal.
Misc

Entrance #1 -

Divine Grace

The camera is focused on Father Trip, as he enters the battlefield. His eyes are closed, his arms are wide open, and his head is tilted upwards - a light is also shining behind him. As he stops, Father Trip opens his eyes and assumes a fighting stance.
Entrance #2 -

Memory

The camera is focused on a crystal that Father Trip is holding in his hand, which is displaying a memory of a child running around and playing. As the camera zooms out, he notices the enemy and makes the memory retreat into the crystal, placing it back in his pocket.
Entrance #3 -

Prayer Before Battle

The camera is focused on Father Trip as he makes the sign of the cross, while muttering a prayer in Latin.
Victory #1 -

Thanks Be

Father Trip makes the sign of the cross. At each point, a glowing orb appears behind him. Once he's finished, the orbs join together to form a giant, glowing cross. As he clasps his hands together close to his head, the cross glows even brighter while the footage slows down.
Victory #2 -

Memory Rush

Father Trip holds out his hand, which has a floating crystal resting on top of it, towards the POV. Afterwards, the crystal begins to glow, preceding an eruption of memories. As the memories rush towards the POV, the footage slows down.
Victory #3 -

Compels You

Father Trip's eyes and hands begin to glow with a holy aura. Afterwards, he draws two lines to form a glowing cross in front of him, which he holds up and forces onto the POV with a fierce expression.
Round Win #1
Father Trip holds out one of the crystals stuck to his necklace as it displays the memory of the enemy being knocked to the ground. Afterwards, he makes the memory retreat.
Round Win #2
Father Trip kneels down and performs a quick prayer, returning to his fighting stance right before the enemy gets back up.
Round Win #3
Father Trip's eyes and crystals glow as his body begins to give an aura of light.
Round Win Quotes
"Hollowed."
"You lack discipline."
"Don't worry, I'm not happy about this either."
"Learn from this moment."
"This memory shall be captured."
"Kindly step off."
"Praise be."
"This is mercy."
"A rush of memory..."
(beating Khaos) "You come short from the actual God."
(beating Hallow) "You're no Hein."
(beating Strafe) "Divine power isn't something to be taken lightly."
Mr. Postman

Bio

One of the few known Catalyst-Herald hybrids, Frink Blossom is an immensely powerful mailman whose ultimate goal it is to deliver mail to every single corner of the universe, and then some. He accomplishes this goal using his reality-warping, time-distorting, physics-breaking powers, and to great effect; he even has a multitude of clones as well as a similarly-powered girlfriend Cherry to help him. He disobeys logic and basic existential rules on a daily basis to get his way, and will probably continue on until his or the multiverse's non-existence - whichever comes first. He was once an ordinary man, but after who-knows-how-long of going about his never-ending quest, his appearance and mind have... warped a bit. As long as you don't stay in his way, though, he's pretty amiable.

Stats

Gameplay

Frink excels at controlling the battlefield.
Moveset

Combos

Packing Heat

1, 1

Deluxe Delivery

1, 1, 2

Free Shipping

1, 2

Stand and Deliver

1, 2, 3

Delivering the Goods

1, 2, 4

Keep Me Posted

1, 3

Mail Slot

1, 4, 2

Blossoming Blows

2, 1, 3

Cherry Popper

2, 2

Postman's Knock

2, 3

Sign Here And Here

2, 3, 1

Up To Schedule

3, 2

Chain Mail

3, 3, 1

Large Order

3, 3, 4

Clocking In

3, 4

Postal Code

3, 4, 3

No Deliverence

4, 1, 1

Stamp of Approval

4, 1, 4

End Shift

4, 3

Business Day

4, 3, 2

Throws

Forward Throw
Frink shoves the enemy back and takes a side-step, making way for Cherry in the Mailicopter to come from one side to smack them away.
Back Throw
Frink traps the enemy inside a large envelope and launches them into a giant mailbox behind him, which explodes as it shuts up.
Skills
Portal
/ or
Frink's portals resemble the shape of the symbol on his hat but turned on its side. His left portal is lavender, and his right portal is prussian blue. Cherry's portals are more rounded - all of her portals are a deep cherry red.
Special Delivery
/ + or / +
Frink's girlfriend Cherry is always in the background, riding a helicopter. When Frink activates this Skill, he pulls out a phone to call her, which starts a 5-second timer that appears over Frink's head. When the timer runs out, Cherry will pop out of one of his portals to blow a kiss and drop a small package that restores 2% of Frink's health when walked over. If the enemy walks over it, it erupts into a weak blast of mail instead. If left alone for three seconds, it will melt and disappear. If Frink activates another Skill that requires Cherry to drop something on the battlefield while Cherry is still sending the package, Cherry will prioritise dropping off the Special Delivery first.
Oil Bomber
4
Frink calls Cherry to drop off an oil barrel into Frink's hands. Afterwards, he throws it onto the ground. The barrel will deal damage, but it also leaves a spray of oil that leaves a puddle of oil on the ground. The puddle doubles the movement speed of Frink whenever he moves over it, but not so much for enemies; running over it will cause them to trip over. The oil lasts for three seconds before disappearing, and only one oil barrel and puddle can be present on the battlefield at a time. If Frink is knocked away before he can catch the oil barrel, it simply lands on the ground for Frink to kick over later. Kicking the barrel over versus throwing it doesn't deal as much damage, however.
or Left Trigger: Bearing an ominous expression, Frink will throw a lit match into the oil after spilling it, turning it into a more dangerous hazard for the enemy that deals damage for each second they stay within its area of effect.
Shuriken Envelopes
1
Frink throws five envelopes from his parcel in quick succession. While they don't fly very far and don't deal much damage, each envelope pushes the enemy back and reduces their movement speed by 3% for two seconds. If Frink is knocked away, the Skill will be interrupted.
or Left Trigger: The envelopes now have 33% increased damage and slow 3% more.
Junk Crash
1
Frink presses a button on his watch, starting a timer that counts up in seconds, appearing over his head. The next time he activates this ability, Frink will prompt Cherry to drop off a delivery box via a portal over himself, which he picks up. Afterwards, Frink lobs the box forward. Upon contact with an enemy, the box will explode and deal damage. For each second the player waits before activating the ability again, Cherry stuffs more and more mail inside this box, making the resulting crash deal 20% more damage and knockback for each second of packing. The maximum amount of damage and knockback that can be built up is +100% - at maximum capacity, Cherry stops stuffing it and the timer is replaced with the word "READY". If Frink is knocked away when Cherry drops the box off, the box will stay on the ground for Frink to pick up and throw later.
or Left Trigger: Cherry will stuff the box twice as fast.
Mail Bomb
2
Frink pulls out the missile launcher strapped to his back and fires a package into the air. A second later, the package will crash down and burst into lots of mail, creating a swirling "cloud" that lasts for two seconds. For each half-second the enemy stays within the flurry, an envelope will stick to them and slow down their movement by 3%. A shadow will be cast on the ground where the package will land.
or Left Trigger: The delivery box now deals 50% more damage on impact.
Mailicopter Carry
1
Frink calls Cherry in to carry him to the other side of the stage, popping out from a low portal. As he enters from the other side, he performs an uppercut. While useful, this Skill can be easily read and punished.
or Left Trigger: Frink is now invincible and cannot be damaged while uppercutting.
Crimson Letter
4
Frink pulls out a special glowing envelope, inspects it, and throws it. Unlike his other envelope projectiles, it flies consistently straight, has no falloff, and deals zero damage. Instead, it removes 5% of the enemy's Energy Meter and slows them down by 5% for three seconds.
: The envelope will now also cause some damage.
Misc

Entrance #1 - Drop Off
The camera is focused on the ground. Suddenly, it pans up to reveal the Mailicopter. Afterwards, Frink opens to door and drops onto the battlefield as he waves to Cherry before turning his attention to the enemy.
Entrance #2 - Delivery of the Day
The camera is focused on the ground. Suddenly, a pair of shoes tread upon the ground, causing the camera to pan up to reveal Frink repeatedly tapping a pen against a clipboard while walking into the battlefield. Noticing the enemy, he smiles and turns his clipboard around, which reveals that he has one delivery to make to the enemy: "Death". After tapping his pen against the word one more time and gesturing with it towards the enemy while leaning his head, he puts both items away. Throughout the entire intro, Frink maintains the same unnerving smile.
Entrance #3 - Delivery For You
The camera is focused on Frink as he runs onto the battlefield, holding a package. Smiling, he stops, gesturing to the package, and exclaims, "Delivery!" before checking his clipboard. Realising that the delivery isn't meant for the enemy and that he's probably gonna be stuck fighting them, he quickly drops his smile, tossing the package and clipboard into a portal
Victory #1 - That's The Bomb
Frink pulls out the missile launcher he uses for Mail Bomb, firing a projectile into the air. He then turns around to witness the resulting explosion - a bit more destructive than Frink's standard Skill - and not walking away from it. Instead, as the footage slows down, he creepily turns his head, and only his head, towards the POV with a smile.
Victory #2 - Make It Rain
Frink calls Cherry on his phone, prompting her to get over the battlefield and cause a rain of mail to shower the POV. As the letters and envelopes fall, Frink performs a dramatic dab.
Victory #3 - Express Shipping
Frink exits his fighting stance and begins to straighten out his clothes, smiling. Afterwards, he notices the POV and rummages through his parcel to find a single envelope. As the camera slows and pauses, he runs the POV with an ominous smile, holding the envelope in his hand.
Round Win #1
Frink begins doing the whip nae nae, with Cherry cheering him on in the background.
Round Win #2
Frink, feeling very extra, takes off his cap to dramatically run his hands through his hair with a quick swipe as Cherry swoons in the background. Afterwards, he puts it back on.
Round Win #3
Cherry drops off a cardboard box in front of Frink. He takes out an envelope with a heart-shaped stamp, and proceeds to open it. Reading the letter inside, he smiles and tilts his head before neatly folding it. Afterwards, he puts it in his mouth, swallows it and pats his belly.
Girl of the Hollow

Bio

Hallow is a representative of Halloween, a popular holiday celebrated around the beginning of October. Similarly to her Christmas counterpart Noel, she travels across the multiverse celebrating her holiday. In her case, though, she pays visits to areas that have a very mediocre or bad take on Halloween, improving on practices and festivities with help of her spooky undead servants. When she's not celebrating Halloween, Hallow lurks around creepy places such as graveyards, and is quite fascinated with similarly creepy creatures. She also only eats food with high sugar content, i.e. candy. Not candy corn, though. She's allergic.

Stats
Moveset

Combos

Haunted House

1, 1

Soul Rip

1, 1, 2

Spooky!

1, 2, 1

Gargoyle

1, 2, 3

Allhallowtide

1, 1, 1, 4

Dead to Rights

1, 3, 2

Jack O' Fists

2, 1

Field Graze

2, 3

Apple Bobbing
Game of the Devil

2, 3, 1

Time to Reap

2, 2, 2

Zombie Horde

2, 3, 3

Haunt

3, 3

Witch Cackle

3, 3, 2

Disguised Pain

3, 4, 3

Ferocious Fangs

3, 3, 3

Spider Bite

4, 1

Pitchfork

4, 2

Bad Luck

4, 4, 2

Blood Moon

4, 3, 2

Throws

Forward Throw
Hallow plunges her scythe into the enemy, then smacks them into the ground to get them off it. Afterwards, she summons a swarm of bats to smack them away.
Back Throw
Hallow slashes at the enemy with her scythe then thrusts it into them, flinging them behind herself.
Skills
Portal
/ or
Hallow's portals have striped borders and exude pumpkin-shaped particles. Her left portal is black, and her right portal is orange.
Jumpscare
/ + or / +
A ghost peers from a portal, erupting with a loud scream shortly after. Enemies who are close enough become startled and open to attack for one second. This Skill has a slow startup, and closes the portal it comes out of.
Trick-Or-Treat
3
Hallow begins to give off an orange glow that lasts for one second. Afterwards, she unleashes it in the form of a short-ranged burst. This burst can have two different effects, depending on an added directional input. If no input is added, she chooses randomly. During the one-second duration, the player can choose between the two according to whatever they think the enemy is going to do, allowing this Skill to be used to punish the enemy; use Treat if the enemy refrains from attacking, and use Trick if they get close. Hallow will not be able to call on another glow until two seconds have passed.
or Left Trigger: The effect of the move is now increased by 50%.
Pumpkin Mine
4
Hallow plants a glowing carved pumpkin from the ground in front of her. When it finishes growing, the pumpkin bursts into a large fiery explosion. If Hallow leaves it alone after planting it, the pumpkin will grow for 2 seconds before exploding. If Hallow continues growing it herself, the pumpkin will only take half as long. She won't be able to move while hastening the growth, however.
or Left Trigger: The pumpkin now explodes almost instantly, at the cost of a 30% weaker explosion.
Gravestone
3
Hallow erects a large gravestone in front of herself that lasts for four seconds. If she knocks an enemy down and they land within the gravestone's radius, they will be dragged down and spat back out, dealing further damage and opening them up for another combo.
or Left Trigger: The gravestone now gives off a sinister glow. If the enemy simply moves over it, the gravestone will activate.
Wail of the Banshee
1
Hallow guises herself as a banshee using her mask, unleashing a terrifying shriek that damages the enemy and pushes them back. This Skill will be interrupted if she gets attacked.
or Left Trigger: Instead of knocking the enemy back, the shout stuns the enemy for a split second.
It's Alive!
4
Hallow guises herself as a creature reminiscent of Frankenstein's monster using her mask, tilting her body towards the sky. This summons a lightning strike into herself. This grants her immunity to knockback and deals damage to enemies that get too close for the duration of this Skill. If an enemy attacks Hallow while being struck by lightning, more damage will be dealt.
or Left Trigger: After the initial bolt, Hallow calls forth another, stronger lightning strike that causes more damage and knockback.
Halloween Spirit
3
Hallow guises herself as a ghost using her mask, becoming invulnerable to all attacks for one second. She is unable to move or attack, however.
or Left Trigger: The guise lasts for one more second, and Hallow can now move freely in this form.
Misc

Entrance #1 - Paranormal Activity
The camera is focused on a horrific spectral creature, which ominously floats onto the battlefield. As it turns out, it's Hallow wearing a sheet blanket, which she takes off and flatly says, "Boo", before assuming a fighting stance.
Entrance #2 - Candy Sorting
The camera is focused on Hallow, who's picking and throwing out the candy corn from a pumpkin loot bag. Going faster, she begins to pour all of its contents onto the ground, realising that there's nothing but candy corn. Looking a bit annoyed, she throws the loot bag behind herself before turning her attention to the enemy.
Entrance #3 - Lone Bat
The camera is focused on a bat that's flying onto the battlefield. As it lands on the ground, a puff of smoke bursts from it, then dissipates to reveal Hallow taking off her mask.
Victory #1 - It's Very Alive!
Hallow guises herself as a creature reminiscent of Frankenstein's Monster, and summons an immense lightning strike. As it lands and surges through her body, the footage slows.
Victory #2 - Spare Some Candy
After putting her scythe on her back, Hallow summons a pumpkin loot bag, determined to find something that's not candy corn. After pulling out a butterscotch candy on her first try, she looks quite gleeful. However, A pair of child's hands holding another pumpkin loot bag extends from the POV, with an exclamation of "Trick-or-Treat!". Doing a double take, then looking wistfully at the butterscotch, she reaches into the child's loot bag to give them her candy while smiling.
Victory #3 - The Scythe
Hallow rakes her scythe across the ground, leaving a trail of spectral orange energy behind. Lifting it off the ground, she slashes out at the POV, leading the trail upwards.
Round Win #1
Hallow rests her scythe on her shoulders.
Round Win #2
Hallow quickly shifts between three forms: ghost, banshee, and frankenstein's monster, before returning to normal.
Round Win #3
Hallow summons a pumpkin and carves out a generic face. As she looks pleased with herself and putting it down, the pumpkin grows legs and runs off the stage.
the Cali Beauty

Bio

Hitomi Yamamoto is a fun-loving, 19-year-old Japanese-Californian girl who looks to be pretty average... except that she a Herald. She's unaware of this fact, however, and uses her untapped potential in the most mundane, personal ways possible, such getting groceries, scratching her back, or sex (the last of which she claims to be at the top of her list). She does occasionally use her power for more fantastical purposes; she hangs out with a bunch of psychic, pyrokinetic, cyborg, ice-controlling, shapeshifting, magical, god-like heroes, after all. She leads a very positive outlook on life, and is always full of energy, in contrast to her more chill and jaded teammates. Eventually, Hitomi would open a portal to the main Fantendoverse by accident, leading to many more adventures for her and her friends.

Stats
Moveset

Combos

Lez Go

1, 2

Freestylin'

1, 2, 2

Three Strikes

1, 2, 4

Laze About

1, 3

Cheer Up, Bitch

1, 3, 3

Not So Innocent

1, 3, 4

Agile Rush

1, 4, 3

Cali Volley

1, 4, 4

Rare Element

2, 2

Yamamotion

2, 2, 2

Interdimensional Mischief

2, 2, 4

Day Off

2, 3, 1

Pink Streak

2, 3, 2

The Big Hit-omi

2, 3, 4

Rare Element

2, 4

Agile Rush

2, 4, 3

Doorbreaker

3, 2

Let's Have Some Fun

3, 3, 4

Special Ops

4, 2

Thinking With Portals

4, 3, 1

Throws

Forward Throw
Hitomi punches the ememy into a portal, turns around to hit them again, then kicks them away into another portal that drops them from a great height.
Back Throw
Hitomi punches the enemy twice, then kicks them into the ground, opening a portal to drop them away from her.
Skills
Portal
/ or
Hitomi's portals have streaky borders and have large coloured circles dancing behind them. Her left portal is a pale pink and her right portal is yellow.
Drop-In, Drop-Out
/ + or / +
Hitomi jumps into a portal, then quickly pops back out without player input, allowing her to quickly dodge attacks. If there are two portals open, Hitomi pops out of the exit portal to deliver a quick strike before popping back.
Coming Through
1
Hitomi lightly sprints across the battlefield over two seconds, leaving a pink trail behind herself. While doing this, she dodges through and passes through projectiles and the enemy. This Skill can be cancelled by the player by inputting any action. When she ends, the momentum will land her just a bit off the break-off point. If she hits a wall while using this Skill, she crashes and takes a bit of damage. This can also happen if the Skill ends just as she makes contact with the enemy or projectile. This Skill does not bypass any effects given by "field"-type Skills.
or Left Trigger: Hitomi now trips the enemy if she makes contact with them
Three-Angle Assault
2
Hitomi throws a heavy punch, accentuated by a pink trailing effect. If this attack connects, she continues the attack by running into a portal to strike the enemy by their back, then appearing out of another portal, this time in their air, to perform an overhead kick to the face, before ending it with another mid-air kick to shove the enemy away.
or Left Trigger: Hitomi adds two more strikes to the first two actions.
Momentum Stomp
4
Hitomi builds up momentum by falling continuously through a portal loop before closing one of the portals, ending in a stomp. The longer this attack is charged, the more powerful the stomp becomes. The player is able to make Hitomi perform the stomp a bit further off the loop by adding a directional input. If Hitomi is knocked away from the loop, the Skill will be interrupted.
or Left Trigger: The stomp now charges twice as fast.
Dragdown Smackdown
3
Hitomi opens a portal on the floor in front of her. If an enemy is over the portal, she reaches up and opens another portal over herself in order to grab them. After the grab, she throws them to the ground and kicks them away.
or Left Trigger: Hitomi smacks the enemy into the ground two times before kicking them away.
Fauxrrender
1
Hitomi walks forward while holding her hands up in a fake surrender. If an enemy decides to attack her while this move is activated, she dodges the attack by backing into a portal. Afterwards, she gets behind the enemy and kicks them into a portal loop, to which Hitomi kicks them out of.
or Left Trigger: Hitomi will now perform the attack even though she isn't being attacked. Furthermore, Hitomi forgoes the portal loop in favour of leaving them open to follow-up attacks.
Double Bird Drop
4
Hitomi performs a backwards fall as she flashes two middle fingers at the enemy. Using a portal, she reappears from the other side of the stage at a slightly higher elevation to perform an elbow drop. This Skill is highly readable, but it's a reliable way for Hitomi to close distance.
or Left Trigger: Hitomi now pops out from the same side to do the elbow drop. This is useful for faking out the enemy.
Misc

Entrance #1 - Stumbled In
The camera is focused on a portal. Suddenly, Hitomi walks through it while looking at her phone. Doing a double take when she notices the enemy, she raises an eyebrow, and puts away her phone, closing the portal as she smirks and assumes a battle stance.
Entrance #2 - Superhero Entrance
The camera is focused on Hitomi's sprinting legs. The camera zooms out as she makes a jump and enters a portal. Afterwards, she quickly exits through another portal onto the battlefield, landing in a superhero pose. Holding it for a split second, she groans in pain before getting up. As she faces off the enemy, she gently pats the knee she landed on.
Entrance #3 - Portal Loop
The camera is focused on Hitomi as she falls through a series of portals while joyfully shouting. She then notices the enemy and crosses her arms while smiling - and still falling - before exiting the portal loop and popping out of a vertical portal, battle-ready.
Victory #1 - Knuckle Sandwich
The camera follows Hitomi as she runs through four different portals across the battlefield. She jumps out of the last portal with her fist wound up, grinning as the footage slows down.
Victory #2 - Trust Fall
Sighing with relief, Hitomi pulls out her phone and reaches out her arm to form a portal on the ground. Afterwards, she begins using her phone while falling backward into the portal.
Victory #3 - Found A Snack
Hitomi, winding down from battle, fishes a rice cracker out of her bag. Ecstatic to find food, she readily munches down on it. As the footage slows down, the crumbs can be seen slowly falling from her mouth.
Round Win #1
Hitomi pulls out her phone and takes three quick photos: a selfie, a picture of the fallen enemy, and another selfie with both in frame. She's bearing the biggest grin on her face as she does this.
Round Win #2
Hitomi takes off her glasses, then uses her jacket sleeve to clean them before putting them back on.
Round Win #3
Hitomi assumes an exaggerated stance, with one hand on her hip and the other held up so she can check her nails.
the Black God

Bio

The Black God is one of the four major deities of the Fantendoverse... except, that's not true. He and his sister, Micaliye - also known as White Goddess - built their way up to godhood through deceit. His true name is Khaos, and he lived in Lhy where he schemed to gain power. He fabricated myths of his involvement with Creation, instilling a four-deity belief system within the general populace. They amassed followers and Ascended into godhood, becoming a major religion in Noah. It would've been a life of luxury for him, but Micaliye turned on her brother and enslaved him, restricting his free will with chains of light. Eventually, the siblings' true nature was revealed at the arrival of their sister, Palutena. After the defeat and imprisonment of Micaliye, he was freed, and so he helped to try dispatch of Clockwarx to prevent The Shattering. No one has seen the deity much since then.

Stats
Moveset

Combos

Fraudulence

1, 3

Crowning

1, 3, 2

Power Hungry

1, 4

Follow the Leader

2, 2, 1

Broken Chains

2, 2

Fabricated Reality

2, 3, 2, 2

Losing Control

2, 4, 1

Vast Mythos

3, 1

Praise to Me

3, 1, 2

Rampant Khaos

3, 1, 4

Breaking Free

3, 2

Deadly Rumours

3, 2, 3

Fox Splitter

3, 2, 4

Temple Tether

3, 4

Would I Lhy To You

4, 1

Redemption

4, 1, 3

A God Am I

4, 2

Ascension

4, 2, 4

Black Deceit

4, 3

Hoax

4, 3, 4

Throws

Forward Throw
Khaos envelops the enemy in a dark vortex with his staff, then blasts them away with a ball of energy.
Back Throw
Khaos shoves a handful of dark energy in the enemy's face, making them lurch forward in pain. Afterwards, he transforms into a dark mist and rises up, re-materialising into his normal form above the enemy to land on them and strike them with his staff. Afterwards, he steps off of them, kicks them and blasts them away on the floor.
Skills
Portal
/ or
Khaos is unable to create conventional portals without accessing the Dream Realm, so he has to make do. Instead of portals, Khaos leaves glowing, floating "marks" in the background that are similar in design to his halo. He can interact with these marks the same way he does portals; instead of warping between them, he turns into black mist and travels to the paired mark. Khaos' left mark is dark purple and his right mark is dark red (R). Because these aren't portals, Khaos travels slower than other portal users, and is unable to perform Redirects.
Black Shrine
/ + or / +
Khaos modifies a nearby mark into a shrine. There are three different shrines he can create, each having different effects. To choose a specific shrine, the player must add an directional input. Because he can only put up two marks at a time, he can only have up to two shrine effects at once. Khaos only gains the effects of the shrine when it its radius.
Holy Venom
3
Khaos plants his staff in front of himself and conjures a toxic substance that swirls around him for a second. If the enemy attacks him while this Skill is active, the venom parries the attack, turns into tendrils, and stabs the enemy. Aside from dealing immediate damage, this also cause them to take 4% damage to their Life Meter and 16% damage to their Energy Meter over the course of four seconds. Projectiles will be negated by the venom, but Khaos wil suffer endlag if he fails to parry anything.
or Left Trigger: The radius of the swirling venom increases by 20%. Furthermore, the venom becomes more vicious and adds a few more jabs, adding 50% more damage and 2 more seconds to the venom effect.
Chains of Darkness
2
Khaos shoots forth a chain of darkness from one of his broken shackles, travelling a medium distance. If the chain connects with an enemy, it will swiftly wrap around the enemy, taking hold of them. Additional button inputs can change the effects of this Skill. If no input is given, The chains simply restrict the enemy for a second.

1 - Chain Blast: Khaos yanks the chained enemy towards him. Then, as they're flying at him, he fires a blast of darkness from his staff to damage and launch them away from him a short distance.
2 - Chain Venom: Khaos puts his other hand on the chain, imbuing it with a toxic purple energy that burns the chain as it runs towards the enemy. This inflicts them with the venom status effect, but releases the enemy.
3 - Chain Haul: Khaos adds another chain and yanks the enemy towards him. Halfway, he breaks the link, then pops them up by stomping his staff on the ground to make a dark vortex erupt underneath them. This damages the enemy and gives Khaos an oppurtunity for follow-up attack.
4 - Chain Toss: Khaos uses the chain to fling the enemy into the sky and over himself, closing distance. The enemy has the chance to defend themselves as they crash and get up, however.

or Left Trigger: Disregarding other control inputs, Khaos will simply drag the enemy towards him. This leaves the enemy open to easy follow-up attack.
Field of Impurity
1
Khaos creates a small field of darkness around himself that lasts for three seconds. When an enemy is within this field, they will be inflicted with a weak venom effect. Khaos needs to wait two seconds before activating this Skill again.
or Left Trigger: The field's range is increased by 20%.
Deific Missile
2
Khaos flares up with a very dark aura, then shoots forth like a missile. While flying through the air, Khaos is completely immune to knockback, but not to damage or other effects. Upon impact, it deals lots of damage. If blocked, this attack comes with considerable endlag.
or Left Trigger: Khaos now covers 30% more distance and takes half as much damage.
Celestial Vortex
3
With his staff, Khaos conjures a vortex of volatile, dark energy in front of him. Over the course of 1.5 seconds, the vortex grows in size and height before disappearing. If the enemy walks into the vortex while in its beginning stage, it will pop them up. If they walk into the vortex in its later stages, it will instead damage and push the enemy away. Projectiles will go through and destroy the vortex.
or Left Trigger: The vortex now deals a small amount of damage.
Dark Reticle
2
Khaos holds out his staff to detect a target in range. If an enemy is near enough to him, he'll fire three weak projectiles. Each projectile inflicts a stackable venom effect, but no knockback. If no enemy is detected by the staff, Khaos fires them at short-ranged downwards spread angle. If Khaos is damaged while detecting a target, this Skill will be interrupted.
or Left Trigger: Khaos fires two additional projectiles.
Misc

Entrance #1 - Mark of Khaos
The camera is focused on an empty space. Suddenly, one of Khaos' marks materialises, erupting with a dark energy shortly after. The energy transforms into mist, which further transforms into Khaos himself. Dropping from the air, Khaos lands with his fist placed on the ground, then gingerly gets up and summoning his staff.
Entrance #2 - Vortex
The camera is focused on a black vortex, which gives way to Khaos who walks onto the battlefield.
Entrance #3 - Brooding
The camera is focused on the ground, which a staff is planted upon. The camera pans up to reveal Khaos holding the staff, emanating a dark energy.
Victory #1 - Self-Worship
Khaos summons a shrine, which begins to glow. The POV is then placed behind Khaos, who holds up his arms as he's imbued with great, dark energies. At this point, the footage slows down.
Victory #2 - Venomous Ascension
Khaos twirls his staff to summon Holy Venom, which begins to swirl around him. Putting his staff on his back and crossing his arms, the POV stays put as he rises with the venom. At the vortex's apex, the footage slows down as Khaos glares at the low POV.
Victory #3 - Kneel To Me
Khaos begins charging his staff with dark energy. Slowly raising it with both hands, he forces it down on the floor afterwards, which causes a massive shockwave of darkness to emanate from him.
Round Win #1
Khaos chains himself the same why Micaliye did when he was enslaved, then fiercely breaks them off again.
Round Win #2
Khaos intricately twirls his staff around, then finishes it by pointing it at the enemy.
Round Win #3
Khaos plants his staff on the ground while beating his hand against his chest two times.
the Interdimensional Salesman

Bio

Lander is a simple teddy bear salesman herald who travels universe to universe selling his merchandise. He's existed for quite some time, even before The Shattering, though he doesn't exactly remember much of what happened during that time. He does know that he picked up the pieces among the ruins to sell, however. He's whatever you need, given the right price; a pharmacist, an arms dealer, a stock broker, a pawnshop, et cetera. If you ever try to steal from or swindle him, he won't take kindly to it, and he has a wide array of weaponry as deterrence. He also doesn't appreciate smartassery. Whatever you think of him, he'll just keep doing his thing - he doesn't care.

Stats
Moveset

Combos

On Your Tab

1, 1

Sold Out

1, 1, 1

Merchandising

1, 1, 2

I'm No Pacifist

1, 3

Blast It

1, 3, 3

On Sale

1, 4

Arms Dealer

1, 4, 1

Hammerspace-Time

2, 4

Lander's Landing

2, 3

Short Sell

2, 3, 3

On The Move

2, 4, 1

Bear With Me

3, 1

No-Sell

3, 2

Time To Reap

3, 3

Up For Sale

3, 3, 1

No Shoptlifting

3, 4

Money Talks

3, 4, 2

10 Clubs

4, 3, 1, 1, 2

Bear With Me

4, 3, 3

Discount

4, 4, 1

Throws

Forward Throw
Lander forces the enemy onto The Reaper, then blasts them away with three projectiles.
Back Throw
Lander punts the enemy, then throws them upwards. As the enemy falls, Lander takes three pot shots at them to blast them behind him.
Skills
Portal
/ or
Lander's portals have fabric-textured borders. His left portal is green and his right portal is yellow.
Build-A-Bear
/ + or / +
Lander makes part of a knitting machine come out of a portal, restoring his Health by 1% per 0.3 seconds. When being repaired, Lander is unable to move. This can be cancelled at any time, but it will be interrupted if Lander takes damage.
Rapid Fire
2
Lander unleashes a barrage of bullets. His aim is a bit shaky and the gun has absurd recoil, so it's really only effective at close-range. Once it hits an enemy, he focuses his aim more so more of the remaining bullets hit the enemy.
or Left Trigger: Lander now fires twice as much bullets.
Shell Bomb
4
Lander pulls a Blue Shell from behind his back and throws it. After it collides with the ground, it performs a variety of effects depending on match conditions. If the enemy has more Health than Lander, the shell will grow wings and home in on the enemy to damage them. If Lander has more health, the shell explodes into blue energy, which saps away the enemy's Energy Meter if they're in the blast radius. If the enemy has won more rounds than Lander, the shell will deal twice as much damage. If Lander is damaged while he's still pulling the shell out, the Skill will become cancelled. Furthermore, throwing the shell comes with severe endlag.
or Left Trigger: The effects of the shell are increased by 50%.
Shove Blast
3
Lander charges The Reaper and shoves it forth, letting out a short-ranged energy blast. If Lander hits an enemy with the initial shove, they will be dealt lots of damage and launched far away. The damage fall-off is steep, however.
or Left Trigger: Lander fires a medium-range beam after the initial burst.
Security Shooter
2
Lander fires from The Reaper a floating shooter device that suspends itself in the air for 5 seconds before reatreating. The device faces downwards and in the same direction Lander is facing, but an additional directional input will change where the shooter faces. If the enemy is within the device's range and line of sight, the shooter will produce weak lasers that are fired in short, but manageable intervals. Only one shooter can be present on the battlefield at a time, so using the Skill with an already-active shooter will simply place it in a different spot.
or Left Trigger: Lander fires two missiles instead.
Lander Mine
3
Lander sets a mine on the ground in front of him. If the enemy steps over it, or when Lander activates this Skill again, the mine will explode, launching the enemy upwards if they're directly over the blast.
or Left Trigger: The mine now deals 80% more damage.
Plasma Burster
1
Lander fires a large orb of volatile plasma energy from The Reaper. The orb is heavily-weighted and flies in a low arc. Upon contact with a surface or enemy, it will explode. If Lander attacks the orb with another projectile, the orb will erupt into a much larger and destructive explosion.
or Left Trigger: The stand that Lander sets up will also boost the power of his basic attacks by 33%.
Misc

Entrance #1 - Bounce Cheque
The camera is focused on an empty space. Suddenly, a portal appears in the air, which Lander drops out of. As he hits the ground, he bounces off and readies The Reaper.
Entrance #2 - Checking Stocks
The camera is focused on Landers' armband, which is displaying information on his merchandise. As the camera zooms out, Lander notices the enemy and taps his armband two times before assuming a battle stance.
Entrance #3 - Be Wary
The camera is focused on Lander, who's cautiously entering the battlefield with The Reaper drawn. When he notices the enemy, he quickly turns his aim towards them.
Victory #1 - Time For Some Fireworks
Lander grins as he fires a special shot form The Reaper, which erupts into fireworks. The footage slows as the sparks rain down on him.
Victory #2 - Warning Shots
Lander jumps high into the air, and fires four explosive shots at the ground in quick succession. As they hit the ground and burst, the footage slows, leaving Lander suspended in mid-air.
Victory #3 - That's Enough For Today
Lander sighs and props his Reaper on the ground. Afterwards, he plops down on the ground and leans on it to rest.
Round Win #1
Lander laughs and tries to fire a bunch of shots in the air, but The Reaper gets jammed and he has to mess with it to get it to work. Unfortunately, he only manages to fix it just as the enemy's getting up.
Round Win #2
Lander takes aim at the enemy and pretends to take multiple shots while making sound effects, blowing the Reaper's barrel afterwards.
Round Win #3
Lander takes a coin from his hammerspace and flourishes it around his stumpy hand before putting it back.
the Challenge-Seeking Giant

Bio

Morus Glirfum, known as Mornir to some, is a Herald Giant with a big heart. He loves the thrill of a challenge - giving them, taking them, either one works. He encourages bravery and offers challenges to those who meet him, even giving out prizes to those who can beat them. He is very powerful, having many powers in addition to his standard Herald capabilities. Despite this, he does not like participating in conflicts, preferring to stay out of violent affairs. The reason for this is, ironically, his fear of exacerbating the situation... though, if the threat is big enough, or if he's directly provoked, he has absolutely no problem fighting. To him, order and chaos need to co-exist in order for there to be balance, but once someone goes too far in either extremes, Morus will be there, and he'll make damn sure to vent his frustrations. One way or another.

Stats
Moveset

Combos

No Contest

1, 1, 3

Puny Mortal!

1, 2

Think Big

1, 2, 3

Establish Order

1, 2, 4

Hardly A Challenge

1, 3, 1, 4

Inner Courage

1, 4

Provocation

2, 1

Giant's Greeting

2, 2

High Voltage

2, 3, 3

Adversity

2, 4

Revolutionary Tech

3, 1, 1

Large Scale

3, 1, 3

Sizeable Smash

3, 2

Daring Dash

3, 2, 3

I Challenge You

3, 3

Challenge Accepted

3, 4, 2

Disaster Prevention

3, 4, 4

Taking Big Game

4, 1

Super Mayhem

4, 3, 2

Test of Courage

4, 4

Throws

Forward Throw
Morus punches the enemy in the chest, leaving a magical imprint that explodes into electricity, launching them away.
Back Throw
Morus grows in size and uses his giant fist to smack the enemy into the ground. Before returning to normal size, he brushes them aside with his still-giant hand.
Skills
Portal
/ or
Morus' portals are shaped like lightning bolts, and are constantly crackling with energy. His left portal is deep blue and his right portal is cobalt blue.
Portal Break
/ + or / +
Morus takes hold of the borders of a portals and crushes them together, causing it to implode and let out a burst of energy. While this closes the portal, the burst of energy will damage the enemy and disrupt any portals that are nearby, also forcibly closing them.
Lightning Crossbolt
3
Morus materialises a bolt of lightning shaped like an arrow and loads it onto his crossbow, firing it. The bolt of lightning, while powerful, flies quite slowly compared to other projectiles. If Morus is attacked while loading the crossbow, this Skill will be interrupted.
or Left Trigger: Morus fires a more powerful bolt that flies across the screen almost instantly.
Giant Stomp
44
Morus enlarges and stomps the ground with his right foot before resizing himself. The stomp causes a medium-ranged shockwave, which knocks the enemy away. While enlarged, Morus takes half as much damage, but attacks will still interrupt this Skill.
or Left Trigger: Morus creates a more powerful shockwave that knocks enemies into the air instead, allowing for better follow-up attacks.
Thunderclap
3
Morus charges his hands with electricity while enlarging himself, then claps extremely loudly, causing a sonic wave to erupt from his hands. The wave doesn't travel very far, but enemies will become damaged and stunned for one second when hit. If a projectile and the wave collide, they will cancel each other out. While enlarged but before he actually claps, Morus takes half as much damage, but attacks will still interrupt this Skill.
or Left Trigger: Morus creates a larger wave that deals more damage and travels farther.
Aggressor
4
Morus creates an area of effect around himself that lasts for three seconds. Any enemy that comes within its bounds will be granted 33% increased movement speed and attack, but 50% reduced defences and Energy Gain.
or Left Trigger: The field becomes more oppressive, only allowing the enemy to move and perform basic attacks.
Electrify
2
Morus charges up energy and make it course through his body for five seconds. When in this state, enemies will become lightly damaged whenever they make physical contact with him.
or Left Trigger: The electricity will now crackle around Morus, causing enemies to become damaged by simply being near him.
Lightning Charge
4
Morus enlarges himself and cloaks himself with electricity, running forward in heavy stomps for the duration of 1.8 seconds. If he makes contact with an enemy, he he crashes into the enemy, dealing heavy damage. When charging, he only takes half as much damage, and he cannot be knocked back or stunned. When he finishes using this Skill, he suffers from some severe endlag.
or Left Trigger: Morus now runs 50% faster.
Misc

Entrance #1 - Lightning Traveller
The camera is focused on an empty space. Suddenly, a downwards-facing portal is summoned mid-air, and a mass of lightning strikes down. As the lightning dissipates, Morus is revealed, kneeling on the ground with his eyes closed. As the portal closes, he gets up and opens his eyes, walking onto the battlefield.
Entrance #2 - Down To Your Level
The camera is focused on a giant Morus, who's constantly decreasing his size as he walks onto the battlefield. By the time he stops, he's human-sized.
Entrance #3 - Simple Entrance
The camera is focused on the ground. Suddenly, sparks of electricity start dancing across it. As the camera pans up, Morus is revealed, who has his arms crossed.
Victory #1 - In The Clouds
Morus turns his back on the defeated enemy as he slowly grows in size. Suddenly, he accelerates the growth and starts summoning lightning.
Victory #2 - Lightning Ball
Morus puts on his goggles and begins to form a ball of electricity between his hands. The ball growing larger, he grins and promptly crushes his hands together, crushing the ball. The footage slows down, as a mass of sparks can be seen piercing through the openings in his hands.
Victory #3 - Crossbolt Fire
Morus begins forming a lightning bolt in his hands. Once he's finished, he takes his crossbow and loads the bolt onto it, then fires it at something near the POV off-screen. As the bolt flies in the air, the footage slows down.
Round Win #1
Morus grows in size and raises his hands and head into the air while surging with electricity before resizing.
Round Win #2
Morus makes a stream of electricity surge through his hands.
Round Win #3
Morus hunches down and smashes the ground three times: once with each hand, then another one with both - Each strike leaves a burst of electricity. He then laughs and gets back up.
CHELPRO's Greatest Creation

Bio

NULL is a product of CHELPRO, a enterprise in Russia who's only concerned with having a monopoly on vigilantes. Initially an ordinary person, they were modified through various lab experiments and the horrific splicing of DNA - most notably, the DNA of the Type: Null line. They were intended to be the greatest agent of all time to replace the currently-existing heroes, possessing the remarkable ability to permanently copy the powers of other people. They would rather do anything but fight, however. After being thwarted by Unten and his team in her efforts to destroy the base of operations of several hero groups, they were adopted by Rachel Harel. Since then, they've taken up a much calmer lifestyle, only fighting when they deem it necessary.

Stats
Moveset

Combos

Render NULL

1, 1

NULLification

1, 2, 1

NULL and Void

1, 3

ANULLed

1, 3, 2

Multitalent

1, 4, 3

DNA Splice

2, 1, 1

NULL Link

2, 2

Massive Power

2, 2, 3

NULLa-NULLa

2, 3

Alpeh NULL

2, 3, 4, 4

Destabilise

3, 1

Great NULLity

3, 2

New Age

3, 2, 1

NULLifidian

3, 3

Ultimate Hero

3, 3, 4

NULL Sequence

3, 4, 2

Set as NULL

4, 1

All In One

4, 1, 3

NULL Sequence

4, 2, 3

NULL Factors

4, 3, 4

Throws

Forward Throw
NULL holds the opponent in place, rakes the opponent with claws empowered with Red Energy, then telekinetically launches them into a construct of dark magic.
Back Throw
NULL deals a water-cloaked uppercut to the enemy. As they're launched in the air, NULL freezes the water into a blade of ice and catches the enemy with it, thrusting it into their body. Afterwards, NULL holds them up and lets them sink deeper into the blade before tossing them aside and firing a blast of electricity at them.
Skills
Portal
/ or
NULL's portals are very clean-looking, non-descript ovals. Their left portal is metallic silver, and their right portal is olive green.
Void Shift
/ + or / +
NULL turns a portal into a void that slowly pulls in nearby enemies. The void will last for as long as the player holds the button down. If NULL is attacked while using this Skill, it will be interrupted.
Volatile Strike
1
NULL lashes out with a single elementally-charged clawing strike. They can use two different energies, which will change their Mode. To use a specific energy, the player must input an extra directional command.

- Pyro Claw: NULL claws the enemy with fire. This changes NULL's Mode to PYRO, which makes her attacks leave a small lingering burning effect with each strike.

or Left Trigger: NULL deals three claw strikes instead of one.
Blunt Blast
2
NULL fires a short-ranged burst of energy. They can fire two different energies, which will change their Mode. To use a specific energy, the player must input an extra directional command.

- Cryo Blast: NULL fires a blast of ice, which decreases the enemy's movement speed by 10% for one second. This changes NULL's Mode to CRYO, which makes her attacks slow the enemy down by 2% for ten seconds with each strike.

or Left Trigger: The pulse now travels further and with 30% more power.
Magical Wings
3
NULL grows a pair of magical wings. They're able to evoke two different magics, which will change their Mode. To use a specific magic, the player must input an extra directional command.

- Dark Wings: NULL sprouts ominous wings that force their Health Meter to regenerate at 3% per second. This will be interrupted if she's attacked, however. This changes their Mode to DARK, which makes their attacks heal NULL by 1% for each strike.

or Left Trigger: The beginning of this Skill - when NULL gives rise to their wings - will now act as a weak block and projectile deflector.
Self-Defence
4
NULL materialises a shield in front of themselves. They're able to create two different types of shields, which will change their Mode. To use a specific shield, the player must input an extra directional command.

- Red Shield: NULL forms a shield made out of Red Energy, lessening the damage of all attacks that pass through it by 50%. It lasts for one second before disappearing. This changes NULL's Mode to its default, RED, which causes al
- Metallic Shield: NULL takes a cube of metal and widens it out into a metal shield that completely negates the damage and effects of one attack before being destroyed. This comes with the caveat of stopping NULL in place for the duration, as well as coming with severe endlag. This changes NULL's Mode to its default, NULL.

or Left Trigger: The shield now reflects projectiles.
Copy Skill
3
NULL takes a second to analyse the enemy. Once complete, NULL's eyes with flash. The next time the player activates this Skill, NULL will transform into the enemy and perform the Skill that the enemy had performed when they copied them. In order to get rid of the current copy, the player must Meter Burn this Skill. If the enemy hadn't used any Skill beforehand when copied, NULL simply copies a random Skill of theirs.
or Left Trigger: NULL gets rid of their current copied Skill, and boosts their attack power by 10% for three seconds. If NULL has no copied skill, the boost increases by 5%.
Terrorise
4
NULL takes flight, soaring through the sky while firing at the ground with their heat vision. If they hit an enemy, they enlarge themselves and crash down into the enemy before resizing. If NULL takes damage before or during their flight, the Skill will be interrupted. The player can also end this Skill prematurely.
or Left Trigger: NULL now flies twice as fast.
Misc

Entrance #1 - Unenthusiastic
The camera is focused on NULL as they timidly walk into the battlefield, their eyes darting around in nervousness.
Entrance #2 - Target Sighted
The camera is focused on the enemy from NULL's POV, with various HUDs and statistics flashing around their field of view. As the enemy comes into view, they gain a warning sign and a detection circle.
Entrance #3 - Startled
The camera is focused on NULL, who seems to be wandering around the battlefield. Suddenly, they take notice of the enemy and panic slightly, assuming a fighting stance.
Victory #1 - Elementalist
NULL fires nine different orbs on the ground around her, consisting of different elements. Afterwards, they make all of the orbs simultaneously erupt into pillars of energy.
Victory #2 - Solar Spark
NULL musters some energy, then exudes a sizeable burst of energy from their body like some sort of weak version of a Solar Flare. At this point, the footage slows down.
Victory #3 - Mentally Drained
NULL exits her fighting stance and relaxes their body. As the footage slows, they takes a deep breath and exhales.
Round Win #1
NULL transforms into the enemy and performs one of their round win animations.
Round Win #2
NULL leans forward to see if they have to keep fighting. Once the enemy start getting up, they frantically get back into a fighting stance.
Round Win #3
NULL backs away from the enemy with a wary expression, taking a deep and shaky breath.
the Balloon Girl

Bio

Quinn Fooly is a Herald, though she's not very experienced. She uses her powers mostly to have fun, jumping from universe to universe taking up various jobs that she feels like doing at the time. Her many jobs reflect her interests: she loves pizza, so sometime's she's a pizza delivery woman - sometimes an unwanted one. She's also a fan of practical jokes, so she acts as a prankster and jester, especially to other Heralds. This causes some annoyance, especially towards her acquaintance and fellow Herald Zellen. These two often combine when Quinn gifts pizza with bizarre toppings that only someone like her would enjoy. As her speciality is balloon magic, she also likes to set up games using them - her life's all about fun!

Stats