This article is part of the Medieverse. Surely you're not looking for the original Colette Megaton?
Colette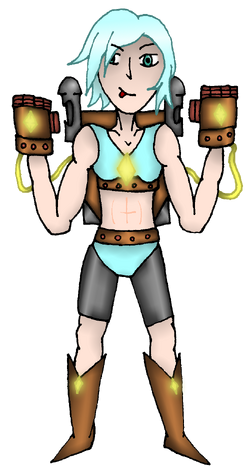 GENERAL INFO

GENDER

♀

Female
SPECIES
Human
CURRENT STATUS
Alive
AGE
20
BIRTHPLACE
Orientis
PERSONAL INFO

OCCUPATION(S)
Engineer
MISCELLANEOUS INFO

SERIES
Medieverse
CANON APPEARANCES

TBA
Colette is a character in the Medieverse who takes a major role in the story.
History
While she isn't in the original universe, Colette is the daughter of Eric in the Medieverse. From a young age she has taken interest in technology. With only the steampunk technology being available at the time, she started to learn to engineer. She quickly became a strong engineer, also using it to enhance her own gear, and even is busy with constructing a dangerous robot.
Physical description
Personality
Raised by her father to be someone who lives up to their family. Being brash and boisterous, often showing of her commanding skills. While she isn't the son Eric wanted, she certainly is the daughter he wanted to have. She is a bit over-the-top, but radiated determination. She thinks before she acts, which may give her some trouble, but she is always doing it for what she thinks is right. However what she thinks is heavily influenced by Eric, who she adores very much.
Abilities
She is a genius engineer, being able to craft gear and robots. She also knows how to use the gear that she crafts, having enhanced herself with steampunk gauntlets, jet pack and leg armor, the latter also emitting steam to have more control during flight. She is always looking how to use steam in the most efficient way.
Relationships
Eric
Meta-Form
Sakeena
Amy
Trivia