Cloud Strife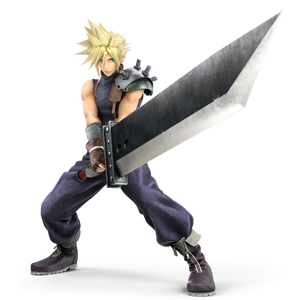 Cloud Strife in Super Smash Bros. Ultimate
GENERAL INFO

NICKNAME(S)

Ex-SOLDIER

GENDER
♂ Male
SPECIES
Human (infused with Jenova cells)
CURRENT STATUS
Alive
AGE
21 (FF7),

BIRTHDAY
August 11 / August 19, 1986
ZODIAC
♌ Leo
HEIGHT
5' 7"
BIRTHPLACE
Nibelheim
ALIGNMENT
Good
PERSONAL INFO

RELATIONSHIPS

Unnamed father (deceased),
Unnamed mother

WEAPONS
Broadswords (primarily the Buster Sword)
MISCELLANEOUS INFO

CANON APPEARANCES

Final Fantasy VII (1997)

VOICE ACTOR(S)

Steve Burton (English; 2002-18), Cody Christian (English; 2020-present),
Takahiro Sakurai (Japanese),
Kenyu Horiuchi (Japanese; Ehrgeiz: God Bless the Ring Arcade ver.),
Nozomu Sasaki (Japanese; Ehrgeiz: God Bless the Ring PlayStation ver.)
Cloud Strife is the main protagonist of the game Final Fantasy VII and one of the most prominent Final Fantasy characters. Cloud is an arrogant mercenary who believes himself to be a member of a warrior unit named SOLDIER. With the help of his friends, he soon learns that there is more to being a swordsman than just physical strength, and that his memories of being a member of SOLDIER were fabricated.
Game Appearances
Cloud appears as a Pair Unit teaming up with Tifa Lockhart.
Cloud appears as a playable character in Super Smash Bros. for the arcade, having both his original and advent forms with 16 total palette swaps. His moves are the same from Ultimate and retains the Omnislash as his Final Smash move.
Cloud appears as a playable character in PlayStation All-Stars: Ultimate Battle, having the same moves as he did in the Smash Bros. games plus the Omnislash as one of his Super Moves.
Gallery
amiibo
| | | |
| --- | --- | --- |
| | An amiibo figure of Cloud Strife exists! For more info about this amiibo, see this page. | |
Navigation Templates
Characters