Clicky
Developer(s)
Amuza
Publisher(s)
Nintendo
Platform(s)
Genre(s)
Platformer
Release Date(s)
April 10, 2014
April 11, 2014
April 14, 2014
April 14, 2014

Mode(s)
Single-player
Age Rating(s)
Media Included
Wii U:
Clicky is a 3D platformer, exclusive to the Wii U. It is the first installment in the Clicky series which follows the story of the main character, Clicky, as he attempts to restore ordinary weather that the evil Gonna stole, along with the queen of Decrudo Land, Lady Petunia. It was released on April 10 in Japan, April 11 in USA and April 14 in Europe and Australia.
Story
There is a special ritual in a very special place known as Decrudo Land. It is called the Season Switch, in which all seasons come forth at once in the very heart of Decrudo Land, at Petunia Palace. It is a time of great celebration for Decrudo Land, where everyone joins in the celebrations, well almost everyone.
The Crystal Parade was beginning and it wasn't long until the aerofloats came by. Lady Petunia stepped out of Petunia Palace and onto her aerofloat. In front of her aerofloat was the aerofloat from Tiksi, which had Clicky and Gonna on it.
Then in almost an instant, a large storm appeared overhead, and out forth erupted the members of the Tiksi Tribe, who were feared all over Decrudo Land. But they weren't just there for shock value, Lady Petunia's aerofloat suddenly lifted up into the storm, and Clicky jumped to try and save her, but he had no luck.
Gonna then appeared on the aerofloat with Lady Petunia in his grasp as she fights against Gonna but is ultimately beaten. Gonna and the Tiksi Tribe then quickly returned to their storm with Lady Petunia, claiming themselves rulers of Decrudo Land and oracles of the land, whilst Clicky was sitting their in a daze about what was happening.
Soon, Gonna and the Tiksi Tribe left along with their storm. All the people of Decrudo Land blamed Clicky and ultimately wanted him to return Lady Petunia from the clutches of the evil Gonna, leader of the Tiksi Tribe.
With the storm gone, the oracle of weather, Mr. Climate, appeared to scold Clicky. Yet instead of scolding him, Mr. Climate told Clicky about his troubles. Gonna had stolen Mr. Climate's Haven and subsequently put the weather into an uncontrollable state. And only Clicky could convince Gonna to give it back, seeing as he came from Tiksi.
But to get to the haven, Clicky would need to be able to use the Magic Crystal, which can only be used by oracles and the holder of the Magic Orbs. Mr. Climate's bestows his power onto Clicky, enabling him to use the powers of temperature and asks Clicky to collect the Magic Orbs so he can travel to Mr. Climate's Haven.
After travelling across the land, collecting Magic Orbs and ambushing Gonna, Clicky can now use the Magic Crystal, which teleports him up to Mr. Climate's Haven.
Mr. Storm, Mr. Climate's brother, is terrorizing the haven, and once Clicky defeats him three times, he can finally get inside Gonna's Weather Tower.
After defeating Gonna, Clicky rescues Lady Petunia and returns the haven to Mr. Climate, who thanks Clicky by letting him keep his powers. Lady Petunia thanks Clicky for rescuing him and asks Clicky if he would like to be the protector of Decrudo Land, instead of laying in the dump at Tiksi Town.
Clicky accepts and moves to Decrudo Village, waiting for Gonna to strike again...
Gameplay
The gameplay of Clicky largely focuses on 3D platforming and collecting. The player will control Clicky over on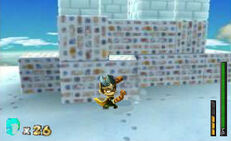 expansive, enclosed playing field in which they must complete numerous missions to progress through the story. The missions focus on platforming or completing a certain task, which will be awarded with a Magic Orb which the player can collect. Once the player collects a sum of these Magic Orbs they gain access to more world, eventually leading up to the final world and completion of the game.
Clicky also features an interesting gameplay feature in which the player can manipulate the temperature of the world, either setting it in a boiling land or a freezing land. The player will be restricted as to how many times they can do this, as a power bar will indicate how many times they can change the temperature of the world. To refill this bar, the player will have to collects Tears Of Heat or Tears Of Cold which are commonly found throughout the game. To heat up the world, the player will have to quickly swipe numerous times to warm the world, and to cool it down, the player has to spin the GamePad around which set a icy gale across the world and freeze it.
Online
Clicky includes online features, much similar to that of Super Mario 3D World. Like most games, Clicky has a Miiverse community where gamers can post comments on the game. In-game, you can race against ghosts on levels you've previously beaten. The ghost players will change, depending on your best time for that level.
There also is an online mode which will pit you against your friends or others on the internet. In this mode, each world has a different challenge, such as getting to a specific spot before the other players, collecting a certain amount of Crystal Shards before all the other players among other tasks.
Controls
A Button
Pick Up/Activate Temperature Change
B Button
Jump/Double Jump
X Button
Throw
Y Button
Attack/Swim
L Button
Crouch
R Button
Crouch
ZL Button
Sprint
ZR Button
Sprint
Control Pad
Move
Left Control Stick
Move
Right Control Stick
Adjust Camera
Plus Button
Open Start Menu
Minus Button
Open Start Menu
Home Button
Open Home Menu
Characters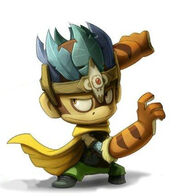 Mr. Climate
Crons
Lil' Squill
Squills
Captain Orbby

Schees
Amunet
Lovistas
Bulbadoos
Mr. Storm
Orbosts
Queen Illusion
Enemies
Juqquas
Jumpin' Juqquas
Bloust
Tretures
Klobs
Flaspins
Icspins

Flafu
Toxawals
Poiqquas
Blizzmals
Cherrards
Heamage
Fremage

Gummy Juqquas
Gummy Bloust
Brickaks
Orbdrys
Miragoos
Bombams
Buggle

Ghoop
Horgor
Toxagons
Coolavas
Clouster
Space Juqquas
Decatox
Bosses
In total, their are 8 bosses fought throughout the entire game. However some are fought more than once.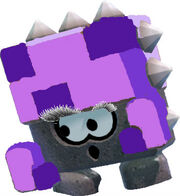 The Great Paqquse
Toxie x2
Cap'n Orbbo
Blizze
Painsten
Betsy Boom
Mr. Storm x3
Gonna x2
Items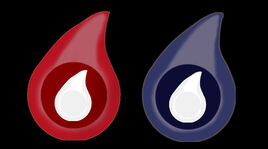 Clouds
Grey Clouds
Drops Of Heat
Drops Of Cold
Magic Orb
Illusion Orb
Crystal Shards

Switchers
Bound Cloud
Aerocrystal
Wind Crystal
Boom Crystal
Pure Orb
Life Orb
Power Ups
| Power-Up | Function | Image |
| --- | --- | --- |
| Aerocrystal | Allows Clicky to fly in the air for a limited time by swiping once on the screen. The height will depend how fast the swipe is | |
| Wind Crystal | Allows Clicky to move objects around by shaking the GamePad to create a tornado | |
| Boom Crystal | Allows Clicky to make bombs by lifting and dropping the GamePad | |
| Pure Orb | The Pure Orb has the power to protect Clicky for a limited time | |
Power Up Locations
| Location | Appears In | Aerocrystal | Wind Crystal | Boom Crystal | Pure Orb |
| --- | --- | --- | --- | --- | --- |
| Decrudo Village | All | | | | |
| Decrudo Plains | Orb 3 and Orb 4 | | | | |
| Squill Canopy | Orb 1 | | | | |
| Orbby Bay | Orb 2 and Orb 3 | | | | |
| Snowflake Lake | Orb 3 | | | | |
| Mountaintop Sanctuary | All | | | | |
| Blizze Ranges | Orb 2 | | | | |
| Cherry Gardens | Orb 2 and Orb 3 | | | | |
| Mt. Dune | Orb 1 and Orb 2 | | | | |
| Gonna's Star Stronghold | Orb 1, Orb 3 and Orb 4 | | | | |
| Harvest Fields | Orb 1 | | | | |
| Arctic Grotto | Orb 1 and Orb 4 | | | | |
| Shadow Swamp | Orb 1 and Orb 4 | | | | |
| Petal Gorge | Orb 1 and Orb 4 | | | | |
| Tiksi Castle | Orb 1 and Orb 3 | | | | |
| Mr. Climate's Haven | All | | | | |
| Cloudy Courtyard | Orb 1 | | | | |
| Windmill Heights | Orb 1 and Orb 3 | | | | |
| Forgotten Skies | Orb 1, Orb 2 and Orb 4 | | | | |
| Gonna's Weather Tower | All | | | | |
Worlds
In Clicky, each world consists of 4 Magic Orbs. In total their are 20 worlds, equalling 80 Magic Orbs total.
Decrudo Village
Decrudo Plains
Squill Canopy

Welcome To The World

A Cool Change

Top Of The Squill Tree

Notorious Lil' Squill

The Great Big Paqquse

A Jump In The Abyss

Canopy Bootcamp

Eye Of The Storm

Orbby Bay
Snowflake Lake

The Boats On The Bay

Trip To The Hidden Island

Hidden In The Lake

Something In The Air

Somewhere Over The Rainbow

Storming The Beach

When Snowflakes Arise

Frozen In Time

Gonna's Toxic Terminal

The Toxic Toxie

Drop Of Acid Rain

A Series Of Unfortunate Events

A Dip In The Poison Seas

Mountaintop Sanctuary
Blizze Ranges
Cherry Gardens

Flooding The Mountains

Lil' Squill Strikes Back

A Bridge Over Stormy Waters

Trip Up The Icy Cascades

Getting Cold With Blizze

A Range Of Different Storms

An Orb Under The Falls

A Hunt Inside Cherry Palace Gardens

Candy Canyon
Mt. Dune

It's Raining Chocolate

Delicious Winter Wonderland

A Very Shriney Orb

Quicksand, Slipsand

Follow The Yellow Candy Road

Painsten Takes The Color

Turn For The Worse

And Boom Goes The Dynamite

Gonna's Star Stronghold

Heaven To Betsy Boom

Hit The Hail On The Head

Unlucky Break

Fall From Grace

Tiksi Valley
Harvest Fields
Arctic Grotto

Bad Harvest

Hide 'N' Lil' Squill

Tip Of The Iceberg

The Crazy Caves

Calm Before The Storm

Clicky's Job Is Never Done

Dripping Skies

Craters In The Caves

Shadow Swamp
Petal Gorge

Horror In The Goop

Over Toxic

Flight Of The Bulbadoos

When In Doubt, Storm Out

Dark Clouds Roll On In

In The Shade

Mystery Of The Frosted Flowers

Gorgeous Across The Gorge

Tiksi Castle

Climbing The Castle Walls

An Ambush On Gonna

Retreat To The Skies

Cancel The Apocalypse

Mr. Climate's Haven
Cloudy Courtyard
Windmill Heights

Cracking The Courtyard

Amongst The Clouds

Spinning With The Mills

Mr. Storm, Storms On In

Mr. Storm Strikes

The Courtyard's Secret

When The Sun Sets

Gone With The Wind

Forgotten Skies
Astro Cosmos

Scaling The Temple

Through The Ruined Ruins

At The Asteroid Belt

Spaceship In Orbit

An Unhappy Mr. Storm

Remembering The Forgotten

Outer Space Storm

Breaking The Belt

Gonna's Weather Tower

End To Gonna's Wrath
Development
Development for Clicky began in the middle of 2013. It suffered a hiatus where it was confirmed and then almost scrapped until development for it began once again.
It was changed to Super Mario Seasons during it's redevelopment and almost released under Super Mario Seasons. Although it was changed once again back to Clicky and final development for it began.
Gallery
Trivia
The game was originally planned to be called Super Mario Seasons and be based on the Mario series although it was changed into an original IP during development.
In early development of the game, the player was going to be able to change the world into the four seasons instead of just a hot or cold land.
Community content is available under
CC-BY-SA
unless otherwise noted.