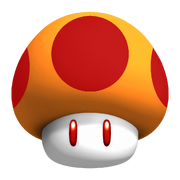 A Classic Mushroom is a Mushroom Power-Up. It turns Mario into Classic Mario, which has the power to let hidden ? Blocks appear everywhere he jumps. In Super Mario: Elemental Journey, it turned characters into their pixellated forms and allowed them to take three extra hits.
Games
Trivia
It has the same color scheme as in its sprite of the Japanese Super Mario Bros. 2 (since the one from Super Mario Bros. hadn't eyes).
The classic mushroom looks similar to the Mega Mushroom.
Gallery