Chunky Kong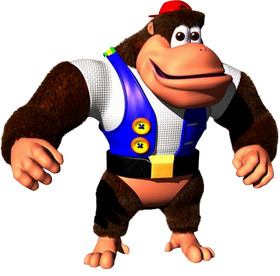 Chunky Kong's artwork from Donkey Kong 64.
GENERAL INFO

GENDER
♂ Male
CURRENT STATUS
Alive
Chunky Kong is the strongest and the slowest of all of the kongs and he is the older brother of Kiddy Kong. He first appeared in Donkey Kong 64. Chunky, although extremely strong, is also very cowardly.
Appearances
Chunky Kong appears as a secret character in the Wii boxing game Donkey Kong Knockout. He is the strongest and the slowest character in the entire game. The player can unlock him by completing the game with all of the Kongs and Kremlings. His special move is rolling into his foes knocking them down.
Chunky Kong appears as a playable character in the multiplayer Wii racing game Donkey Kong Racing. He appears as part of the Kong category.
Chunky Kong is a player on the Donkey Kong Wilds team on the multiplayer Wii sports game Mario Rugby League. He is strong with average skill and terrible speed. His special skill is to shoot people with a pineapple launcher as an extended tackle. This goes further than Funky Kong's Orange Grenade launcher.
Chunky Kong appears as a playable character in Donkey Kong Kart D.I.Y.
Chunky Kong appears on the Kouragous Kongs team in Donkey Kong Test Cricket. 
In Donkey Kong Country 4, Chunky returns as a playable character. He is unlockable in the Croccodile Island world. Chunky is the strongest Kong of the group, but consequently he's really slow, unskilled and he can't jump really high.
Stats
Speed: ☆
Jump:☆
Agilty:☆
Power:☆☆☆☆☆☆
Star Team Heroes
He's one of the victims of the Kirthar's Snap Finger.
Gallery
Navigation Templates
Template:SMASBcharacters