Chunky Kong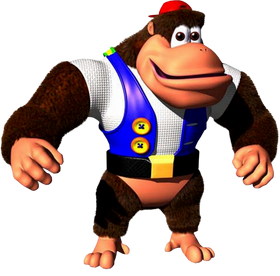 Chunky Kong's artwork from Donkey Kong 64.
GENERAL INFO

GENDER
♂ Male
CURRENT STATUS
Alive
PERSONAL INFO

RELATIONSHIPS
WEAPONS
Strength, Pineapple Launcher
MISCELLANEOUS INFO

CANON APPEARANCES
Chunky Kong
is the strongest and the slowest of all of the kongs and he is the older brother of
Kiddy Kong
. He first appeared in
Donkey Kong 64
. Chunky, although extremely strong, is also very cowardly.
Appearances
Chunky Kong appears as a secret character in the Wii boxing game Donkey Kong Knockout. He is the strongest and the slowest character in the entire game. The player can unlock him by completing the game with all of the Kongs and Kremlings. His special move is rolling into his foes knocking them down.
Chunky Kong appears as a playable character in the multiplayer Wii racing game Donkey Kong Racing. He appears as part of the Kong category.
Chunky Kong is a player on the Donkey Kong Wilds team on the multiplayer Wii sports game Mario Rugby League. He is strong with average skill and terrible speed. His special skill is to shoot people with a pineapple launcher as an extended tackle. This goes further than Funky Kong's Orange Grenade launcher.
Chunky Kong appears as a playable character in Donkey Kong Kart D.I.Y.
Chunky Kong appears on the Kouragous Kongs team in Donkey Kong Test Cricket. 
In Donkey Kong Country 4, Chunky returns as a playable character. He is unlockable in the Croccodile Island world. Chunky is the strongest Kong of the group, but consequently he's really slow, unskilled and he can't jump really high.
Stats
Speed: ☆
Jump:☆
Agilty:☆
Power:☆☆☆☆☆☆
He's one of the victims of the Kirthar's Snap Finger.
Gallery
Navigation Templates
Playable Characters
Assist Characters
Obstacles
Other Characters
Alolan Grimer · Amul · Ann Takamaki · Big Urchin · Blizzy · Bravoman · Buzz-Buzz · Cutiefly · Don-chan · Dragoneel · Fierce Deity · Gil · Happy Mask Salesman · Judge · King · Kissy · K.K. Slider · Litwick · Lloyd · Mappy · Mareanie · Mii · Missile · Morgana · Perry · Pidgit · Pooka · Rabbid Luigi · Rabbid Yoshi · Red Baron · Ribbon · Rowlet · Runner · Ryuji Sakamoto · Sandy · Smasher · Rusty Slugger · Servbot · Sima Zhao · Swanna · Tarosuke · Timmy Nook · Toadsworth · Tommy Nook · Tron Bonne · Valkyrie · Wonder Momo · Ziggy
Collectibles

Trophies

Stickers

Boolossus · Boo Mario · Bowser · Captain Toad · Cat Peach · Chain Chomp · Cloud Mario · Fire Mario · F.L.U.D.D. · Koopa Clown Car · Mega Mushroom · Mario · Penguin Mario · Peach · Propeller Mario · Rock Mario · Toad · Toadette · Waluigi
Birdo · Boo Buddies · Blooper · E. Gadd · Fuzzy · Metal Form · Waluigi · Whomp

Candy Kong · Lord Fredrik

9-Volt · Fauster

Ball and Chain · Deku Leaf · Majora's Mask · Mipha

Abra · Drifloon · Spinarak

Katrina · Mr. Resetti

Adam Malkovich · Arachnus

Nightmare · Noddy · Prank

Mr. Chicken

Back Shield · Centurion · Eggplant Wizard

Disco Kid · Doc Louis · Donkey Kong · Giga Mac · Glass Joe · King Hippo · Little Mac · Von Kaiser

Blue Falcon · Captain Falcon · Pico · Rick Wheeler · Wild Goose

Louie

Pyra

Franklin Badge · Negative Man

Apollo Justice · Franziska von Karma · Miles Edgeworth · Larry Butz · Judge · Phoenix Wright

Dr. Wright · Hammer Slam Bowser
Devil · Dr. Wright · F-Type · Rusty Slugger · Zethia
Community content is available under
CC-BY-SA
unless otherwise noted.