Chrome Hansen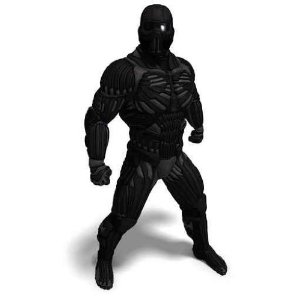 View of Chrome Hansen
GENERAL INFO

GENDER
♂ Male
SPECIES
Human
CURRENT STATUS
Alive
AGE
32
BIRTHDAY
February 24, 2057
BIRTHPLACE
New York City
PERSONAL INFO

WEAPONS
Various
MISCELLANEOUS INFO

CANON APPEARANCES

Project H.A.M.M.E.R (2013)Project H.A.M.M.E.R (2013)
"Bankrupt! Well then. Well just have to have a little meeting with Nathan Pinson. Find him, NOW!"


— Chrome Hansen in Project H.A.M.M.E.R
Chrome Hansen is the main atagonist in the Project H.A.M.M.E.R game where he appears as the main villain and is destroying New York City due to a bankruptcy at Search Industries in which he is the leader of.
Backstory
Chrome Hansen was born into a fairly wealthy and successful family who are known by everyone. As Chrome grew up he seemed to be power-hungry and this resulted him in having no friends as he grew up and ended up being primarly focused in his education. 
Unfortunately this left Chrome very unsocialable but very academic and once his father died he was appointed head of Search Industries at the age of 25. This left Chrome pleased and allowed him to be power crazy which ultimately lead to his bankruptcy as he often made business mistakes and was usually quite lazy.
Eventually Chrome became fed up with working very hard as he had been doing that for most of his life. That was when Chrome ordered his second in command to have someone create an artifical intelligence (AI) for him and that person was Nathan Pinson .
Characteristics
Personality 
Chrome Hansen is a highly academic person which he achieved during his school education but this meant he forfitied his social life and ended up with no friends. Even now Chrome is still slightly unsociable but he has learned some skills during his leadership of Search Industries
Appearance
During Project H.A.M.M.E.R, Chrome Hansen wears his destruction suit which covers his entire skin. The destruction suit is all black and has lots of little nooks and crannies. It is stated that Chrome has black hair which is relatively short and green eyes. These things are not seen in game though.
Game Appearances
Currently Chrome Hansen has only appeared in Project H.A.M.M.E.R in which he starred as the main villain. He currently hasn't appeared in any other games or is confirmed for any other games as Project H.A.M.M.E.R hasn't released yet.
Community content is available under
CC-BY-SA
unless otherwise noted.