Chrom did not originate from fanon, and more information can be found on their respective wiki(s). You may read more about it on the following wiki(s):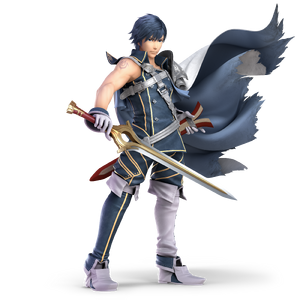 Chrom is a character from the Fire Emblem series. Making his first appearance in Fire Emblem: Awakening, he later appeared as a part of Robin's Final Smash in Super Smash Bros. for Nintendo 3DS / Wii U.
Appearances
Chrom appears as an unlockable character in Super Smash Bros.: Going for Gold. His daughter, Lucina, appears as one of his alternate costumes.
Chrom appears as the main protagonist alongside his daughter.
Chrom appears as a Pair Unit teaming up with Lucina.
Gallery
Navigation Templates
Playable Characters
Assist Characters
Obstacles
Other Characters
Amul · Ann Takamaki · Argorok · Arsene · Axe Knight · Big Urchin · Blizzy · Black Kyurem · Blazing Bat · Blue Pikmin · Bob-omb · Boo · Boolossus · Boom Stomper · BowWow · Bravoman · Budew · Bumper the Badger · Bumpety Bomb · Burnya · Buruccho · Buzz-Buzz · Caeda · Carbuncle · Caterpie · Chao · Cutiefly · Dingpot · Dipple Drop · Don-chan · Dragoneel · Drippy · Drumstick the Rooster · Dusty · Elle Mel Marta · Ellie the Elephant · Enguarde the Swordfish · Expresso the Ostrich · Fierce Deity · F.L.U.D.D. · Fomantis · Fryguy · Genie · Gil · Gohma · Goomba · Gordo · Greenie · Grrrol · Happy Mask Salesman · Hoofer · Hoppip · Item Shopkeeper · Javelin Knight · Jenya · Judge · Junior Clown Car · Kab-omb · Kamek · Karate Joe · King · King Dodongo · Kissy · K.K. Slider · Klaptrap · Koopa Paratroopa · Krunch · Litwick · Lloyd · Mace Knight · Majora · Manhandla · Mappy · Masked Dedede · Maya Fey · Mechakoopa · Mecha Kuri · Megaleg · Mii · Missile · Morgana · Mr. Stevenson · Needlenose · Neo Metal Sonic · Ninji · Nitpicker · Nudger · Parry the Parallel Bird · Peashooter · Perry · Piddles · Pidgit · Pirate Goom · Poochy · Pooka · President Koopa · Professor E. Gadd · Proto Piranha · Black Puffle · Purple Pikmin · Rabbid Luigi · Rabbid Yoshi · Rambi the Rhino · Ram Bunkshus · Rattly the Rattlesnake · Red · Red Baron · Red Pikmin · Reshiram · Ribbon · Rock Pikmin · Runner · Ryuji Sakamoto · Sandy · Smasher · Rusty Slugger · Servbot · Sima Zhao · Snapjaw · Squawks the Parrot · Squitter the Spider · Super Sonic · Swanna · Tarosuke · Tatsu · Telly Vision · Thwomp · Timmy Nook · Tiptup · Toadsworth · Tommy Nook · Trident Knight · Tron Bonne · Trucy Wright · Tsukimaru · T.T. · Valkyrie · Virus · Waddle Dee · Wario-Man · White Pikmin · Wind Fish · Winged Pikmin · Winky the Frog · Wonder Momo · Xii · Yarr · Yellow Pikmin · Ziggy
Collectibles
| | Trophies | Stickers |
| --- | --- | --- |
| | Boolossus · Boo Mario · Bowser · Blue Bowser · Bowser Jr. · Megaleg · Larry Koopa · Morton Koopa Jr. · Wendy O. Koopa · Iggy Koopa · Captain Toad · Cat Peach · Chain Chomp · Cloud Mario · Fire Mario · F.L.U.D.D. · Koopa Clown Car · Mega Mushroom · Mario · Penguin Mario · Peach · Propeller Mario · Rock Mario · Toad · Toadette · Waluigi | Birdo · Boo Buddies · Blooper · E. Gadd · Fuzzy · Metal Form · Whomp |
| | | Candy Kong · Lord Fredrik |
| | | 9-Volt · Fauster |
| | | Ball and Chain · Deku Leaf · Majora's Mask · Mipha |
| | | Abra · Drifloon · Spinarak |
| | | Katrina · Mr. Resetti |
| | | Adam Malkovich · Arachnus |
| | | Nightmare · Noddy · Prank |
| | | Mr. Chicken |
| | | Back Shield · Centurion · Eggplant Wizard |
| | Disco Kid · Doc Louis · Donkey Kong · Giga Mac · Glass Joe · King Hippo · Little Mac · Von Kaiser | |
| | Blue Falcon · Captain Falcon · Pico · Rick Wheeler · Wild Goose | |
| | | Louie |
| | | L'cirufe |
| | | Franklin Badge · Negative Man |
| | Apollo Justice · Franziska von Karma · Miles Edgeworth · Larry Butz · Judge · Phoenix Wright | |
| | | General Kodiak |
| | Dr. Wright · Hammer Slam Bowser | Devil · Dr. Wright · F-Type · Rusty Slugger · Zethia |
Wiki Pages
Main Page · Arcade Mode · IRUO. Connection · Music · Palutena's Guidance · Playable Characters · Resources · Stages · Stickers · Story Mode · Trophies
Characters