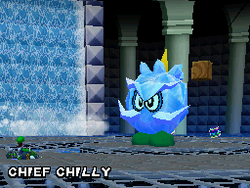 Chief Chilly is a mustachioed ice creature in the Super Mario series, and the leader of the Chill Bullies. In most games, he can be defeated but being punched off a cliff into fiery lava pit.
His non-icy counterpart may be Big Bully, as the Chill Bullies are a subspecies of Bullies, and Big Bully is the leader of the just aforementioned species.
Chief Chilly likes to brag about his mustache, not different to other bosses with a mustache in his debut appearance, Super Mario 64 DS.
Game Appearances
Chief Chilly appears in Super Mario Bros. 2010 as a boss of World 5, the ice world. To defeat him, Mario must use his fireballs (if he is Fire Mario) to hit Chief Chilly or just let Chief Chilly's fireballs bounce around the room until they hit him.
Chief Chilly appears in New Super Mario Bros.: Superstar Adventure as the boss of World 4, the ice world. He fights Mario by running around the stage, trying to push him into the cold water. Mario must use his spin jump to knock Chief Chilly into the water one time.
Chief Chilly reappers in this game as the boss of Freezy Fire Tower, in World 5: Glacier Pass
Chief Chilly appears as the 4th boss in the game.
Chief Chilly appears as the boss in the World IV Fortress. Mario must defeat him by ground pounding him to push him into a pool of lava below. Chief Chilly tries to attack Mario by shooting iceballs at him.
Gallery