This article is part of the Medieverse. Surely you're not looking for the original Iron Mask?
Cheryl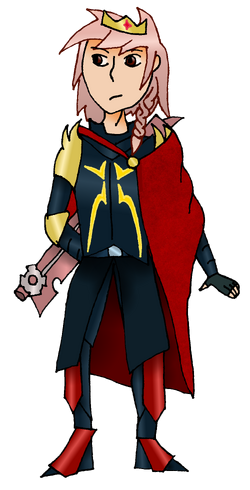 GENERAL INFO

GENDER
♂ Male
SPECIES
Human
CURRENT STATUS
Alive
AGE
33
BIRTHPLACE
Septent
PERSONAL INFO

OCCUPATION(S)
King of Regno
MISCELLANEOUS INFO

SERIES
Medieverse
CANON APPEARANCES

TBA
Cheryl is a character in the Medieverse who takes a major role in the story.
History
In this alternate reality, Cheryl was born as a male and prince to the kingdom of Regno. He is the son of Io, who at the time was the king of Regno. Cheryl however was a bastard child that he had to take in because he had no other heirs. He named him Cheryl as a way of pestering him, even abusing him when he got older. Cheryl trained to become strong with a girl living in the castle named Fera. When Cheryl was older he crafted an iron mask, put it on, and killed his father, leaving the iron mask behind. Many people speak of Iron Mask as a ruthless killer, but Cheryl didn't care as he now sat upon the throne himself as the ruler of Regno.
Physical description
Cheryl looks much different in the Medieverse, the most notable change, he doesn't wear his signature iron mask, which he does currently has locked away somewhere. He still has his pink hair, but it is notably longer and has a piece braided, hanging over his shoulder. On top of his head he wears a crown. He wears a dark armor, with some influences of how he looked in Wasteland Warriors with his arms having yellow worked into it, and some red to be seen on his chest plate and legs. In addition he wears a red cape that covers most of his left side.
Personality
Cheryl is a man with two faces. To most of his people he seems like a laid back king, who doesn't really care about his people or his kingdom. He leaves most of the work to his governors and council, and adds little work himself. He is also kinda indifferent towards his relationship with his wife Scarlet, which makes many wonder if there's really any love between the two. On the other side he cares very much for Fera, she being the only one who knows his secret and his one-sided love for her. He also is very mysterious and protective about his vault, as his iron mask is stored away there.
Abilities
Because of his childhood training with Fera, he is known to be an excellent soldier. However he hasn't fought in many years making one wonder if he still is as strong as he claims to be. He fights using a blade that can also shoot, similar to a flintlock. It is supposedly the only prototype of that weapon.
Relationships
Scarlet
Fera
Trivia
Community content is available under
CC-BY-SA
unless otherwise noted.