Charlotte Aulin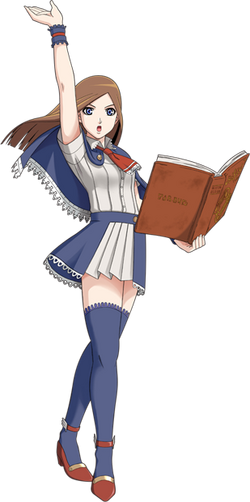 GENERAL INFO

GENDER

♀

Female
SPECIES
Human
CURRENT STATUS
Alive
AGE
16 Years Old
ALIGNMENT
Good
PERSONAL INFO

RELATIONSHIPS

Jonathan Morris (Childhood friend)
Sypha Belnades (Distant relative)
Yoko Belnades (Distant relative)

WEAPONS
Magical Books
MISCELLANEOUS INFO

SERIES
Castlevania
CANON APPEARANCES

Castlevania: Portrait of Ruin (2006)

VOICE ACTOR(S)

Yumi Kakazu
Stephanie Sheh
Charlotte Aulin is the main protagonist of Castlevania: Portrait of Ruin alongside Jonathan Morris.
She appears in Super Smash Bros. Ultimate as an Spirit.
Profile
Charlotte is affiliated with the Church and can cast complex magic spells. She can even transform herself into animals.
As a child, Charlotte was raised alongside Jonathan Morris, who is blood-tied with the Belmont Clan. The two formed a strong, platonic friendship.
In 1944, Charlotte aided Jonathan in an effort to foil the plot to destroy humanity by the vampire artist Brauner and his twin vampire daughters, Stella and Loretta.
Game Appearances
Charlotte appears as a Solo Unit.
Charlotte represents Castlevania alongside Alucard, Shanoa, Soma Cruz, Jonathan Morris, Julius Belmont, Yoko Belnades, Richter Belmont, Maria Renard, Simon Belmont and Albus.
Navigation Templates
Characters