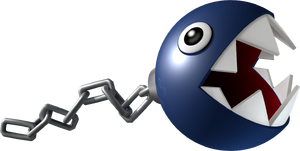 Chain Chomps are huge chained wrecking ball dog-like enemies that try to eat the players. They have appeared in many games and are often tied up and are very hard if not impossible to defeat in many cases. They are often seen as very tough and untamable however in the Dry Dry Ruins they appear to have been very important to the culture of the people of the Dry Dry Kingdom. It has been rumored that Reign Chain Chomp is their leader.
Item
Chain Chomps appear as an item in Super Mario MHL. They are also Items in the Mario Kart series as well.
Head Color Abilites
The Chain Chomp's head color can greatly affect what a Chain Chomp's power is. Tenth Fiery Boss and the tenth Icy Boss.
Red Chain Chomp
The red head color gives the Chain Chomp the fire abilty. Once the player is touched by the Chain Chomp, he/she will suffer very severe burns.
Blue Chain Chomp
Full Article: Blue Chain Chomp
Notable Chain Chomps
MLG Chain Chomp
An MLG Chain Chomp is a unique species of Chain Chomp from Yoshi's Brand New Island: Baby Bonanza! who appears in pipes, shooting Podoboos and attacking like a Piranha Plant in a pipe. Some MLG Chain Chomps even have a laser beam attack.
An MLG Chain Chomp is impossible to defeat, and can only appear in pipes.
Gallery
Navigation Templates
Playable Characters
| Default | Unlockable |
| --- | --- |
| | |
| Alternate Characters | Echo Fighters |
| | |
Assist Characters
| Default | Unlockable | Pokémon |
| --- | --- | --- |
| | | |
Obstacles
Other Characters
Alolan Grimer · Amul · Ann Takamaki · Big Urchin · Blizzy · Bravoman · Buzz-Buzz · Cutiefly · Don-chan · Dragoneel · Fierce Deity · Gil · Happy Mask Salesman · Judge · King · Kissy · K.K. Slider · Litwick · Lloyd · Mappy · Mareanie · Mii · Missile · Morgana · Perry · Pidgit · Pooka · Rabbid Luigi · Rabbid Yoshi · Red Baron · Ribbon · Rowlet · Runner · Ryuji Sakamoto · Sandy · Smasher · Rusty Slugger · Servbot · Sima Zhao · Swanna · Tarosuke · Timmy Nook · Toadsworth · Tommy Nook · Tron Bonne · Valkyrie · Wonder Momo · Ziggy
Collectibles

Trophies

Stickers

Boolossus · Boo Mario · Bowser · Captain Toad · Cat Peach · Chain Chomp · Cloud Mario · Fire Mario · F.L.U.D.D. · Koopa Clown Car · Mega Mushroom · Mario · Penguin Mario · Peach · Propeller Mario · Rock Mario · Toad · Toadette · Waluigi
Birdo · Boo Buddies · Blooper · E. Gadd · Fuzzy · Metal Form · Waluigi · Whomp

Candy Kong · Lord Fredrik

9-Volt · Fauster

Ball and Chain · Deku Leaf · Majora's Mask · Mipha

Abra · Drifloon · Spinarak

Katrina · Mr. Resetti

Adam Malkovich · Arachnus

Nightmare · Noddy · Prank

Mr. Chicken

Back Shield · Centurion · Eggplant Wizard

Disco Kid · Doc Louis · Donkey Kong · Giga Mac · Glass Joe · King Hippo · Little Mac · Von Kaiser

Blue Falcon · Captain Falcon · Pico · Rick Wheeler · Wild Goose

Louie

Pyra

Franklin Badge · Negative Man

Apollo Justice · Franziska von Karma · Miles Edgeworth · Larry Butz · Judge · Phoenix Wright

Dr. Wright · Hammer Slam Bowser
Devil · Dr. Wright · F-Type · Rusty Slugger · Zethia