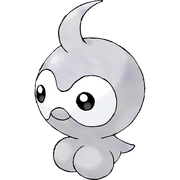 Castform is the Weather Pokémon. It is Normal type, but can change it's type and appearace based on the current weather. It is also an artificial Pokémon created by the Weather Institute in Hoenn. Castform is #351 on the National Pokédex. Based on the weather, Castform can turn into a Fire, Water, Ice, Ground, or Ghost-type Pokémon.
Abilities
It's abilities, as well as it's personality and appearance, depend on the weather.
Gallery
Sprites
Community content is available under
CC-BY-SA
unless otherwise noted.