Heyo! Please look at this before you read the article.

Thank you for taking the time to look at Captain Toad: Fortune Bringer. This template signifies that it is an article that belongs to Dylan. Please do not make any edits whatsoever unless I give you permission. If you notice any spelling errors or categories that should be added, please comment or contact me so I can fix it.
Captain Toad: Fortune Bringer

The main logo. (made by Lumogo)

Developer(s)
GD Gaming Studios
Publisher(s)
Nintendo
Platform(s)
Nintendo Hypercube
Genre(s)
Platformer/Puzzle
Series
Captain Toad
Predecessor
Captain Toad: Treasure Tracker
Successor
N/A
Release Date(s)
2015
Mode(s)
Single Player / Multiplayer / Battle
Captain Toad: Fortune Bringer is the sequel to the spin-off game Captain Toad: Treasure Tracker made by GD Gaming Studios for the Nintendo Hypercube. Similar to the first game, it stars Captain Toad as him and his crew travel to collect Power Stars in puzzle-like environments. However, it outdoes the first game with more story, a couple of new tricks in Captain Toad's arsenal, and the multiplayer function.
Plot
Captain Toad is snoozing away soundly as the rest of the Toad Brigade are working around in the castle one day. Toadsworth approaches Captain Toad and explains how a "large, horned king" has been kidnapping nearby Power Stars. Believing it to be Bowser, Captain Toad takes the Brigade on a trip to defeat the villain. They fly out in the Starshroom, only to accidentally crash land in a tree, rendering the spaceship unusable and launching Toadette far away.
Captain Toad and his fellow brigade members end up climbing a nearby mountain and defeating Fienix, a large bird guarding the entrance to a cave. Meanwhile, Toadette escapes from a forest she landed in and makes it into the cave that Captain Toad finds - however, a large shark-like monster known as Drilladin blocks the way for Captain Toad. Toadette defeats it and the whole group ends up escaping the cave, ending up in a small town that has been attacked by the beast from before. Captain Toad returns the Power Stars that he has found so far and enter some nearby ruins, where the king was last seen.
At the end of the tunnel, Captain Toad confronts the villain stealing the Power Stars, but rather than Bowser, it ends up being an large, red minotaur known as Djinnotaur. Djinnotaur easily manages to get through Captain Toad and sets up a trap. After escaping the trap (a giant Moss Chomp), Captain Toad continues on his journey to retrieve the Power Stars before Djinnotaur can.
After obtaining many more stars, the Toad Brigade sets up camp in the town and decide to rest for the night. While everyone else is asleep, Captain Toad tends the campfire, but ends up being captured by a revenge-seeking Fienix. Captain Toad is taken away before the crew can stop Fienix, and he ends up in an old watchtower guarded by his old nemesis, Wingo. After dropping from the tower safely, Captain Toad begins to walk back to the old town.
Meanwhile, the Toad Brigade take an alternate path through a cave and manage to reach the same watchtower that Captain Toad had escaped from. They climb up to get a better view of the landscape, and eventually spot Captain Toad marching through some plains. Captain Toad and the others quickly reunite, but it is short-lived as a large quake strikes the area. The brigade members try to escape from the area and run into Djinnotaur, who has grabbed yet another set of Power Stars.
After some more adventuring to claim Power Stars before Djinnotaur can, the group is ambushed by Djinnotaur's army, and ends up losing all of their collected stars. With all the stars that Djinnotaur now has, he uses their power to break the locks wrapped around his arms and transform into his true form. The evil beast flies away and begins to take control over the lands, changing the once peaceful plains into a lava-filled ruin. Captain Toad charges after him without the brigade to help, and builds the courage to defeat Djinnotaur.
With the Power Stars all safely restored, the brigade returns to the town and places the stars where they belong. With the Power Stars able to fuel the city, the town's guardian returns; a giant, white star known as the Alpha Star. The Alpha Star thanks the Toad Brigade for saving him by marking a map for where to find more treasure. Captain Toad and the others follow the path of the map, but are stopped short by Fienix returning and kidnapping the poor captain again.
Captain Toad manages to escape from Fienix this time, but ends up losing his backpack and the map in the process. While he chases after Fienix, the rest of the brigade members decide to try and find Captain Toad again by looking from the top of the watchtower. The watchtower ends up being where Fienix lands, having kicked Wingo out. The members of the brigade reluctantly team up with Wingo to rescue Captain Toad and defeat Fienix.
At the very top of the watchtower, Captain Toad and Fienix duel one last time, and while the captain proves to be the victor, Fienix tries to push him off the tower with wind. Wingo manages to rescue him just in time, alongside the brigade and a newly repaired Starshroom, and use an enhanced Turnip Cannon to defeat Fienix once and for all. Captain Toad and Wingo decide to end their rivalry thanks to the event, and Wingo is added as a member of the Toad Brigade. With the goal of becoming the greatest treasure hunters in the universe, the crew decide to head back to the Mushroom Kingdom to report their mission as a success, finding a mysterious map to an island full of treasure when they return...
Gameplay
Captain Toad is unique among other Mario characters because he cannot jump; his backpack weighs too much for him to lift. This makes exploring all the more dangerous, as simple enemies like Goombas cannot be stomped on. Rather, Captain Toad relies on his wits and his environment to defeat his enemies and claim the Power Stars.
Captain Toad can walk and run, which each have their own uses. While walking is generally slower, he can cross thin places with it. Captain Toad wears a headlamp that shines with light if he goes through dark places, but it also attracts enemies. The player can also use the HyperPad in some scenarios, such as turning the camera and touching enemies to freeze them.
Captain Toad's biggest asset is his strength, which lets him pick up and pluck things from the ground with ease. Plucking things can range from picking enemies out of the ground to pulling up sprouts that wield coins and powers to even pulling levers. In addition, Captain Toad can pick up just about anything loose he can find. This includes even heavy objects - however, plucking them may require a little more strength.
However, the captain has a few more tricks in this game. He can now carry an inventory inside his backpack. However, he has so much in his backpack that there's only 3 slots left, and bigger objects take off more space. In addition, Captain Toad will frequently call on his brigade for help, meaning they will have to switch players during a level. 
The levels themselves are mostly in the same format as before, with most of them being diorama like so that you can easily rotate the camera around. However, there is a larger number of open world levels this time around as well too, similar to the Super Mario 3D World levels. Players can find Super Gems as collectibles to open other levels and clear objectives for bonus points.
The biggest new feature, however, is the multiplayer. Up to 4 players can play in a single level and can choose between the five members of the brigade and Toadette later on (in levels where the whole Toad Brigade is needed to move on, you might not see as many Toads) when she is unlocked. Players can each play using their own HyperPads to manuever at will. One person can also use a Wii Remote to scroll through the level on a TV and help out through a pointer that can click and reveal things.
Stages
Similar to the first game, levels are divided into books, which are further divided into chapters. There are a total of 4 books, plus a bonus book.
Book 1
Unexpected Landings
Patch Pullout Plains
Shy Guy Gallery Hide
Lever Liftoff
Freaky Creek Trip (optional)
Railroad Way Mayhem
To The Mountains For Toadette
Toad Brigade Mountain Time
Sky High Pipeline (optional, costs 7 gems)
Spinwheel Switcheroo
Rocky Lockdown Crisis
Feathers Ablaze
Tricky Track Mine Carts
Double Trouble Archipelago
Underwater Cannon Cove
A Fiery Frightening (costs 15 gems)
A Missing Cadet
Fungi Forest Bounce
Sliding Glass Scope
Dungeon Door Escape
Reunited Once More
Magma Switch Maze (optional, costs 18 gems)
Balance Lift Elevators
Perilous Pickaxe Plateau
Critical Mountain Climb
Toad Escape
Quick Escape Lava Break (costs 25 gems)
Book 2
The Power Star Recovery Search
Spike's Spin Panel Puzzle
Light Switch Center
Beep Block Blitz (costs 30 gems)
Slippery Slide Sanctuary
Bob-Omb Battle Blast (optional, costs 33 gems)
Search Of The Temple
Temple Trap Takedown
Spinwheel Gear Getaway
Puzzle Pipe Complex (optional, costs 37 gems)
Escalating Mine Cart Course
Twirly Swirly Maze
Moss Chomp Mania (costs 42 gems)
Undying Vengeance
Color Warp Chaos
Spinwheel Shallows
Lavaflow Hazard Hall
Twin Space Base
Toad Brigade Touchstone Parade
Spooky Skyscaper Scale
Superstar Power
Toad Brigade Cavern Check
Weather Wooden Walkway
Sliding Explosive Shootout (requires 47 gems)
Twofold Forest Trek
Puzzle Pipe Playtime (optional, requires 50 gems)
Chain Reaction Castle
Rotation Relay
Phanto Fright Dungeon (requires 55 gems)
Restoring The Town
Stumper Swamp Cruise
Pitch Black Capture Cave
Rockin' Ravine Cross
Mountain Town Shrine
Book 3
A Familiar Fright
The Watchtower (requires 65 gems)
Switch-Out Hideaway (requires 67 gems)
A Gale of Hope (requires 69 gems)
Whackdown Descent (requires 70 gems)
Escape From The Winds
Cloudy Bounce House
Mirrors Of The Misty Manor
Greyscale Gondola Ride (optional, costs 75 gems)
Double Trouble Cog Control
Extreme Wind Runway
An All New World
Mushroom Balance Hills
Polar Power Cave
Aquatic Adventures in Piranha Woods
Multi Color Switchfest
Fast-Paced Magnet Flux
Blasting Through The Battalion (requires 80 gems)
Toad Brigade Trials
Toad Brigade Hide-and-Seek
Toad Brigade at Crossing Clearing (optional)
Toad Brigade Gravity Palooza
Minecart Brigade Maze
A Vast Land
Blue Toad's Block Parade
Yellow Toad's Torched Ruins
Green Toad's Rotation Station
*Purple Toad's Mining Charge
Toadette's Spike-Filled Stroll
Back To The Tower
Season of the Spindrifts
Curses of the Wind (optional, costs 90 gems)
Up The Watchtower Again
Short-Lived Reunion
Riding On Wingo
Toad Brigade Turf War
Springy Retro Royale
Blocks of Illusion
Back to the Battalion (requires 100 gems)
Book 4
Power Of The Stars
Bomb Breakdown Blast
Spooky Spectre Forest
Captain Toad's Orchestral Adventure
Tile Tally Takedown
Bullet Box Staircase Crafting
The End
Volcanic Panic Attack
Hot Hot Hightail
Fiery Ruins Fiesta
Deep Lava Hazard Dive
Djinnotaur's Demise (requires 120 gems)
New Beginnings
Patch Land Puzzle
Thinking With Windows
Undercover Searchlight Sneaking
Gear-Grinding Galaxy
Switching Gondola Alley
Retrieve The Power Stars!
Captain Toad Leaps Into Action
Toad Brigade Cliffside Crisis (optional, requires 130 gems)
Hedge Hole Labyrinth
Raging Whirlpool Ocean
Moss Chomp's Revenge (requires 135 gems)
Hunt For The Flaming Bird
Braving The Infernal Flames
Seperated From The Brigade
Parachuting Feather Frenzy
Snowball Shiver Rink
Diving Spinwheel Cavern
Search Cannon Cove
The End?
Clear Pipe Tower Control
Ravaged Fireball Ruins
UFO Swarm Escape
Arcade Crane Game
Rainbow Romp (optional)
Sewer Skewer Problems

Wind-Swept Watchtower

Wingo's Bombastic BreakthroughA level where the Toad Brigade must defend Wingo from attacks so that he can soar to the watchtower.
Friends Worth A Fortune
Fienix's Wicked Watchtower
Bonus Book
From Sea to Shining Sea
From Sea to Shining Sea features many levels from past 3D Mario games all converted into the style of Fortune Bringer. Many ladders and pipes are added since Captain Toad cannot jump. Each level is unlocked either after beating the main story, or if the game that a level is based on is purchased through Virtual Console.
Captain's Cool Cool Mountain
Surprising Secrets Of Delfino
Breakdown at the Battlerock
Once in a Boo Moon
Top-Down Temple Run
Hot Dash Grumblump Inferno
Treasure Tracking Times
Treasure Tracking Times features levels from Captain Toad: Treasure Tracker converted into the style of Fortune Bringer. Most of these are increased in difficulty with new enemies and the like. Unlocked after completing from Sea to Shining Sea.
Walleye Tumble Temple
Blizzard On The Star Express
Mine Cart Sunset Rundown
Double Cherry Spires
Secret of the Golden Realm
Sinking Scaffold Sinkhole
Lost At Shore
Lost At Shore features levels from Fortune Bringer, but add the Brigade mechanic from Treasure Tracker, where all the members must be recruited to raise a platform to the star. Unlocked after clearing Treasure Tracking Times.
Lost At Shy Guy Gallery
Lost At Phanto Fright Dungeon
Lost At UFO Swarm Escape
An Eerie Feeling
An Eerie Feeling features levels from Fortune Bringer, but adds the Mummy Me mechanic from Treasure Tracker, where a Mummy Me will chase the player throughout the entire level. Unlocked after clearing Treasure Tracking Times.
Eerie Times At Twirly Swirly Maze
Eerie Times At Curses of the Wind
Eerie Times at Hot Hot Hightail
Memento
Memento features the prologues of each chapter of Captain Toad: Fortune Bringer. The prologue is unlocked in the bonus book as soon as its respective chapter has been cleared.
Episode 1 Prologue
Episode 2 Prologue
Episode 3 Prologue
Episode 4 Prologue
Trials That Guard The Island
Trials That Guard The Island features 4 original levels of extreme difficulty that are required to continue on with the bonus book. Each level is unlocked when a respective level is cleared with all gems and objectives met, so the first level would appear when Episode 1 is cleared 100%, and so on.
Meltdown Mayhem
Deep Sea Danger Diving
'

'Lock and Load Switch Palace

Time's Up Take Off
The Bold And Fortune-Favoring Guardians
Fortune Favors The Bold!
Coins Galore Forever
Coins Galore
Coins Galore Multiplayer
Mummy Me Forever
Mummy Me Maze
Mummy Me Multiplayer
* - Though technically played in this chapter, it is not replayable until the Bonus Book is unlocked by beating game or, if the Bonus Book is unlocked early, by clearing the respective chapter
Battle Mode
Battle Mode is a brand new mode for up to 8 players with their own HyperPad to play on. The 6 members of the Toad Brigade, Toadsworth, and a Mummy Me can duke it out in an enhanced game of capture the flag.
Before the actual Battle Mode begins, players can use their HyperPad to select and set traps. Each player gets to choose 2 traps and place them where they can see it but no one else can - if an opponent steps on a trap, they will activate the effect and be forced to overcome the effect. Below is a list of traps:
Mummy Me Trap (spawns a Mummy Me that follows the unlucky Toad for 30 seconds)
Fog Trap (covers the screen in fog for 15 seconds, preventing the unlucky Toad from having a clear view)
Warp Trap (warps the unlucky Toad away from the flag)
Control Trap (changes up the unlucky Toad's controls for 15 seconds, disabling them from moving properly)
Fire Trap (the unlucky Toad is lit on fire, running around at random for 6 seconds)
Mud Trap (traps the unlucky Toad in mud, making him move slower for 10 seconds)
Beam Trap (alarms a Tractor Beam enemy to follow the unlucky Toad for 10 seconds)
Push Trap (slams the unlucky Toad in a random direction, depending on which direction the trap was facing)
Phanto Trap (summons a Phanto to chase the unlucky Toad for 10 seconds)
Frozen Trap (drops a Freezie on the player, making their traction super slippery for 10 seconds)
Battle Mode sends the players into one of 5 base labyrinths, equipped with nothing in the inventory. Each base labyrinth has a designated shape, but the obstacles and location of other objects are randomized. Players start off in a corner labeled as their post, and must head to other player's posts to collect their colored flag and bring it back to the home base. This is tougher than it sounds, as flags can weigh down the player in terms of speed, and dying causes any flags being carried to be lost. The first player to have the flags of every other player wins.
Players can also take the shape of a base and use it to create their own arenas. They can place things such as walls and stairs over a total of 3 floors, add special platforms such as fans and spinwheels, and move the locations of the posts. When creating an arena, there's also the ability to look through every trap and place some in the regular battle arena, as well as regulate which ones can be given to players at the start of a battle. 
Characters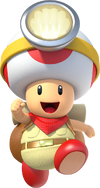 Captain Toad: An idiom states that "fortune favors the bold", but we're not too sure our little captain here truly is that brave and bold! Nonetheless, Captain Toad is a Royal Guard of the Mushroom Kingdom and a treasure hunter who's always looking for something shiny to put in his backpack. Unfortunately, that's also his weakness: his backpack is too heavy to let him jump!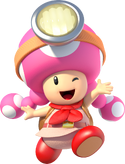 Cadet Toadette: Is it his sister? Love interest? Just friends? Whatever the case, Toadette is always shown hanging around with our Captain Toad, and now she's come to assist him on his next journey. However, a little accident leads her to be seperated from the group early. She's an unlockable character won by clearing the first book, for anyone to play as.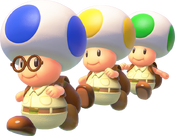 Toad Brigade Crew: Blue Toad is the smarts, Yellow Toad is the sleepy, Green Toad is the mapkeeper, and Purple Toad is the newest recruit. Together they make up the bulk of our Toad Brigade. While they're available as characters during multiplayer, they won't just sit around waiting till another person comes over: some levels feature them ready to switch out and get in on the action!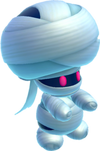 Mummy Me: Their name says it all, really: these creepy chasers look a lot like Captain Toad, but wrapped in bandages. They seem to dwell in caverns from across the universe, pulling in any nearby explorers like the Toad Brigade and hunting them down. Does he want to take Captain Toad's treasure for himself? Nah, he probably is just lonely and likes their scent: after all, you can even play as them in minigame mode!
Fienix: This bird may be nothing more than a hot-headed prince, but he's definitely got the intimidating main villain look down pat. Captain Toad accidentally came in and woke him early, and now this cranky phoenix is thirsty for revenge! Unlike certain past foes, Fienix is not someone who loves all that shines; the only thing he seems to enjoy is getting even.
Drilladin: With razor sharp claws and a rocky hide, this molten shark like monster lives deep in lava, residing in the very same mountain that the Toad Brigade crashed in. While he may seem sneaky and fierce, Drilladin is actually very protective and will do all he can to ensure nothing gets chaotic; even if he has to fight for it!
Djinnotaur: A greedy and yet diabolical villain who seems to be stealing the Power Stars for unknown reasons. This villain definitely brings out a vibe that tells you that it's the end of something big; and you can tell because he's got an Omega Crystal on his forehead! While Djinnotaur is certainly buff and tough looking, his army is no slouch either as they're filled with all sorts of forgotten characters from many different places and times...how did he get them all?
Wingo: This big bad bird was the antagonist of the last adventure Captain Toad went on! Always fond of gold and glitter, he'll go to great lengths for treasure. Unfortunately, this trait is often seen clearly clashing with Captain Toad, him being a treasure hunter and all. However, in this game, he actually appears to help out the Toads when he learns his watchtower is in danger. He also seems to hate Fienix's name...what kind of past relationship do they have?
Items and Objects
Power-Ups
Super Mushroom

Super Pickaxe

Double Cherry

Hazard Suit

Glass Headlamp

Energy Star
Other
1-Up Mushrooms
Turnip Cannons
Mine Carts
Note Blocks
Coins
Coin Stacks
Donut Blocks

Turnips
Giant Turnips
Keys
Gold Mushrooms
Rainbow Notes
Ladders
Mystery Boxes

Clear Pipes
Clear Cannons
Power Star
Super Gem
Pluck Patches
Spinwheels
Levers
Enemies and Obstacles
New
Eggel

Tractor Tyke

Snannon

Bobomi

Hopflop

Top Grinder

Giga Peepa
Returning
Goomba
Paragoomba
Goomba Tower
Goombeetle
Koopa
Bombshell Koopa
Biddybud
Para-Biddybud
Boo
Big Boo
Amp

Bullet Bill
Missile Bill
Ball and Chain
Chargin' Chuck
Spike
Spiked Ball
Spike Bar
Magikoopa
Walleye
Mr. Blizzard
Skipsqueak

Piranha Plant
Fire Piranha Plant
Piranha Creeper
Shy Guy
Fly Guy
Snifit
Pidgit
Phanto
Charvaargh
Magmaargh
Spindrift

Hammer Bro
Boomerang Bro
Fire Bro
Splorch
Peepa
Cheep Cheep
Cheep Chomp
Conkdor
Flaptor
Stumper
Mud Trooper

Piranha Sprout
Mummy Me
Spiny
Sidestepper
Fighter Fly
Freezie
Icicle
Red Fireball
Green Fireball
Grumblump
Training Bag
Polls
Asides from the bonus books, the story of Captain Toad: Fortune Bringer is complete! What do you think of it?
Do you like the new artwork style of the chapter pages?
Trivia
Though formally announced at the 2014 Holiday Showcase, the idea of a sequel to CT:TT was talked about long before that date.
This game references Super Mario Galaxy due to Captain Toad's position as a royal guard and the return of Mailtoad.

Oddly, even though Mailtoad was in Super Mario Galaxy, he never appeared during the original Treasure Tracker, which took place after it, even though he returns now.

In reference of the title, the phrase "Fortune favors the bold" is used quite frequently in the game:

In Captain Toad's in game bio
The name of the chapter with the final main level in the bonus book (the boss rush chapter features a slightly altered message)
In each of the four brand-new bonus levels, one word from the phrase is spelt out using Pluck Patches in each level, hidden within a secret area
On the spine of each of the books in the book selection screen
Community content is available under
CC-BY-SA
unless otherwise noted.