The character Captain Toad did not originate from fanon, and more information can be found on their respective wiki(s). You may read more about him on the following wiki(s):
— Captain Toad
Captain Toad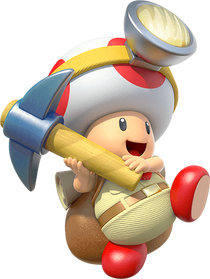 Captain Toad with a pickaxe.
GENERAL INFO

GENDER
♂ Male
SPECIES
Toad
CURRENT STATUS
Alive
ALIGNMENT
Good
PERSONAL INFO

CLASS
Hero
OCCUPATION(S)
Treasure Tracker
LIKES

| | |
| --- | --- |
| Treasure, Toadette, The Toad Brigade | |

DISLIKES
WEAPONS
Pickaxe
MISCELLANEOUS INFO

CANON APPEARANCES
VOICE ACTOR(S)

Samantha Kelly

Legend of Mushroom Kingdom series:
James Franco (English)
Shun Oguri (Japanese)
Captain Toad is a character who first appears in Super Mario Galaxy. A red Toad dressed with an oversized backpack and a headlamp, he is the leader of the Toad Brigade, a group helping Mario in Super Mario Galaxy and its sequel Super Mario Galaxy 2; in these games, he is referred as Toad Brigade Captain. He subsequently appears in Super Mario 3D World as a playable character in special levels.
Physical Appearance
Captain Toad is a member of the Toad race, and as such appears as a child-like humanoid wearing a mushroom cap often seen with a large smile etched upon his face. He is a Toad with red spots upon his large mushroom cap and during his earlier appearances, his attire was simplistic with a red vest and white pants. As a result, his appearance was similar to many other red spotted Toads. However, his key distinguishing features included his large backpack and a headlamp which distinguished his appearance from his fellow Toad Brigade members as their captain. This headlamp actually had the ability to defeat Boos merely by having Captain Toad shining the light at them.
In Super Mario 3D World, Captain Toad's design was revamped with his clothing having been changed to an explorer's suit (to further emphasize his love for treasure) as well as the addition of a red necktie and red shoes. His headlamp and large backpack return in his redesign as well.
Personality
Despite being the leader of the Toad Brigade organization in both Super Mario Galaxy and its sequel, Captain Toad is extremely cowardly. His cowardice often leads to his fellow Toad Brigade members sometimes talk negatively about the Captain behind his back. In addition, the captain also tends to be accident-prone and as a result often lands himself into danger. Captain Toad can also seen to be lazy as he can be seen daydreaming about relaxing in various galaxies.
Regardless of his negative traits, Captain Toad is highly resourceful. He (or at least one of his brigaders) is seen to be a highly experienced mechanic as he was able to repair the Starshroom that he and the other Toad Brigade members used every time it broke. He also rewards Mario or Luigi with coins to replenish health and even Power-Ups. Captain Toad does occasionally find Power Stars himself; however, he is always ready to give it to either Mario or Luigi in an attempt to help the hero in his adventures.
Captain Toad is described to being the "fearless" hunter of Green Stars within Super Mario 3D World and proves this title by being on a constant hunt for the exclusive stars despite lacking the ability to jump (as a result of his heavy backpack.) Regardless, he maintains his gracious character from Super Mario Galaxy and constantly rewards Mario, Luigi, Toad, Peach, and Rosalina with Green Stars or even coins and Power-Ups when encountered.
Captain Toad also has a bit of a greedy side, as it seems he can't help but try to snag any treasure he sees. This is shown in Captain Toad: Treasure Tracker's ending, where he does not hesitate to chase after the Green Star he sees falling from the sky, and after it falls into the Clear Pipe that leads to the Sprixie Kingdom, he tries to get it but falls into the pipe too (which explains how he got there in the first place in Super Mario 3D World). Going along with the common frightful characteristic of the Toads, Captain Toad is no exception as he can be seen to be panicking in a comical sense from various enemies throughout most of the main game courses (often requiring one of the other playable characters to help him out).
Game Appearances
Captain Toad appears as a costume for Toad. When selecting the character hold down the left control stick to the right to turn Toad into Captain Toad.
Reprising his role from Super Mario Odyssey, Captain Toad can be found in every kingdom, in a hard-to-find location. When Mario speaks to him, he will give a short dialogue before presenting Mario with a Power Moon.
He's one of the victims of the Kirthar's Snap Finger.
Gallery
Navigation Templates
Playable Characters
Assist Characters
Obstacles
Other Characters
Alolan Grimer · Amul · Ann Takamaki · Big Urchin · Blizzy · Bravoman · Buzz-Buzz · Cutiefly · Don-chan · Dragoneel · Fierce Deity · Gil · Happy Mask Salesman · Judge · King · Kissy · K.K. Slider · Litwick · Lloyd · Mappy · Mareanie · Mii · Missile · Morgana · Perry · Pidgit · Pooka · Rabbid Luigi · Rabbid Yoshi · Red Baron · Ribbon · Rowlet · Runner · Ryuji Sakamoto · Sandy · Smasher · Rusty Slugger · Servbot · Sima Zhao · Swanna · Tarosuke · Timmy Nook · Toadsworth · Tommy Nook · Tron Bonne · Valkyrie · Wonder Momo · Ziggy
Collectibles

Trophies

Stickers

Boolossus · Boo Mario · Bowser · Captain Toad · Cat Peach · Chain Chomp · Cloud Mario · Fire Mario · F.L.U.D.D. · Koopa Clown Car · Mega Mushroom · Mario · Penguin Mario · Peach · Propeller Mario · Rock Mario · Toad · Toadette · Waluigi
Birdo · Boo Buddies · Blooper · E. Gadd · Fuzzy · Metal Form · Waluigi · Whomp

Candy Kong · Lord Fredrik

9-Volt · Fauster

Ball and Chain · Deku Leaf · Majora's Mask · Mipha

Abra · Drifloon · Spinarak

Katrina · Mr. Resetti

Adam Malkovich · Arachnus

Nightmare · Noddy · Prank

Mr. Chicken

Back Shield · Centurion · Eggplant Wizard

Disco Kid · Doc Louis · Donkey Kong · Giga Mac · Glass Joe · King Hippo · Little Mac · Von Kaiser

Blue Falcon · Captain Falcon · Pico · Rick Wheeler · Wild Goose

Louie

Pyra

Franklin Badge · Negative Man

Apollo Justice · Franziska von Karma · Miles Edgeworth · Larry Butz · Judge · Phoenix Wright

Dr. Wright · Hammer Slam Bowser
Devil · Dr. Wright · F-Type · Rusty Slugger · Zethia
Community content is available under
CC-BY-SA
unless otherwise noted.