Captain Olimar did not originate from fanon, and more information can be found on their respective wiki(s). You may read more about it on the following wiki(s):
Olimar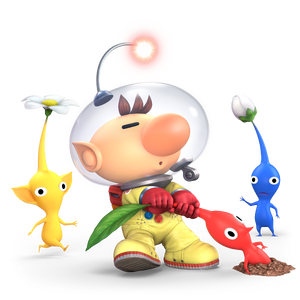 Captain of Hocotate Freight
GENERAL INFO

GENDER
♂ Male
SPECIES
Hocotate
Pikmin (non-canon)
AGE
Unknown (adult)
HEIGHT
1.9 cm (0.75 inches)
BIRTHPLACE
Planet Hocotate
PERSONAL INFO

RELATIONSHIPS
CLASS
Astronaut
WEAPONS
Pikmin
MISCELLANEOUS INFO

CANON APPEARANCES
VOICE ACTOR(S)

Kazumi Totaka
"Gradually, my repairs to the Dolphin continue. This ship is like a part of me. One could even say that it is tied to my very essence. Yes, it was a long – one might say epic – journey, going from mere repairman to captain of my own ship... but now I'm rambling."


— Captain Olimar, Pikmin
Captain Olimar (Japanese: キャプテン・オリマー Kyaputen Orimā) is a well-known space captain from planet Hocotate and the main recurring protagonist of the Pikmin series. Captain Olimar has a wife, two children, and a pet dog-like creature named Bulblie, all of whom he supports by working for the interplanetary delivery company Hocotate Freight. One day, when he was searching for a vacation spot a meteorite struck his ship, the S.S. Dolphin, and he crash-landed on an uncharted planet home to plant-like creatures named Pikmin. With help from the aforementioned Pikmin, he was able to gather all the parts of his broken ship and return back home. He is also a good friend and partner of Louie.
Captain Olimar is voiced by composer Kazumi Totaka. This is a relatively unknown fact, as Olimar often does not speak during the events of the games themselves. Within supplementary material, such as the bonus Expedition Logs for Pikmin 3 and the Pikmin shorts, Totaka portrays Olimar with a surprisingly-deep voice that often shocks fans.
In the bad ending of Pikmin, which plays should the player not collect the 25 ship parts needed for the S.S. Dolphin to take off, the Pikmin under Olimar's command carry the unconscious captain to their Onion. After a few moments, Olimar is spit out, with a stem protruding from the top of his head in a manner not unlike those possessed by the Pikmin. Olimar's appearance as a Pikmin, often dubbed "Pikmar" by fans, is not canon to the events of the Pikmin series, as Pikmin 2 begins with Captain Olimar returning to his home planet.
Appearances
In Super Smash Bros. Revolution Olimar appears as a playable character. He utilizes Pikmin and his fists for attacking, like in other Pikmin games.
Captain Olimar made an appearence in Pikmin: Spore Outbreak. He discovers the Rose Pikmin and Wogmin, both helpful additions to the species. His son finds Mantis Pikmin. Olimar speaks up more, both directly and personally to others and himself in this game. At the end of every day, he will begin a conversation with his family to see how they are doing.
Olimar appears as a unlockable racer in Mario Kart: V² Circuit. Like the rest of the characters, he can be unlocked randomly by placing first in a Grand Prix on any engine class. Alternatively, he can be purchased at the shop by collecting Coins. He is a lightweight with a small size. He has slight above poor speed, poor acceleration, good handling and great traction.
amiibo
| | | |
| --- | --- | --- |
| | An amiibo figure of Captain Olimar exists! For more info about this amiibo, see this page. | |
Gallery
Trivia
Due to his reactions to treasures surrounded by series of holes, Olimar appears to suffer from Trypophobia.
Prior to being employed by Hocotate Freight, Olimar worked as a repairman.

Although the reasons for such are unknown, he is also known to have had conflicts with space pirates.
Navigation Templates
Playable Characters
Assist Characters
Obstacles
Other Characters
Alolan Grimer · Amul · Ann Takamaki · Argorok · Arsene · Axe Knight · Big Urchin · Blizzy · Blazing Bat · Blue Pikmin · Bob-omb · Boo · Boolossus · Boom Stomper · BowWow · Bravoman · Budew · Bumper the Badger · Bumpety Bomb · Burnya · Buruccho · Buzz-Buzz · Caeda · Carbuncle · Caterpie · Chao · Cutiefly · Dingpot · Dipple Drop · Don-chan · Dragoneel · Drippy · Drumstick the Rooster · Dusty · Elle Mel Marta · Ellie the Elephant · Enguarde the Swordfish · Expresso the Ostrich · Fierce Deity · F.L.U.D.D. · Fomantis · Fryguy · Genie · Gil · Gohma · Goomba · Gordo · Greenie · Grrrol · Happy Mask Salesman · Hoofer · Hoppip · Javelin Knight · Jenya · Judge · Junior Clown Car · Kab-omb · Kamek · Karate Joe · King · King Dodongo · Kissy · K.K. Slider · Klaptrap · Koopa Paratroopa · Krunch · Litwick · Lloyd · Mace Knight · Majora · Manhandla · Mappy · Mareanie · Masked Dedede · Maya Fey · Mechakoopa · Mecha Kuri · Megaleg · Mii · Missile · Morgana · Mr. Stevenson · Needlenose · Neo Metal Sonic · Ninji · Nitpicker · Nudger · Parry the Parallel Bird · Peashooter · Perry · Piddles · Pidgit · Pirate Goom · Poochy · Pooka · President Koopa · Professor E. Gadd · Proto Piranha · Black Puffle · Purple Pikmin · Rabbid Luigi · Rabbid Yoshi · Rambi the Rhino · Ram Bunkshus · Rattly the Rattlesnake · Red · Red Baron · Red Pikmin · Ribbon · Rock Pikmin · Rowlet · Runner · Ryuji Sakamoto · Sandy · Smasher · Rusty Slugger · Servbot · Sima Zhao · Snapjaw · Squawks the Parrot · Squitter the Spider · Super Sonic · Swanna · Tarosuke · Tatsu · Telly Vision · Thwomp · Timmy Nook · Tiptup · Toadsworth · Tommy Nook · Trident Knight · Tron Bonne · Trucy Wright · Tsukimaru · T.T. · Valkyrie · Virus · Waddle Dee · Wario-Man · White Pikmin · Wind Fish · Winged Pikmin · Winky the Frog · Wonder Momo · Xii · Yarr · Yellow Pikmin · Ziggy
Collectibles

Trophies

Stickers

Boolossus · Boo Mario · Bowser · Captain Toad · Cat Peach · Chain Chomp · Cloud Mario · Fire Mario · F.L.U.D.D. · Koopa Clown Car · Mega Mushroom · Mario · Penguin Mario · Peach · Propeller Mario · Rock Mario · Toad · Toadette · Waluigi
Birdo · Boo Buddies · Blooper · E. Gadd · Fuzzy · Metal Form · Waluigi · Whomp

Candy Kong · Lord Fredrik

9-Volt · Fauster

Ball and Chain · Deku Leaf · Majora's Mask · Mipha

Abra · Drifloon · Spinarak

Katrina · Mr. Resetti

Adam Malkovich · Arachnus

Nightmare · Noddy · Prank

Mr. Chicken

Back Shield · Centurion · Eggplant Wizard

Disco Kid · Doc Louis · Donkey Kong · Giga Mac · Glass Joe · King Hippo · Little Mac · Von Kaiser

Blue Falcon · Captain Falcon · Pico · Rick Wheeler · Wild Goose

Louie

Pyra

Franklin Badge · Negative Man

Apollo Justice · Franziska von Karma · Miles Edgeworth · Larry Butz · Judge · Phoenix Wright

Dr. Wright · Hammer Slam Bowser
Devil · Dr. Wright · F-Type · Rusty Slugger · Zethia
Community content is available under
CC-BY-SA
unless otherwise noted.