candice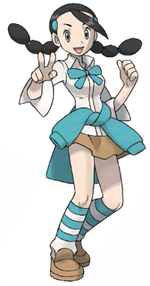 GENERAL INFO

GENDER

♀

Female
SPECIES
Human
BIRTHPLACE
unknown
PERSONAL INFO

RELATIONSHIPS

cobalt cold (master)

CLASS
recon soldier
OCCUPATION(S)
gym leader(in the original series)
recon soldier
WEAPONS
unknown
MISCELLANEOUS INFO

CANON APPEARANCES

super smash bros mario kart 7 saga
pokemon diamond and pearl (original)
cheryl is leader of the traitors in super smash bros mario kart 7 saga.
bio
candice wanted to take over the animated films. she likes to torture cartoon characters.
appearence
Candice has black hair tied into pigtails with blue scrunchies and amber eyes. She also has blue pins on both sides of her hair. She wears an elbow-length long sleeved white blouse, a blue bow on her chest, a short brown skirt that reaches her thighs, and a blue cardigan most of the time tied around her waist but sometimes when just talking worn on top of her white shirt. Candice also wears knee-length white and blue striped socks and brown shoes.
gallery
super smash bros saga criminals
traitors
cheryl | marley | mira | candice | rhyanna | forsythia | francesca | lucy | salvia | solana
dominators
misty | alexa | gardenia | flannery | sakura | lorelei | karen | sabrina | marina | shauna | paris | cynthia | hilda | fennel | juniper | roxie | diantha | viola | penelope | aria | theresa | greta | ursula | zoey
wind metal's army
moon | mercury | jupiter | venus | mars | chibiusa | neptune | uranus | elie | mimi | tea | eureka | molly | masane | talho | lucy | kari | priscilla | yume | honey | erza | shia | yukino | yoko | ika | ami | eiko | hazuki | minamo | shirayuki | nico | sanae | yona | yukari | aoi | carly | tatsumaki | maze | hime | kanan | rain | shizuru | erika | yang
nuquider's army